Why Katt Williams Doesn't Like Chris Rock: 'I Got Plenty Reasons'
Katt Williams has had his fair share of celebrity feuds. One of those feuds involved an issue he had with comedian Chris Rock. When asked why he didn't like Rock, Williams gave a list of reasons to justify his feelings toward the comic. But does Rock feel the same way about Williams? And what other opposing viewpoints do Rock and Katt Williams have?
Katt Williams has had his fair share of drama. The comedian is never one to mince words or hold back how he's feeling towards someone, especially in reference to his peers. His list of comedy feuds stretches from Kevin Hart to Cedric The Entertainer. In 2016, he added another comedian to his list of adversaries in Chris Rock. And Williams gave fans a long list of reasons as to why he didn't like the Bigger & Blacker comic.
Why Katt Williams doesn't like Chris Rock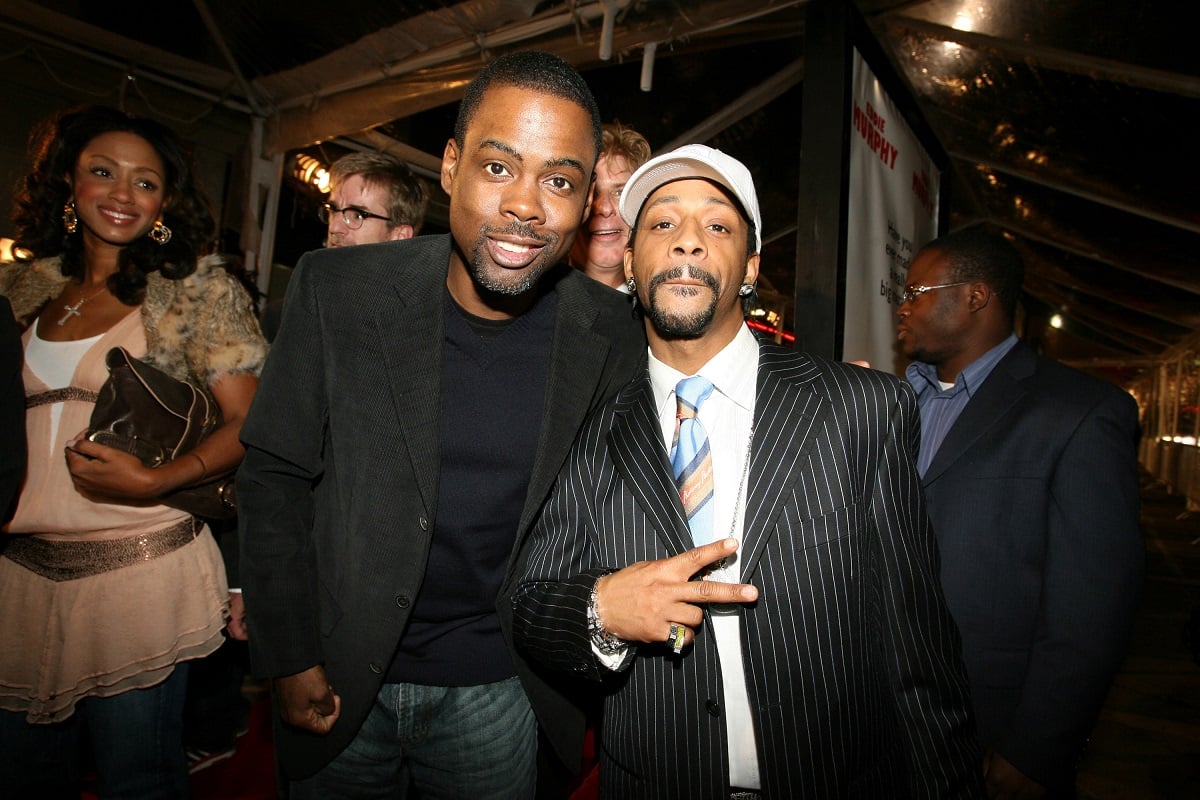 In 2016, BET.com reported that Katt Williams went after Chris Rock for being the face of all comedian sellouts. This was after he apologized to his lifelong rival in Kevin Hart, and admitted that the words he had for Hart were actually supposed to be for Rock all along.
"I meant to cut the snake, but I meant to cut the head of the snake. So my special will no longer be in Philly. It'll be in New York at the Barclays, where I cut off the head of Chris Rock," Williams reportedly said.
In another instance, Williams elaborated on his problems with Rock and threw many accusations at the prestigious comedian.
"He doesn't like black women. He has the hands of an orangutan. He wouldn't put his own brother on who has his same name, and what he did to the little African baby he pretended he was raising. I got plenty of reasons," Williams said.
Although Rock has never officially responded to Williams, Redditors once asserted that Rock's answer to Williams was more subtle. The Never Scared comic posted a picture of himself and Williams around the time the Wild 'N Out alum criticized Rock. Many saw this picture as a clever dig at Williams and his rant.
Do Katt Williams and Chris Rock have history?
It's unclear when, exactly, Williams started having these feelings towards Rock. There was a time when he had nothing but kind words and respect for the comedian. In a 2014 interview with DJVlad, Williams confides how he believed that both Dave Chappelle and Chris Rock have always been funnier than him.
On a professional level, Rock and Williams have never collaborated with one another on a project. The closest the two comedians have worked together was on the documentary, Why We Laugh: Black Comedians on Black Comedy. Directed by Robert Townsend, the documentary studies and discusses the growth of black comedy over the years. Both Rock and Williams make an appearance for the project.
Katt Williams and Chris Rock have opposing views on cancel culture
Another way Katt Williams and Chris Rock conflict with one another is through cancel culture. On one hand, Williams doesn't believe that cancel culture exists.
"Nobody likes the shoulder of the road, but it's there for a reason," Williams once said. My point is, people weren't all that extremely funny back when they could say whatever they wanted to say. At the end of the day, there's no cancel culture. Cancellation doesn't have its own culture."
On the other hand, Chris Rock not only believes that cancel culture exists, but it's having a negative impact on comedy. He expressed his views about being canceled on The Breakfast Club.
"What happens is that everybody gets safe and, when everyone gets safe and nobody tries anything, things get boring," Rock said. "I see a lot of unfunny comedians, I see unfunny TV shows, I see unfunny awards shows, I see unfunny movies because people are scared to make a move and that's not a good place to be."