Katy Perry's Engagement Ring From Orlando Bloom is Reportedly Worth $5 Million
Some celebrity relationships weather the trials of being a well-known couple. But others cave due to various industry pressures and end up denying their fans something beautiful. For years, Katy Perry and Orlando Bloom's on-again, off-again courtship played out with their daughter, Daisy, bringing them even closer together. But before they had a baby, Bloom proposed to the "Firework" singer with an engagement ring reportedly worth $5 million. 
Katy Perry's engagement ring is reportedly worth $5 million
Many celebrities go all out with their proposals and rings. Some of the most expensive include Paris Hilton's and Kim Kardashian's engagement rings. The engagement bling industry seems to be a big one in Hollywood as A-listers strive to outdo one another with the most expensive rock. And Bloom wasn't left behind.
The actor paid a whopping $5 million for Perry's engagement ring, a source told E! News. The couple got engaged on Valentine's Day in 2019, with Bloom popping the question with a flower-shaped ring featuring a pink oval and eight white diamonds.
After the "California Girls" singer accepted the proposal, she took to Instagram to share the news with her legions of followers. She captioned the selfie with her fiancé, "full bloom." Bloom also posted the picture and captioned it "lifetimes," a very brief statement for a very pricy ring. Experts called the ring a "truly one of a kind and wild valuable."
The couple first sparked dating rumors in 2016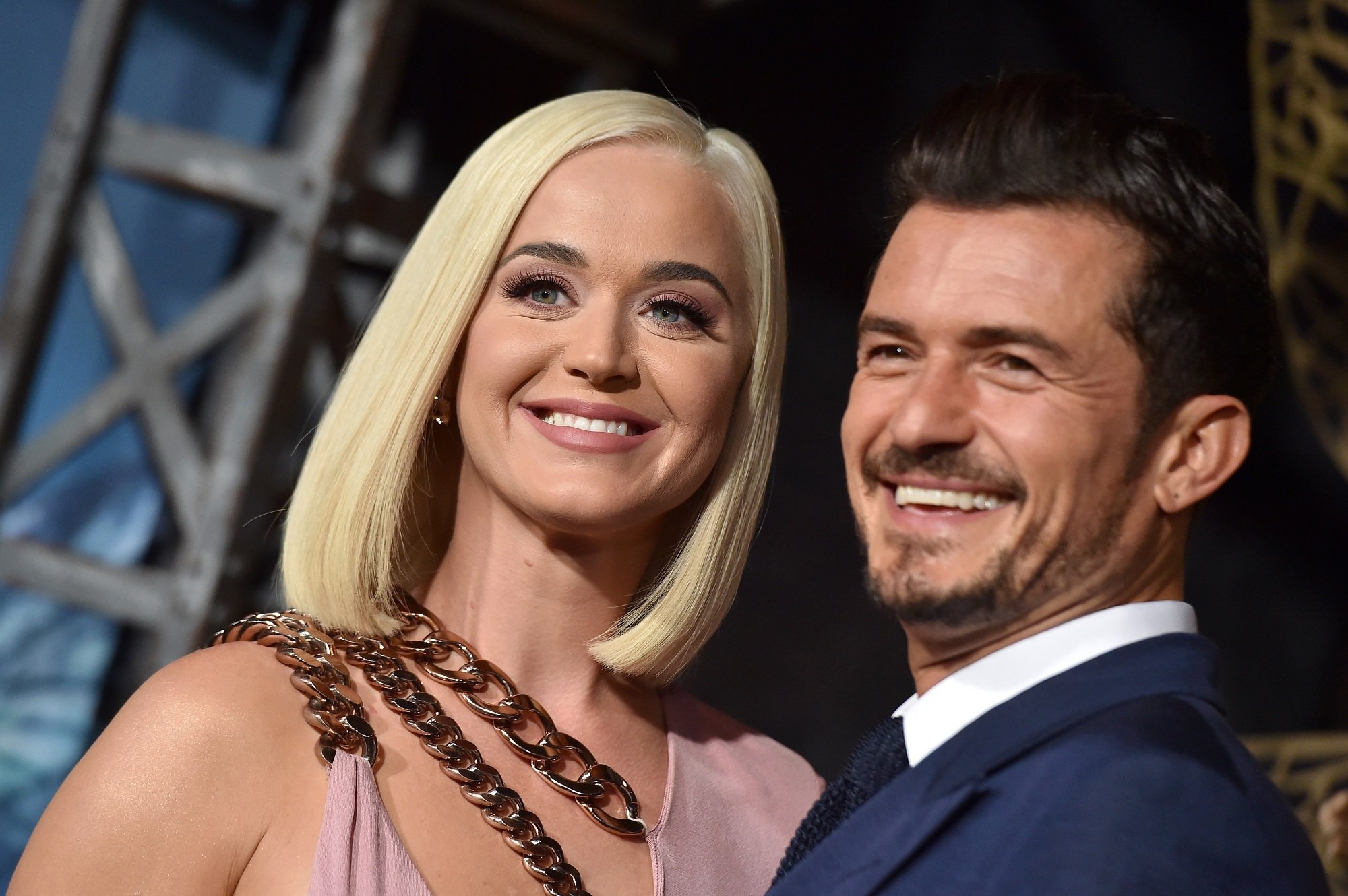 Perry and Bloom first met when they attended the Coach's 3rd Annual Evening of Cocktails and Shopping to Benefit the Children's Defense Fund in April 2013. However, it wasn't until January 10, 2016, after interacting at the Netflix Golden Globes After Party, rumors started swirling of their possible involvement.
Both attendees of the exclusive party, the pair instantly hit it off. From there, the paparazzi started spotting the couple frequently together before the famous duo finally confirmed their relationship in May 2016.
As with many Tinseltown courtships, Bloom and Perry weathered their ups and downs. Toward the end of 2016, rumors swirled of a breakup. After less than a year as a couple, the duo confirmed their split in March 2017. But it only took a few months before tabloids began speculating about a Perry and Bloom reunion.
About a year after they went their separate ways, Perry confirmed she and the Pirates of the Caribbean actor were, in fact, back together and going strong. Many sources claimed that the reason for their split pointed to Bloom's hesitance to tie the knot again. (He was previously married to model Miranda Kerr.)
However, Bloom now appears wholly committed to the "Wide Awake" singer. Since their engagement, Perry and Bloom have not shied away from expressing their affection in public and openly refer to each other as fiancé/fiancée.
Bloom and Perry's net worth confirm they can afford the luxurious engagement ring
Bloom and Perry aren't lacking monetarily. They have built extensive careers in their respective industries as beloved entertainers. Bloom, 2006's Most-Searched-For-Man on Google, gained attention from his role in the Lord of the Rings series. Pirates of the Caribbean secured his status as a star. Bloom also appeared in films such as Troy, Elizabethtown, and Retaliation. Celebrity Net Worth places his wealth at $40 million. 
Perry boasts an even higher net worth. Celebrity Net Worth estimates around $330 million. Perry's wealth comes from her extensive discography, tours, and work as an American Idol judge.