Katy Perry's Song 'Swish Swish' Wasn't Just About Taylor Swift
Taylor Swift and Katy Perry ended the feud that inspired 'Bad Blood' and 'Swish Swish.' But what about the other beef referenced in Perry's song?
Katy Perry might be best known for light, fun pop songs like "California Gurls." But the star isn't above tackling rumors and bad blood in a hit tune. Perry spent several years with her name in the headlines due to alleged feuds. The most famous of Perry's feuds was with fellow pop star Taylor Swift. 
After Swift released her hit single "Bad Blood," many fans started speculating the song was about Perry. Perry didn't waste any time working up a response, dropping "Swish Swish," widely regarded as a diss track to Swift. Interestingly enough, theirs isn't the only feud hinted at in the song.
Katy Perry reportedly wrote 'Swish Swish' as a jab at Taylor Swift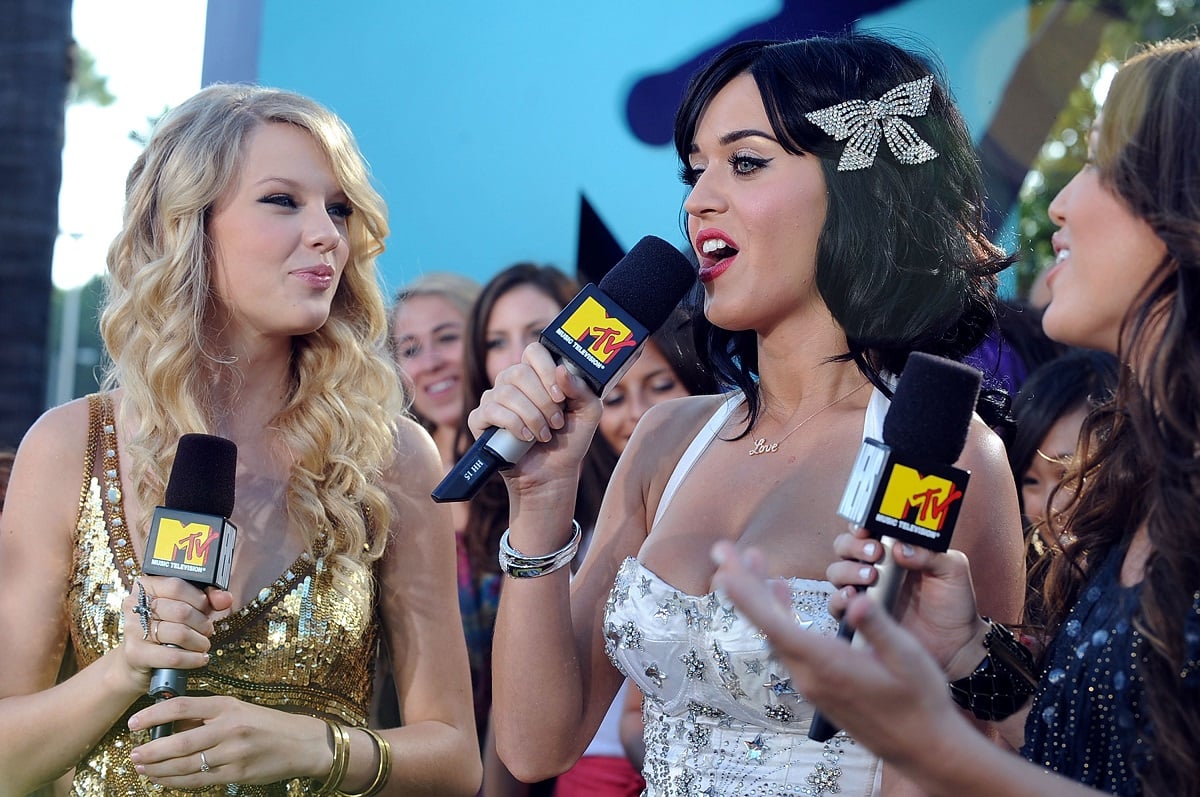 The origins of Perry and Swift's feud go back to 2013, when Swift reportedly hired backup dancers who'd previously worked with Perry. However, Perry decided that she needed the services of those dancers for her own tour — hiring back the performers who were currently on the road with Swift. "She basically tried to sabotage an entire arena tour. She tried to hire a bunch of people out from under me," Swift told Rolling Stone in 2014, although she avoided mentioning Perry by name. 
Swift released the song "Bad Blood" in 2015, allegedly about Perry. After Swift suggested that the song was about another pop star, according to Huff Post, many waited to see how Perry would respond. They wouldn't have to wait long. In 2017, Perry released "Swish Swish," a tune that featured lyrics like "So keep calm, honey, I'ma stick around. For more than a minute, get used to it. Funny my name keeps comin' outcho mouth. 'Cause I stay winning."
Did Nicki Minaj address her feud with Remy Ma in 'Swish Swish'?
Although Perry's feud with Swift took center stage in "Swish Swish," another celebrity beef has a feature in the song. According to Essence, Nicki Minaj's guest verse in "Swish Swish" includes lyrics about "silly rap beefs." Many believe the lyrics allude to Minaj's feud with fellow rapper Remy Ma, which reportedly began when Remy Ma released the 2017 track "Shether," a tune that took shots at Minaj's body, career, and family life.
Over the years that followed, the feud continued, with Minaj releasing the track "No Frauds." While the two have kept relatively quiet about their feud in recent years, Remy recently opened up about where their relationship stands today. According to Rap-up, Remy said she and Minaj have had "regular conversations" but stopped short of calling Minaj a friend.
Is Katy Perry still feuding with Taylor Swift?
As for Perry and Swift, time healed their wounds. In 2018, Perry shared a picture of a plate of cookies on Instagram, presumably sent to her by Swift. The cookies featured the words "peace at last" written in frosting, signifying that the two pop stars had finally reached an accord. Not long after the post, Swift and Perry collaborated on Swift's "You Need to Calm Down" music video, with the two sharing a big hug in the video. It seems as though their feud is definitely a thing of the past.