Keanu Reeves and Sandra Bullock Throwback Video Proves Their Real-Life Chemistry Was Off the Charts
Keanu Reeves and Sandra Bullock had amazing on-screen chemistry in Speed, but one throwback video of the actors showed they weren't faking their love for each other. Reeves and Bullock have admitted to having crushes on one another and it's more than evident when she crashes an old Speed interview.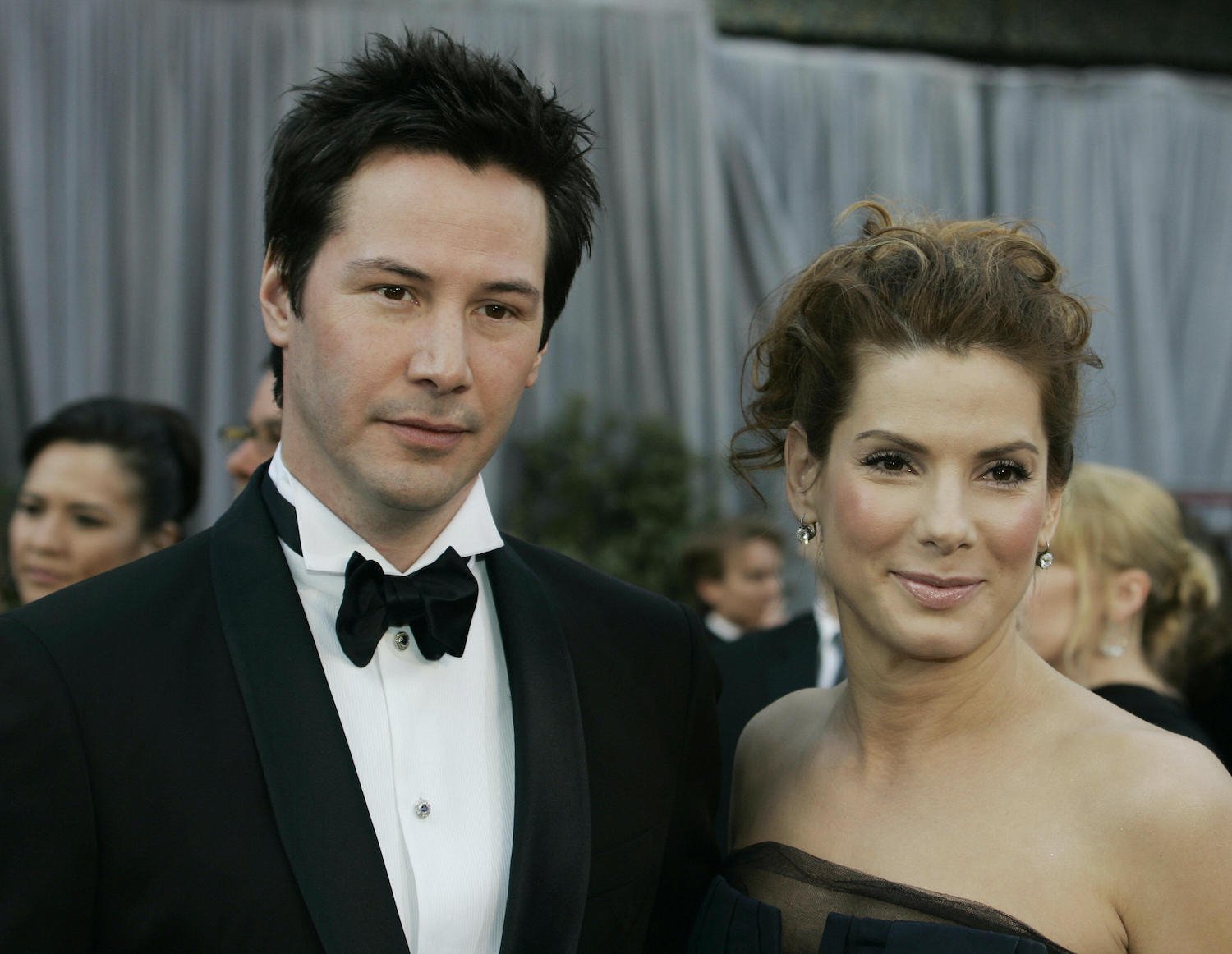 Keanu Reeves and Sandra Bullock had instant chemistry
Reeves and Bullock met when they auditioned for the 1994 movie Speed and the two clicked in such a meaningful way that they're still friends today.
Bullock shared some of the details of their audition when she spoke with Entertainment Weekly in 1994. "I had to read for Speed," Bullock explained. "Just to make sure the chemistry was OK between me and Keanu. We had to do all these really physical scenes together, rolling around on the floor and stuff."
She continued, "At one point Keanu stumbled into me and sort of grabbed my butt. I asked him, 'Are you copping a feel?' He got all panicky and was like, 'Nooooo! I wasn't!' I was like, 'Relax, Keanu. Just kidding.'"
RELATED: Keanu Reeves Was a Reluctant Action Star: Why He Had to Be Convinced to Star in 'Speed'
Keanu Reeves and Sandra Bullock showed their love for each other in a throwback video
That playful interaction between the two is seen in a 1994 interview with Reeves, who is talking about his Speed co-star when she decides to crash his chat.
"Ah, she's a beautiful lady. Yeah, very beautiful, giving … She has such a wonderful energy about her and light," Reeves says in the interview. "It's just wherever she goes, she really gives and wants things to be … springtime. So, I don't know. I've enjoyed her company immensely."
He continues, "Oh yeah, and she's a really great actress too … she's brought a very, you know, she's been fighting the direction of just being like, the complete damsel in distress."
As he talks about her, Bullock bounds into the interview and the interaction between them is all smiles and love as the two share a hug and Reeves compliments her fashion choice.
She asks him how he's doing before running off again, and he says, "Et voilà!"
Reeves and Bullock admitted they had crushes on each other
During a 2018 interview on The Ellen DeGeneres Show, Bullock shared how much she had a crush on her co-star.
"I think about how sweet Keanu Reeves was and how handsome he was," Bullock said about working on the film. "It was hard. It was really hard for me to really be serious. He'd look at me and I'd [giggle]."
"There was just something about me that I guess he didn't like," she said about why they never dated. "I think it's true … I think we're probably friends for that long because we didn't…"
When Reeves stopped by The Ellen DeGeneres Show in 2019, he admitted he also was into his co-star.
"She obviously didn't know I had a crush on her, either," Reeves said after seeing the clip of Bullock admitting her crush.
Reeves explained the reason they never dated was professional, noting, "We were working!"
"It was nice to go to work," he added. "She's such a wonderful person, such a wonderful actress."