Keanu Reeves and Carrie-Anne Moss Recall Wild 'The Matrix Resurrections' 40-Story High Leap of Faith
'The Matrix Resurrections' aims to deliver on mind-blowing action sequences. Keanu Reeves and Carrie-Anne Moss reminisce about one that has them 40 stories high.
The Matrix reevaluated the bar for action movies worldwide. Sequences such as "bullet time" changed the game for good. The Matrix Resurrections is working in a new time with advanced technology and an audience that might have never seen the original trilogy. Regardless, actors Keanu Reeves and Carrie-Anne Moss went all out for the newest installment in the action movie franchise. They recently reminisced about one particular "leap of faith" on the set.
Is 'The Matrix Resurrections' a sequel or a reboot?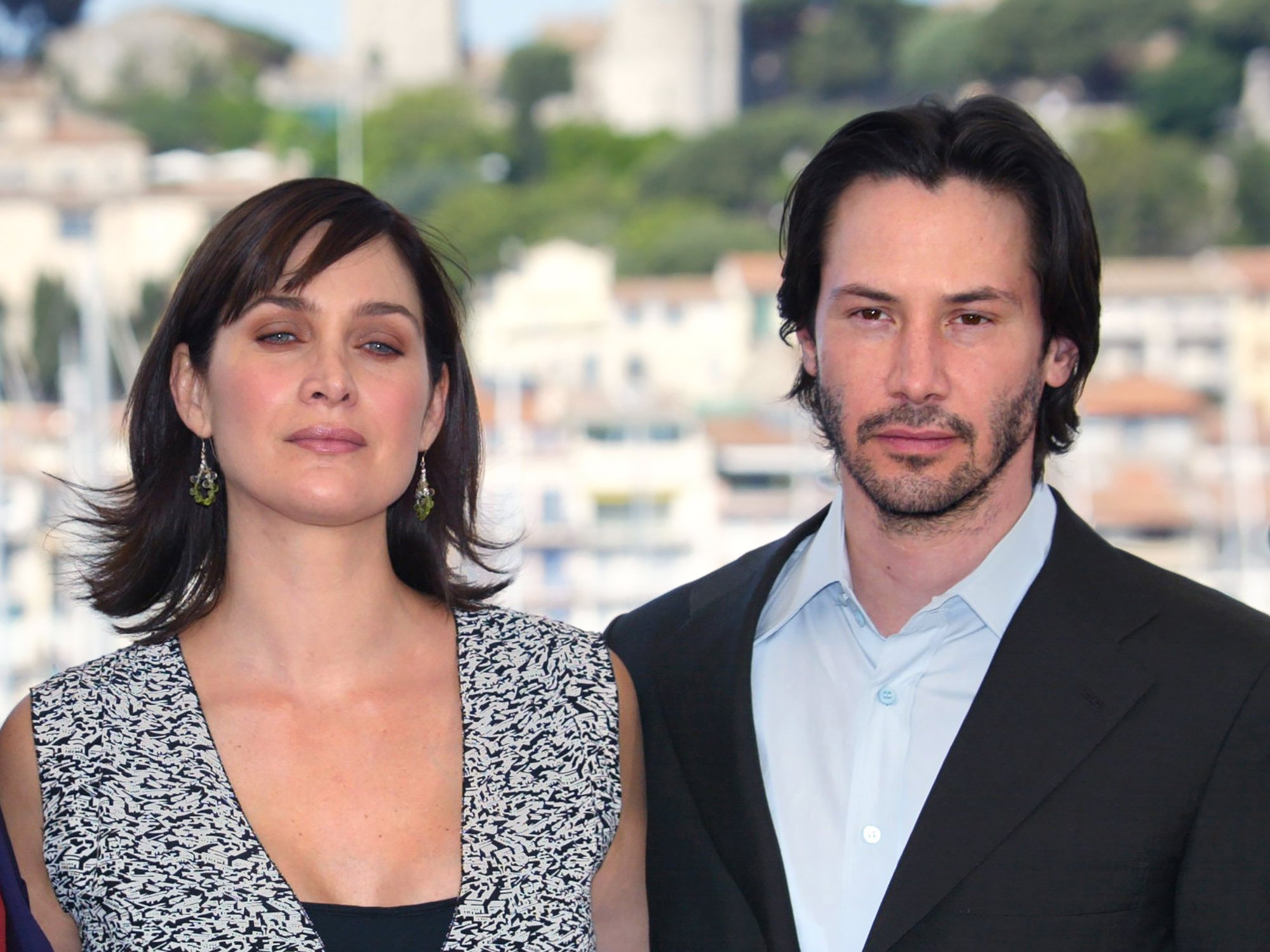 The Matrix Resurrections is a sequel to the original trilogy. 2003's The Matrix Revolutions is the final installment in the franchise's run. However, writer/director Lana Wachowski returns to bring another entry into the action movie series that left its mark on cinema forever.
The plot remains tight under wraps. However, the trailers give a sneak peek at what audiences can expect from The Matrix Resurrections. The story is set 20 years after The Matrix Revolutions. Neo (Reeves) is living a seemingly normal life in San Francisco as Thomas A. Anderson. His therapist is giving him the iconic blue pills, although it's clear that he and Trinity (Moss) don't recognize one another. Morpheus (Yahya Abdul-Mateen II) seeks out Neo and offers him a red pill, bringing him back into the world of the Matrix.
Keanu Reeves and Carrie-Anne Moss recall a 'leap of faith'
Entertainment Weekly's cover story features a look into the world of The Matrix Resurrections. Some leaked set photos established Reeves and Moss shooting on-location in San Francisco. They were seen standing on the top of a building 40 floors high with swarming helicopters hovering around the building.
"For her [Wachowski], the studio, the actors, everybody," stunt coordinator Scott Rogers said. "You're taking this leap of faith." However, Reeves interjected, "We have an incredible filmmaker, a visionary, these amazing roles with the kind of storytelling and ideas and promotion of thought. A leap of faith? We have a lot of faith in that leap."
Moss admitted that she had, "a lot of obstacles to overcome" leading up to this particular sequence. She spoke with her husband about starring in The Matrix Resurrections and committing to scenes like this. "He's like, 'You really gonna do this?' And I was like, 'Yeah, absolutely. I don't know how I'm going to get there, but I know I'm going to get there.'"
Reeves joked, "If we're there, it's not a stunt," since the production had stunt professionals. He concluded, "But Scott set up a situation where we could do it. So, we did."
Moss reflected on what's changed over time since these movies first came out. She explained that she's, "respecting that time has passed, that my body's had three children. But I also enjoyed that challenge."
Where to watch 'The Matrix Resurrections'
The Matrix Resurrections is coming to theaters and HBO Max on Dec. 22. Audiences have the opportunity to enjoy the new movie how they feel most comfortable. However, it's only available on HBO Max via the ad-free plan. The technical qualities include 4K UHD, HDR10, Dolby Vision, and Dolby Atmos. The Matrix Resurrections will only be on HBO Max for 31 days, so don't wait too long if you plan to catch it from home.
RELATED: 'The Matrix Resurrections' Poster Is Here and Fans Are Not Happy About It