Keanu Reeves, Carrie-Anne Moss' Different Worries Re: 'Matrix 4' Roof Jump
Keanu Reeves and Carrie-Anne Moss raised the bar for actors by doing their own training and fighting stunts in The Matrix. The new sequel, The Matrix Resurrections put them to the test yet again. It features a stunt in which Neo (Reeves) and Trinity (Moss) jump off a 43 story building within the matrix's San Francisco. They were both eager to do the stunt, but each shared different worries.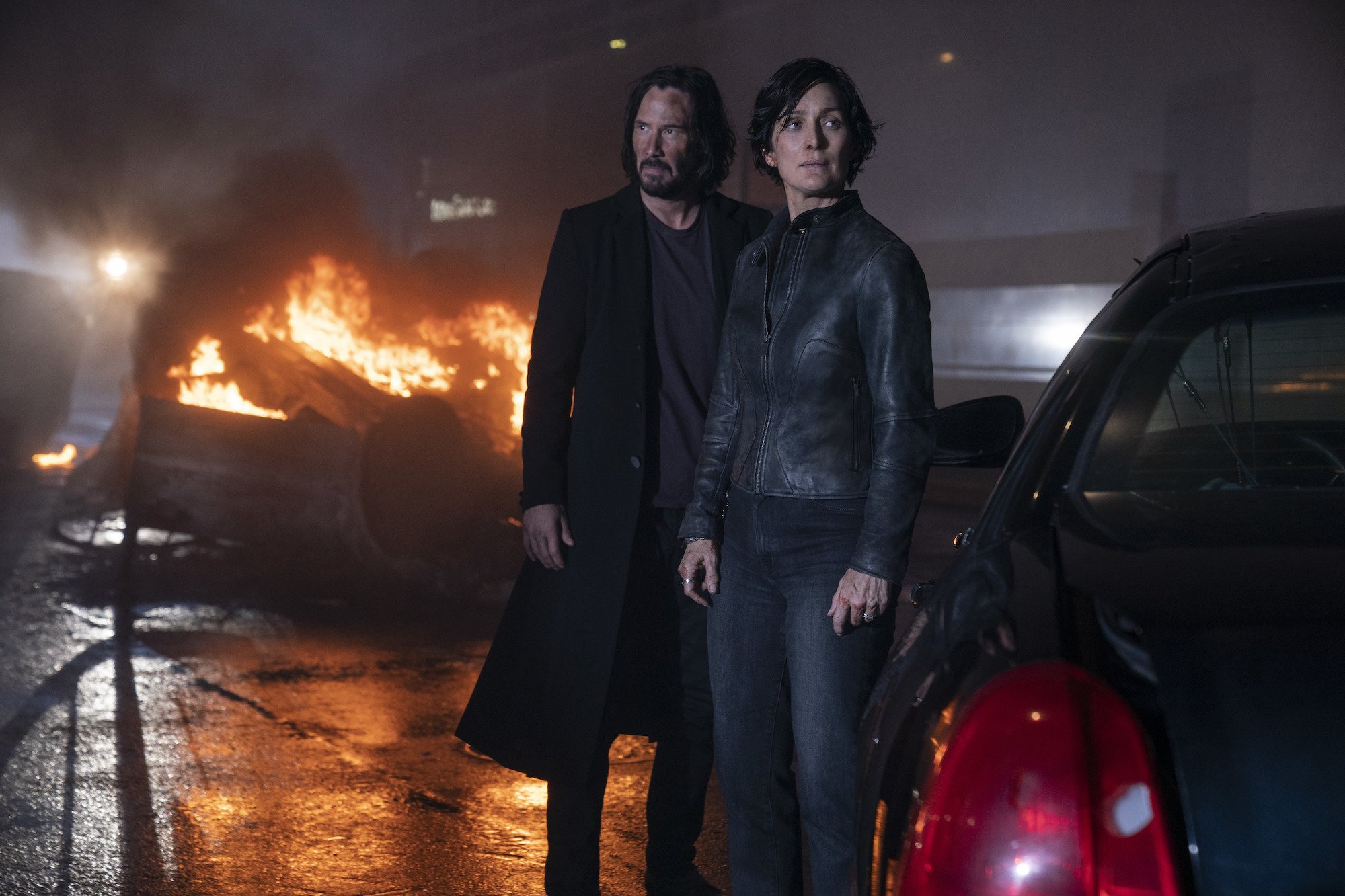 The Matrix Resurrections is now available on DVD, Blu-Ray, 4K UHD and digital. In the bonus features, Reeves and Moss discuss their stunt jump from the building.
What Keanu Reeves and Carrie-Anne Moss needed to know before they jumped
Reeves said he even recommended stunt coordinator Scott Rogers to director Lana Wachowski. They'd worked together on John Wick 3. Moss had her own questions for Rogers.
"On the very first day when I met Scott, I said to him, 'I just need you to know that the only way I can do this jump is if I trust you and your team. Let's right here right now just be completely honest with each other. I want to do this, I'm planning to do this but if I don't trust you, I won't be able to do it,'" Moss said. "Where Keanu and I are very different, Keanu needed to know how it worked. I just needed to know the people."
Keanu Reeves practiced jumping higher and higher
The building was 43 stories, which is 550 feet from the roof. Reeves and Moss were attached to wires and harnesses, but it's still pretty high. To practice, they started jumping off a 10 foot height. Then 30, then 50. 
RELATED: Keanu Reeves' 'The Matrix' Co-Star Had Liposuction For the Movie and the Studio Never Paid Him Back
"Scott started us pretty low and got higher and higher and higher," Reeves said. "So what they did was they built a rig that was at the top of this one office building and went to a slightly lower office building. I would drop 15 feet hanging on. I guess not 15, maybe 10 and then be suspended 500 feet in the air. A lot of people went, 'No.' And Lana went, 'Yes.' And then Scott went, 'yeah.'"
The actors fought to do the 'Matrix Resurrections' jump
After a considerable amount of training, executives and insurance people started getting antsy. By that point, Reeves and Moss weren't about to give up the jump.
"Then there was a moment where they wanted to not have it happen," Reeves said. "A lot of folks didn't want Carrie-Anne and I to jump off the, what was it, 45th floor? Then Scott has a daughter who's in stunts and who was training for Trinity. Scott was just like, 'My daughter's done it 10 times. Do you think this isn't safe if I have my daughter doing it?' Okay, great. So we're going to jump off of it."
Moss was rightfully proud of herself, and acknowledged that all the training paid off.
"It was effortless and probably one of the most courageous acts that I will have ever done," Moss said. "It was definitely challenging. A huge portion of the time when I wasn't working was mentally preparing for that jump."
RELATED: Keanu Reeves Thought He Was Punished for Turning Down 'Speed 2'