Keanu Reeves to Drew Barrymore: If You're a Lover You Gotta Be a Fighter
In a sweet and funny moment on The Drew Barrymore Show, actor Keanu Reeves tells Drew Barrymore she should always fight for love.
"I'm not a fighter, I'm a lover," Barrymore tells Reeves during their chat. That's when he becomes serious, "No, no," he replies. "Because if you're a lover you've gotta be a fighter. But when she asks "How so" he gets melodramatic. "Because if you don't fight for your love, what kind of love do you have?"
He then jumps up from his seat, laughing: "No, I'm kidding." And the crowd breaks out into applause and laughter. Barrymore too throws back her head laughing at how sweet and funny Reeves really is.
Drew Barrymore's audience fell more in love with Keanu Reeves in that moment
Barrymore shared the moment on Instagram and fans swooned. "Wise words from Keanu Reeves," she captioned the video and along with a laughing emoji. "Tune in today for more!"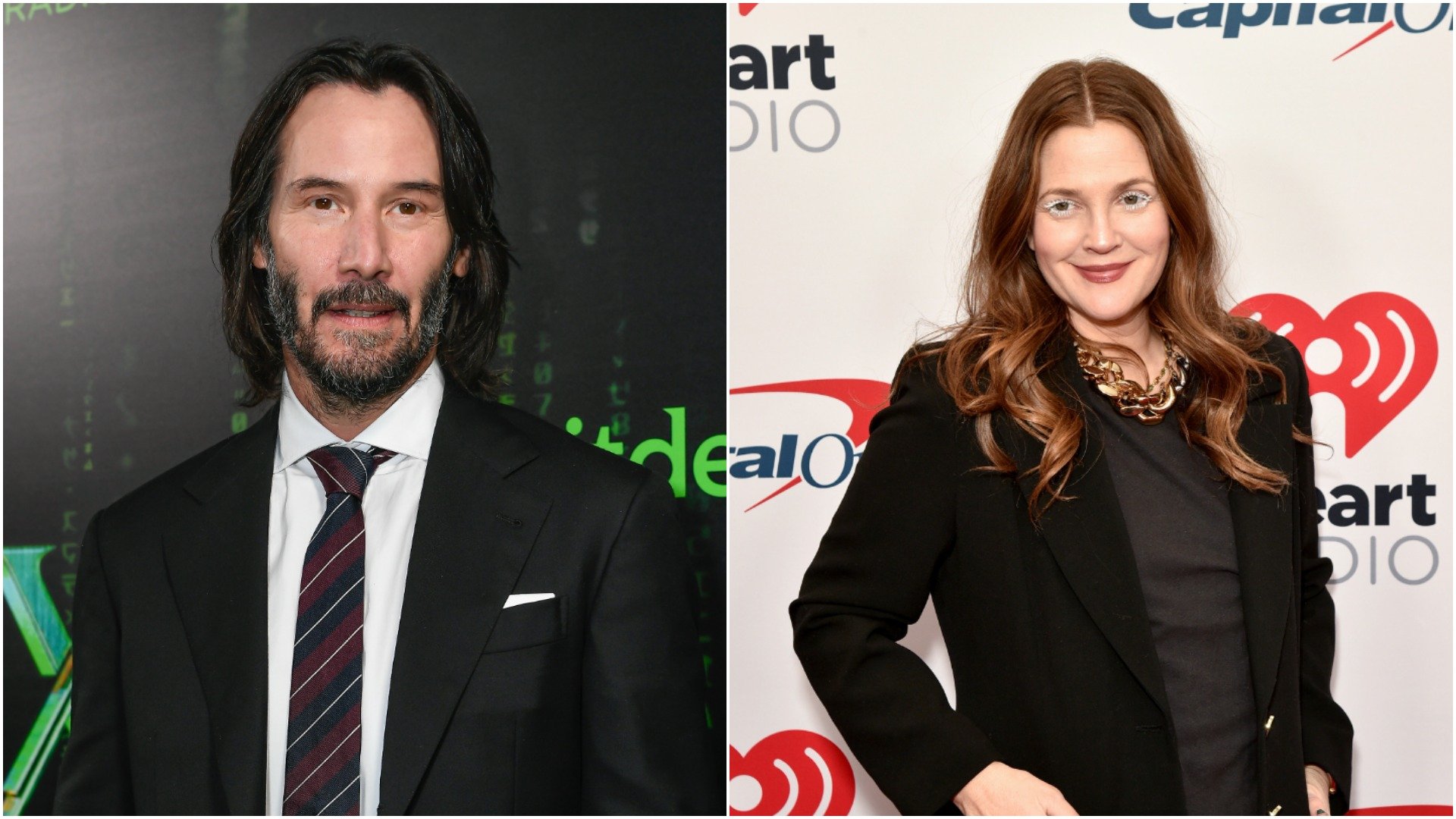 One fan replied, "Be a fighter for love!" Another added, "All the ladies in the room fall more in love with him." 
"That is very true !!! You got to be a fighter !!! Great lines !!!" one person observed. Plus someone added, "Don't say that you're kidding Keanu. I know that came straight from your heart."
Other fans thought Reeves and Barrymore should do another film together. "He is amazing! You two should film a movie together!!!"
Drew Barrymore remembers what a humble and kind person Keanu Reeves always was
Reeves joined Barrymore for a stroll down memory lane when they co-starred in the '80s film Babes in Toyland. Barrymore shared the impact Reeves had on her life and how she's always admired him. "I'm just looking back at, you know, from 1986, until now, we have both had the privilege and fortune to keep going," she says.
RELATED: Keanu Reeves Explains What Was Going on in 'Sad Keanu' Meme
"And what a gift and a blessing that is," she continues. "You're someone I think of too, as being so incredibly gracious about it, and I definitely feel like I would look around and see the behaviors of the people that I wanted to be like one day. And they were always the kind, humble, gracious, hardworking, you know, lovely examples. You are so that."
Of course, Reeves humbly replies, "That's kind of you to say that. I mean, I love what I do, right? And I mean, I'm yeah, I love acting. I like rolling up the sleeves. I like going to work. And you know, it is what it is, you know? We ain't doctors. But we can change lives. We can help, you know?"
She shared a moment she felt free when she was with him as a teen
Barrymore then took Reeves back to her 16th birthday. "Can I take it back to a memory that I have with you?" she asks Reeves.
"I was at this club and it was my 16th birthday and you came in," she recalls. "This is the memory I have of it. If you have anything to add or change, please let me know. And you walked in and you grabbed my hand and you took me outside and you put me on your motorcycle. And we drove at the warp speed of my life."
"We went and you took me on the ride of my life, and I was so free," she adds. "I was such a free human being. And it was just this moment where I just remember loving life and being so happy and I hold it so dear because the older we get, the harder it is to get to that feeling."
RELATED: Machine Gun Kelly Drew Barrymore Interview Reveals Private Struggle – 'Time to Just Accept That It's OK to Not Be OK'