Keith Richards Once Gave Hilariously Critical Reviews of 10 Fellow Rock Bands Like The Band ('a Little Too Perfect') and Bee Gees ('All Kids Stuff')
On the eve of their 1969 American tour, The Rolling Stones' lead guitarist Keith Richards sat for an interview with music writer, Ritchie York. The location was the band's headquarters near Oxford Circus in London. The topics ranged from a newly-hired guitar player to an upcoming album to truly hilarious band critiques delivered in Richards' inimitable style.
During the interview, Richards was unable to provide an exact itinerary. But he did note that the band needed to "go through the paces again to really get it together" with Mick Taylor. The former Bluesbreaker joined The Rolling Stones following the death of founder Brian Jones. However, Taylor, an already-accomplished musician, was not the focus of Richards' hilarious critical reviews.
Rolling Stone asks, Keith Richards roasts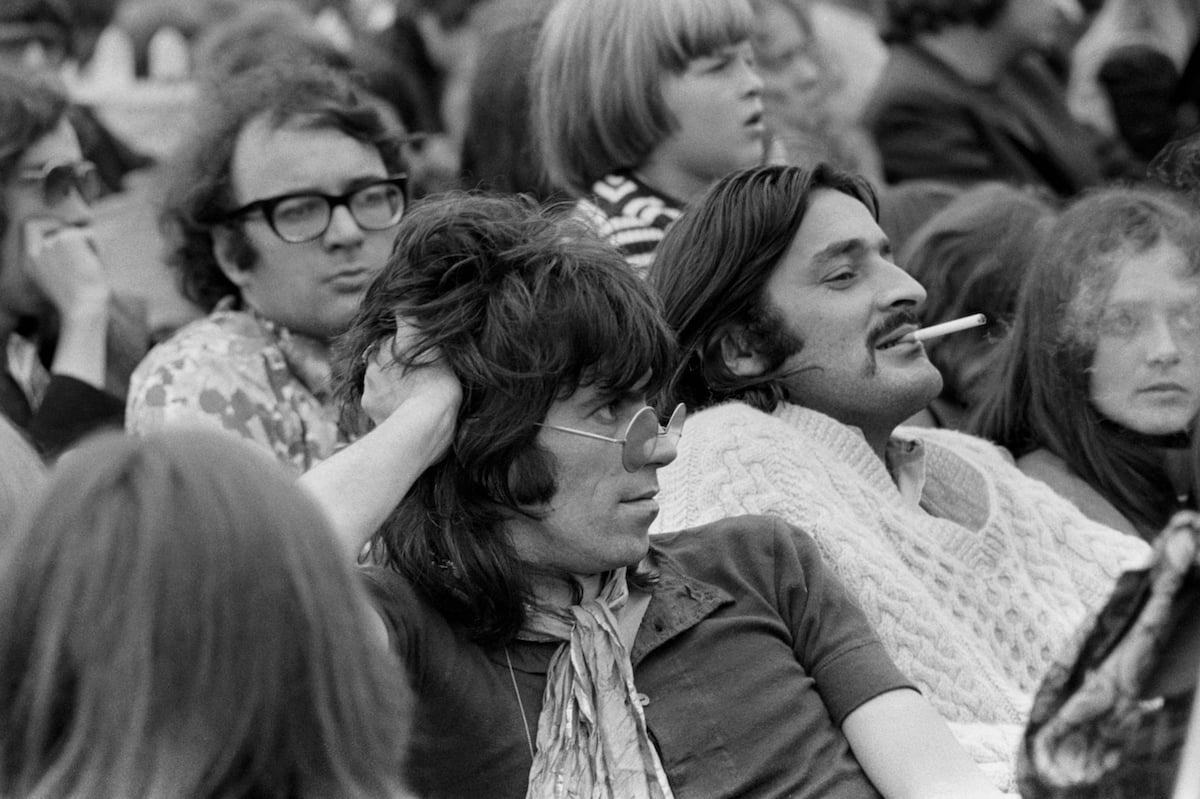 First, Rolling Stone asked what Richards thought of the band Blood, Sweat & Tears. The always outspoken Stone said, "I don't really dig that sort of music." He explained that despite not listening to BST much, soul bands are the only brass sections that truly "knocked him out."
Of Led Zeppelin, Richards offered props to lead guitarist Jimmy Page. He did grouse that after listening to the first album several times, "the guy's voice started to get on my nerves." The guy he referred to was Robert Plant whom he also described as being "a little too acrobatic."
The Hyde Park stage barely had time to cool down from The Rolling Stones concert on July 5, 1969, when Blind Faith performed there two days later. Comprising Steve Winwood, Ric Grech, Ginger Baker, and Eric Clapton, the short-lived combo released just one album. Richards was not impressed.
Winwood, according to the Richards, was "incredible" when it came to singing and playing instruments. But "he never does the things I want to hear him do" before explaining that he was "still digging" songs Winwood did with the Spencer Davis Group, "but he's not into that scene anymore."
Even Jethro Tull, a band greatly admired by The Rolling Stones, was not beyond Richards' acerbic observation that it is such hard work to make it in America."It's very easy to become a parody of yourself," he explained while expressing hope that "Ian Anderson doesn't get into a cliché thing with his leg routine."
Few would fault Bob Dylan's backup band for live performances that sound note-for-note like their records. But Richards did. Saying he "likes a little distortion, especially if something starts happening on stage," Richards decried The Band's lack of spontaneity.
What about the Beatles, the Bee Gees, and his bandmates?
When asked about The Rolling Stones' No. 1 rock chart rival, Richards described the Beatles as band that "passed their performance peak even before they were famous."
By 1969, the Beatles had stopped touring and focused on elaborate recordings, so this critique feels spot-on. As for the Bee Gees, Richards said the brothers Gibb were in "their own little fantasy world" where all they talk about is "kid stuff."
If you think he sticks to roasting bands other than his own, think again. In his 2010 autobiography, Life, Richards revealed that his nicknames for Stones frontman, Mick Jagger, were "Her Majesty" and "that b*tch Brenda." He slightly softened the blow by adding that he dislikes Jagger "only 1% of the time."
About The Rolling Stones' 1969 concert tour
The Rolling Stones' 1969 North American tour, as you may recall, kicked off on November 7, 1969, with a rowdy show in Fort Collins, Colorado. The tour culminated in disaster at Altamont Speedway one day shy of a month later.
Anyone wishing to see the complete itinerary and setlist of The Rolling Stones' 1969 tour of North America can view it at Concert Archives.
RELATED: Why Keith Richards Called Jimmy Page 'the Most Overworked Guitarist in the Business'