Kelly Ripa Doesn't Eat Any 'Chewing Food' Before Filming 'Live With Kelly and Ryan'
Instead of fueling up on food before taping 'Live with Kelly and Ryan,' talk show host Kelly Ripa reaches for liquids. Only after taping is done does she eat her "first chewable food of the day."
Some people need to eat breakfast before they start their day but not Kelly Ripa. Her first meal comes after taping Live with Kelly and Ryan with her co-host Ryan Seacrest. 
The longtime on-air talent, who has three children with Mark Consuelos, shared with Harper's Bazaar everything she eats in a day as part of their YouTube series, "Food Diaries: Bite Size." In the video published on March 18, 2020, 49-year-old Ripa broke down her go-to snacks (a handful of almonds or cashews), what she has before bed (ginger turmeric tea), and of course, what she consumes before going on air. 
Kelly Ripa starts her day with coffee, a green drink, and supplements
Everyone has their own morning routine, especially TV show hosts and anchors. For Ripa, she has to make the most of her morning routine before stepping in front of audiences on Live with Kelly and Ryan. Her morning involves getting a dose of greens, caffeine, and vitamins. She rises early — her alarm goes off at 5 a.m. — as part of her job. 
"I wake up in the morning and the first thing I do is, I take a glass of water and I have something called Get Off Your Acid Daily Greens, which is—spirulina, spinach, kale—all ground into a powder that you mix into water," she said before adding, "It is for [alkalizing] your digestive system."
After downing her liquid greens, she moves on to coffee and a mix of vitamins. 
"Then I have a large coffee with ghee. I blend it in the Bullet. And while I'm having my ghee, I have my Persona morning supplements, which is my foundational vitamin, my multivitamin, ginger and my probiotic. That's phase one."
Ripa, who is a brand ambassador for Persona, then heads to the studio to tape Live with Kelly and Ryan. 
Her 'first chewable food of the day' is apples and almond butter 
Ripa doesn't step in front of a camera or a live studio audience with a stomach full of food. "I don't have any sort of chewing food before I talk on the air," she said.
She didn't give an exact reason for this in the video but in 2012 she told Bon Appétit, "I can't seem to focus my mind if my stomach is digesting. I find that if I eat beforehand, I'm just making digesting sounds."
After taping's complete is when she whips up a healthy breakfast.
"When we're finished, what I'll have is a green apple cut up. Then I take two tablespoons of almond butter and a teaspoon of cinnamon … I blend it all together and I put the apples in there," she said. "And I eat that like a porridge, if you will. That is my first chewable food of the day."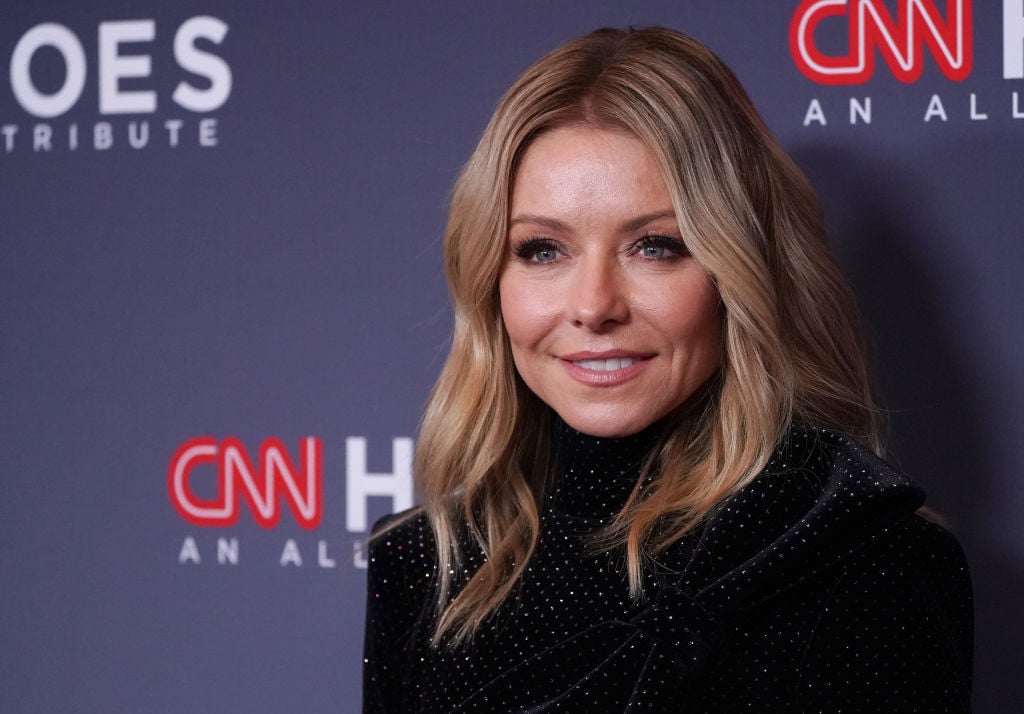 Apart from what she eats, two other things are key parts of her job. During a Feb. 2020 interview with Woman's Day, Ripa said sleep and waking up early are essentials to her performing at her best. 
"I'm a morning show host; sleep is critical for me, waking up early is critical for me, and being alive and awake," she said. Earning $17 million for every season of Live with Kelly and Ryan, Ripa has to show up and do her best for every single taping. 
While Ripa's strategy of eating breakfast hours after waking up might be a little different than most, it works for her. Being in the TV industry for decades, Ripa's learned what she needs to do to be at the top of her game. For her, that means sipping on powdered greens before being on camera and eating a more traditional breakfast afterward.