Ken Jeong Had the Wildest NSFW Experience as a Doctor
When it comes to comedic actors, it's hard to overlook the work of Dr. Ken Jeong. However, the "Dr." in his name isn't there to provide a catchy hook for his stage persona. Jeong had a long career as a physician before entering the comedy world, but that doesn't mean his doctor days didn't yield some wild and funny NSFW stories.
Dr. Ken Jeong became a doctor for the stability
Dr. Jeong grew up in Greensboro, North Carolina, watching the works of comedians like Bill Cosby and Jim Carrey. He came to love comedy and wanted to pursue it as a career. However, after graduating from high school at age 16, his parents urged him to get into medicine to follow in his father's footsteps.
Completing his pre-med studies at Duke University in 1990, Dr. Jeong obtained his medical degree from the University of North Carolina at Chapel Hill just five years later. However, his work in the medical industry hadn't reduced his desire to perform comedy. While working as a general practitioner at Kaiser Permanente, Dr. Jeong moonlighted at LA's famed Improv and Laugh Factory comedy club. 
Though most of his passion was in comedy, Dr. Ken took his medical career seriously. He effectively treated numerous patients, and most of the cases he'd dealt with were routine. However, there was one case that the doctor-turned-comedian would never forget.
Which patient provided the most amazing NSFW story?
Huff Post posted a clip of a performance at the Laugh Factory where Dr. Jeong explained that people constantly ask him about the weirdest case he's ever had to deal with in his medical career. He went on to describe a situation that occurred while he was doing his residency in New Orleans.
"85-year-old man complains of memory loss, doesn't know a thing," Dr. Jeong begins his story for his audience. Jeong talks about running a series of tests, including CAT Scans, MRIs, and ultrasounds. Unfortunately, everything came up negative, much to his confusion.
At this point, Dr. Jeong turns to the man's wife to ask whether she knew of anything that may have precipitated his patient's condition. As Dr. Jeong relayed, "She goes, 'Well, we did have rough sex.' Turns out, [the man] had amnesia, like you see in the soap operas!"
Dr. Jeong eventually found out that his patient was afflicted with a condition known as Transient Global Amnesia. This revelation led to the punchline, which Dr. Jeong delivered masterfully: "So, medically, she [bleeped] his brains out!"
Dr. Jeong made a fantastic transition from medicine to comedy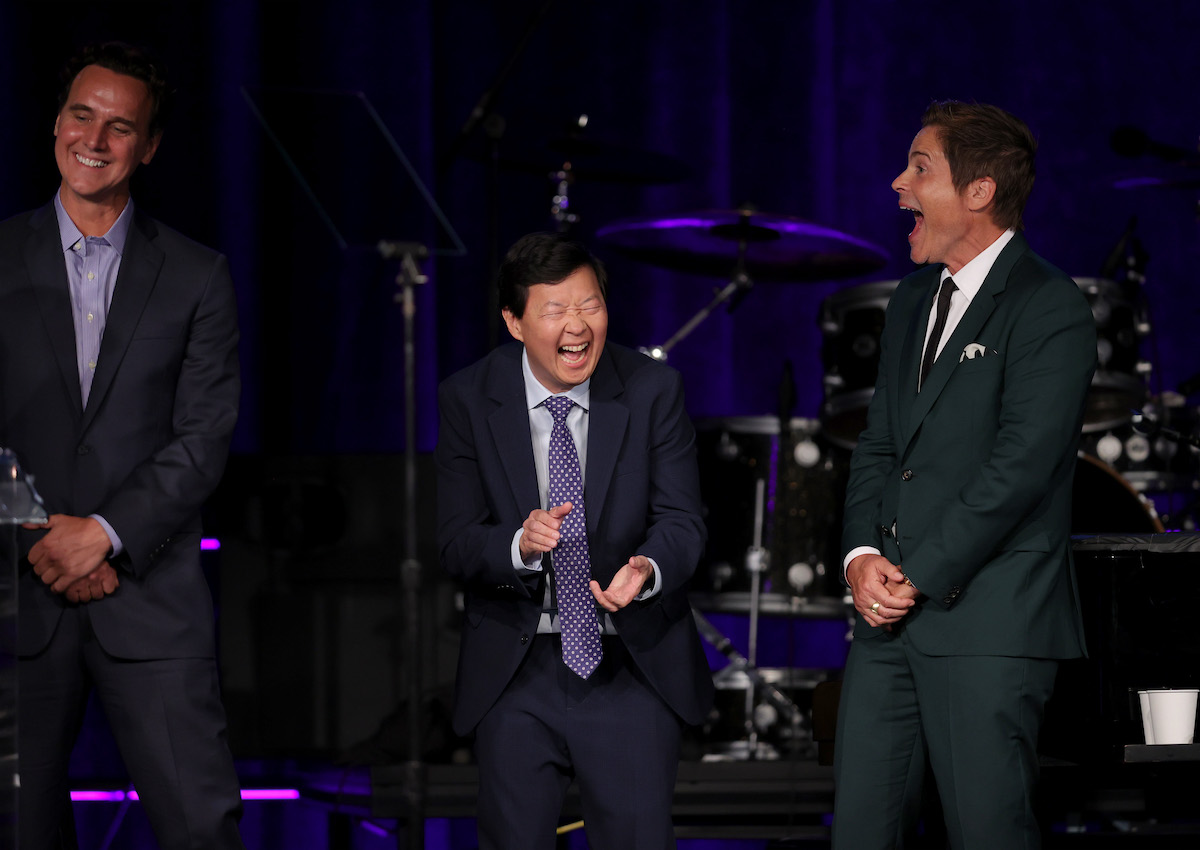 The side gigs Dr. Ken Jeong performed while working as a physician gave him the experience he needed to land high-profile jobs in comedy. At one point, he made an appearance on ABC's The View and even earned the title of "The Funniest Doctor in America." From there, Dr. Jeong appeared on several TV shows, such as Curb Your Enthusiasm, Entourage, The Office, and Boston Legal.
However, Dr. Jeong's first movie role came in 2007, when he was cast in the Judd Apatow comedy Knocked Up as Dr. Kuni. After landing the role, Dr. Jeong's wife, Tran, persuaded him to pursue comedic acting full-time. With her encouragement, Dr. Jeong quit his career in medicine a year before Knocked Up hit theaters.
After getting into acting, Dr. Jeong received roles in movies such as Step Brothers, Role Models, and Pineapple Express. Then, in 2009, Dr. Jeong's breakthrough role came when he was cast as Asian mobster Mr. Chow in the highly successful comedy The Hangover. This movie became one of the highest-grossing R-rated comedies of all time, partially because of how far Dr. Jeong was willing to go in his role, spawning two sequels in 2011 and 2013, with Dr. Jeong reprising his role in each.
Following the success of The Hangover, Dr. Jeong's comedy career only continued to blossom. He became a regular on the hit NBC comedy Community, where he and Joel McHale became great friends. In 2019, Dr. Jeong was given a position as a judge on the reality competition The Masked Singer, and he made his return to standup comedy with a Netflix special.
Though Dr. Jeong's career has taken him from a talented doctor to a successful actor and producer, he still maintains his physician's license. So, he won't be dropping the "Dr." anytime soon.  
RELATED: Why Ken Jeong Called 'The Hangover' the Most Difficult Time in His Life