Keri Russell and Matthew Rhys Were Declared 'Definitely' More Than Friends After 1 Awkward Scene in 'The Americans'
For six seasons, Matthew Rhys and Keri Russell played a pair of Russian spies on the FX thriller The Americans. The duo played married couple Philip and Elizabeth Jennings, and their on-screen chemistry turned into a real-life romance. According to Russell, one awkward scene in particular proved to the director that they were "definitely" more than co-stars.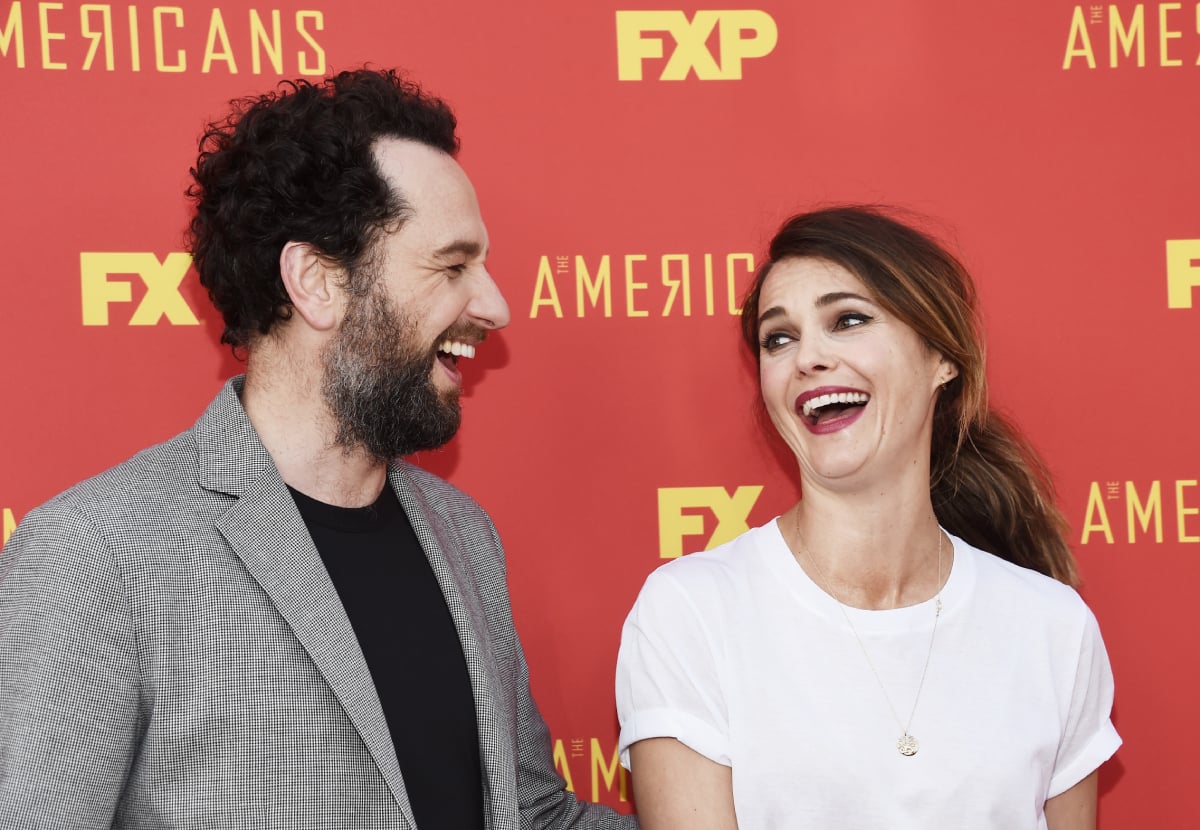 Keri Russell split with her husband after season 1 of 'The Americans'
During season 1 of The Americans, Russell was married to Brooklyn-based contractor Shane Deary. The couple tied the knot in 2007 and had two children together. But seven months after the first season aired, Russell and Deary called it quits.
Not long after, rumors started swirling that a romance was blossoming on set between Russell and Rhys. The couple denied the rumors for months. But in 2014, People magazine confirmed they were an item.
Matthew Rhys says his relationship made his acting worse
During a 2018 interview with Esquire, Rhys admitted that having a real romantic relationship with his scene partner kept him from taking risks as an actor during the first couple of seasons. Rhys says he was so worried about making a fool of himself in front of Russell that his performance suffered.
"My acting was worse," he says. "I was trying to impress her so much I wasn't doing anything. That's why we didn't get nominated for Emmys in seasons one, two, and three. Damn you, Keri Russell!"
One awkward scene on 'The Americans' made it clear they were more than friends
Rhys and Russell kept their relationship private at first, and that meant keeping their co-workers in the dark. However, there was one scene in particular that had the episode's director declaring they were "definitely" more than co-stars.
"We had to do a very explicit scene together that he had to direct and he was talking to the script supervisor. And he was like 'well this might be kind of awkward and see how this goes.'" Russell told Sam Jones. "We kind of did it and just did it right away. And he told the script supervisor 'these two have definitely f***ed. He's like 'they're way too comfortable together."
Keri Russell forgot about meeting Matthew Rhys
A decade before Russell and Rhys landed the lead roles in The Americans, the two actually met. However, Russell had forgotten the meeting until Rhys reminded her. During a joint appearance on Watch What Happens Live with Andy Cohen, Russell admitted the truth.
"We did all the readings together and all the things, and after a heavy dose of fight training, all sweaty, at lunch, you said, 'Oh, you know we've met before,'" Russell recalled. "I said, 'no we haven't,' and you said, 'yeah, we've met before, like 10 years ago at kickball.' As soon as he said that, I knew exactly what [happened] and I opened my eyes, like, 'oh! of course I remember that.'"
Rhys explained that the meeting took place in a parking lot after a kickball party. When Russell asked him to open a beer, he "very drunkenly asked for her number."
Keri Russell and Matthew Rhys welcomed a son in 2016
Rhys and Russell have now been together for seven years. They live together in Brooklyn with her two children from her previous relationship. As well as their five-year-old son, Sam, whom they welcomed in 2016.
According to Rhys, the most critical hours of the day are from 4:30 in the afternoon until the last kid is asleep in bed.
"You evaluate the success of the entire day on those hours," he says. "And if you get all three fed, vegetables eaten, someone's asked me a question at dinner, bath, Harry Potter's read, they're in bed, and all three haven't cried, it's an enormous success."
All six seasons of The Americans are available on Amazon Prime Video.