Kevin Bacon and Kyra Sedgwick's Wise Marriage Advice May Save Your Relationship
In the Hollywood world of ultra-short marriages, Kevin Bacon and Kyra Sedgwick are unicorns. They've been married for over 30 years, have worked together, and they still like each other. Even outside the acting world, that's impressive.
Sedgwick and Bacon stuck together through some pretty big events, and not all of them have been happy. Naturally, people want to know how they managed this remarkable feat. Here's a look at their long history together, and the words of wisdom they've shared about staying together.
They met when they were young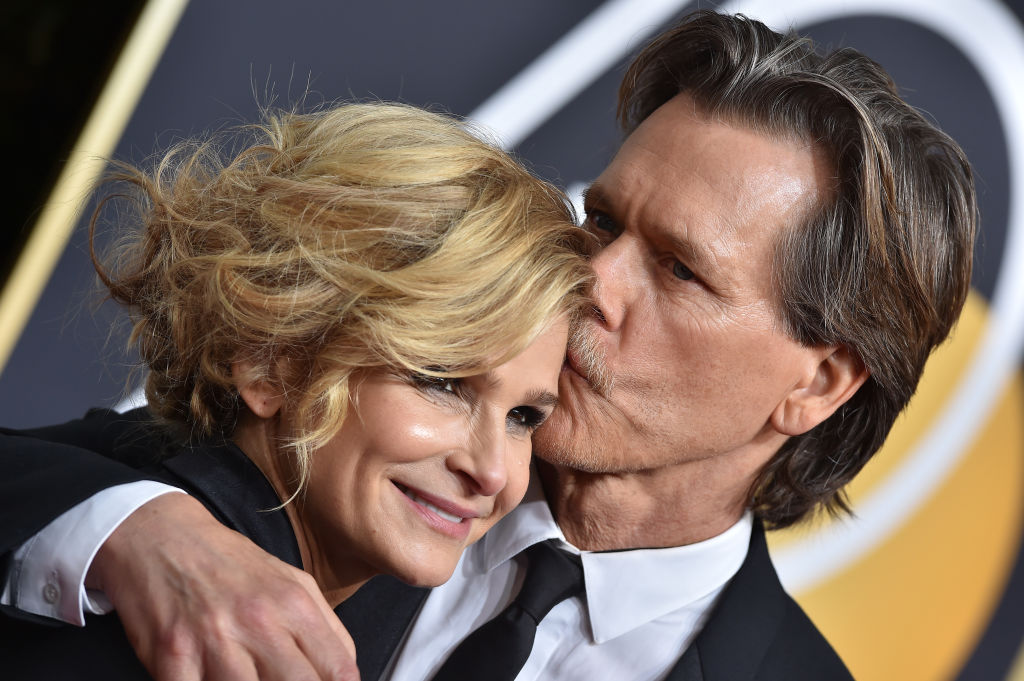 Sedgwick was only 22 and Bacon was 29 when they met on the set of the television drama Lemon Sky. Being seven years older, he had already starred in a number of hit movies, including National Lampoon's Animal House and Footloose. Sedgwick was just getting started in the acting business, with some roles on television, like Another World and Miami Vice.
Despite Bacon's star status, Sedgwick wasn't impressed with him, and it took a while for him to convince her to go out with him. Once they did start dating, things moved pretty quickly. They married the next year, at the tender ages of 23 and 30. 
From dating to married with children in the blink of an eye
Within two weeks of their wedding, Sedgwick was expecting their first child. Travis was born in 1989, and their daughter Sosie came along three years later. In a very short period of time, they were living the lives of working parents, along with all the stressors that come with it.
Despite that, they both continued acting. Sedgwick appeared in a number of movies, including Born on the Fourth of July, Singles, and Something to Talk About. Perhaps her best-known role was on the television show The Closer, which she starred in for seven years. Bacon also worked steadily, starring in movies including Taking Chance and X-Men: First Class. He also worked in television, including the series The Following. He directed several episodes of Sedgwick's show The Closer. 
They stuck by each other in hard times
In 2008 the couple discovered that they had been swindled out of their nest egg by the con man Bernie Madoff. Finding out that they had lost a significant amount of money was a shock, but they never blamed each other. Instead, they stayed focused on the things that really mattered.
"We kind of went, 'Holy s–t," said Bacon. "Let's…I don't know. Let's have sex or something. It's free!"
That particular coping mechanism seems to be a key factor in their marriage because it comes occasionally in their words of advice.
They share marriage advice — but reluctantly
Naturally, people want to know how they stay connected despite all the pressures. They've both said that their first tip is to not take marriage advice from celebrities, but that doesn't stop the questions. Here are a few of their words of wisdom.
Kids are important, but the marriage comes first."I feel the primary relationship has to be the mother and the father, and then it can be the kids," said Sedgwick. "It's the foundation on which everything is built."
Work together to keep the house clean. "I still don't really like to make the bed, because we're going to get in it in another 12 hours, but she really, really likes a made bed," Bacon admits. Sedgwick agrees, saying she pays attention to the kitchen, "Nobody wants to come home to a trashy kitchen if you've been away for a while; it's nice to come home to a clean place."
Celebrate your anniversary with sex and dinner. "I'm sure Kevin would like that plan! I think that no matter what, sex has to be involved," says Sedgwick.
Fight Fair. "I think the biggest fight we ever had was when I wanted to move back to Manhattan and he wanted to stay in Connecticut," says Sedgwick. "That was a big one, and it lasted a long time. But we don't hit below the belt."
Priorities. Sedgwick is blunt on this matter. "Sex is really important…don't have sex with somebody else. Monogamy is a given, like 'Put the toilet seat down.'"
Bacon and Sedgwick's marriage is a magical thing. Maybe other couples can try a few of their tips and get a touch of that magic too.