'Killing Eve' Stars Jodie Comer and Sandra Oh Are De-stressing During Quarantine
One weird thing about the coronavirus (COVID-19) pandemic is that it really makes us all have this collective experience. It's very scary, real, and serious, and at the same time, everyone is urged to stay home, celebrities included. So what are the two leads of Killing Eve doing during quarantine? Trying their hardest not to have an anxiety attack. Celebrities: they're just like us, right?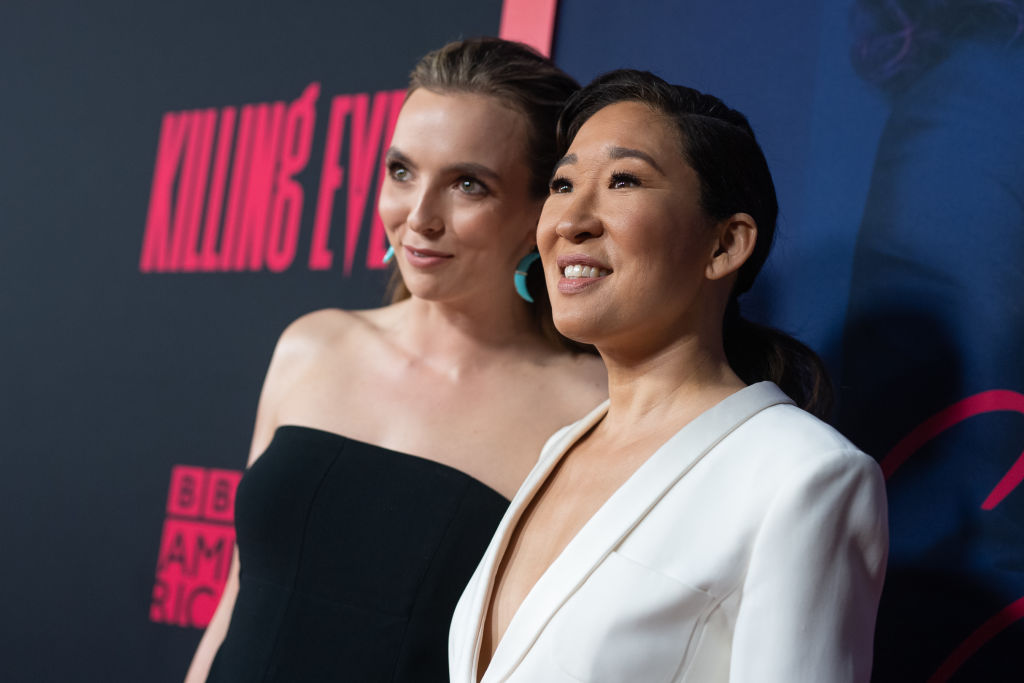 RELATED: What Is Queerbaiting and Is 'Killing Eve' Guilty of It With Villanelle and Eve?
Jodie Comer is spending some much-needed time at home with her family
While Villanelle is all style and Russian and elusive on the show, Jodie Comer seems pretty different. Starting with how she sounds; her Liverpudlian accent being a real shocker for most who've never heard her real accent before. But, overall she's, of course, not the serial killer she plays on TV. And unlike Villanelle, she loves to spend time with her family, which she's taking advantage of during quarantine. 
"I've actually been able to come home, unpack like seven suitcases because I haven't been here, and I've thrown out so much rubbish," she told Press Association, according to Hello Magazine. "And, actually, to have a bit of stillness, and be stationary, I'm actually really kind of… I'm a bit embarrassed to say I'm kind of enjoying it."
In addition to staying "connected with loved ones," she exercises and has a "long list of movies" to go through. And her favorite quarantine jam? "Fergalicious" by Fergie. She enjoys living with her family so much in Liverpool that she "cannot imagine not living with my mum and dad." Again: Villanelle could never. 
RELATED: Villanelle Isn't a Psychopathic Killer and Her Final 'Killing Eve' Season 3 Scene Proved It
Baking and de-stressing is also a focus for Comer
In addition to getting all that family time in, Comer shared with GMA News Network that she's been baking, something almost everyone has taken up 
"I've perfected my victorious sponge cake," she said. "I feel like the whole world has turned to baking in the middle of this crisis. But other than that, I can't say I've been particularly creative at all, actually." 
Even though some people have gotten into crafts or painting, Comer admits she hasn't really done that. But for someone who acts as completely different people for a living, her creative side gets out quite a lot other times of the year. 
As for how she's handling her mental health during this time, Comer told the outlet that she's really trying not to focus on things that stress her "too much."
"I feel like when things are out of your hands you just have to try and surrender to it," Comer said. "In all honesty my family are healthy and I feel as though I cannot complain. I've been told to stay in my house and spend time with my family who I see a lot less now so I'm finding a lot of sanity in just being here with them and not living out of a suitcase."
Sandra Oh is meditating during quarantine 
Sandra Oh plays the former MI6 agent Eve Polastri, who the television show Killing Eve is named after, of course. She starts off as very bored, complacent, and pretty much followed all the rules all the time. But when her love of putting puzzles together and studying female serial killers come in handy for MI6, she's brought in to focus on Villanelle's killings. Now, three seasons later and she's completely different. 
When she talked to Variety recently, she said that she's also de-stressing with meditation. 
RELATED: 'Change Is Possible' on 'Killing Eve,' But Does That Include Villanelle?
"I have a meditation practice, and I find that has been a real anchor for me during this time to manage a lot of the interior landscape that is going on," she said. When the interviewer they find it hard to do that, she said it's all about being one with your mind. Not about getting it to "shut up." 
Oh is also just as obsessed with 'Tiger King' as everyone else 
While Comer didn't get into specifics about what she's watching, Oh did tell Variety in another interview all about the Netflix show that has caught her attention: Tiger King.  
"From a psychological perspective, and honestly an acting perspective, they're brilliant character studies," Oh said of the docuseries. "It's like when the ego hijacks everything, and reactivity hijacks everything. Also, the narcissistic need and desire to be at the forefront — it's an amazing study on how to be a cult leader."
Glad to know that Oh is just as intrigued by Joe Exotic as everyone else is. 
RELATED: Jeff Lowe Confirms 'Tiger King' Season 2 Is In the Works But He Has a Better Idea