Kim Kardashian Admitted She Reached Out to Pete Davidson After Hearing About His 'BDE'
Kim Kardashian and Pete Davidson have been in a relationship since late 2021, following Kardashian's split from ex-husband Kanye West. The two met on the set of Saturday Night Live, but it wasn't until later that Kim got a hold of Pete.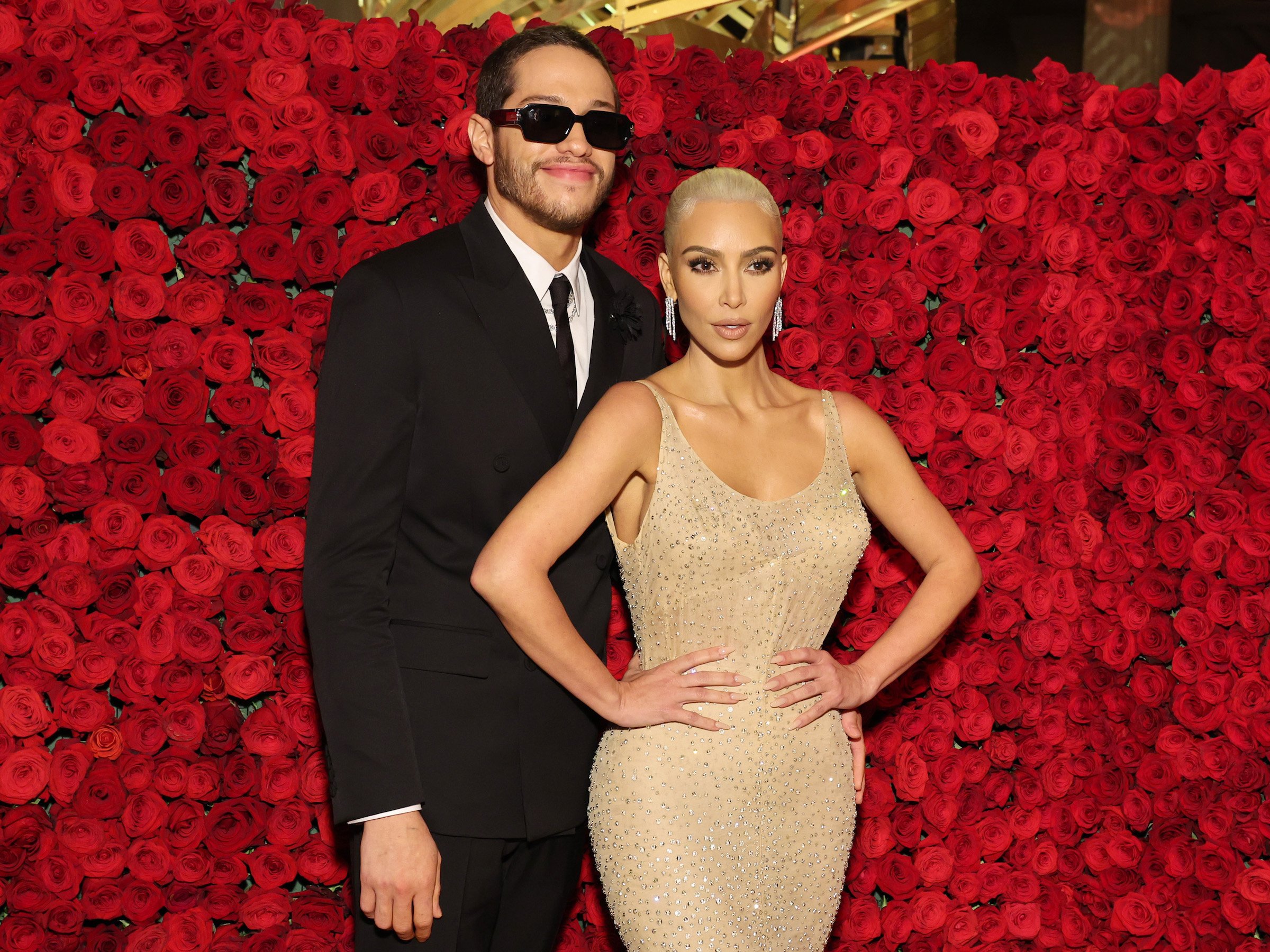 Kim Kardashian and Pete Davidson started dating in 2021
Kim Kardashian filed for divorce from Kanye West in February 2021. West began dating actor Julia Fox and went on to release his highly-anticipated tenth album Donda.
In October 2021, Kardashian hosted Saturday Night Live for the first time and acted in sketches alongside comedians including Pete Davidson. She didn't pull any punches in her monologue, and wasn't afraid to laugh at herself.
Kim Kardashian messaged Pete Davidson first after hearing about his size
Kardashian fans got a look inside her SNL process on their Hulu series The Kardashians. In a June 2022 episode of the show, Kim reflected on when she first met Davidson while hosting SNL the year before.
"I did SNL and then when we kissed in-scene, it was just a vibe," she said of her connection with Davidson. "I was like, 'Oh s***, maybe I've been…maybe I just need to try something different.'"
"But Pete does not come to my after-party," she continued. "Everyone was at my after-party. He does not give me the time of day."
Still, she couldn't stop thinking about him, and a few days later asked an SNL producer if they could give her Davidson's number. "They were like 'Yeah' and I text him," she recounted. "I wasn't even thinking like, 'Oh my God, I'm gonna be in a relationship with him.'"
"I was just thinking… I heard about this BDE. I need to get out there. I need to just, like, jump start my [love life]," she thought at the time. "I was just basically DTF."
Kardashian clarified that she was just following what made her happy. "I am not chasing anything and that is the best feeling," she said. "Whether it is at the beginning of your career chasing fame, chasing money, chasing a relationship, or chasing happiness. Like, it is just all here."
Pete Davidson is uncomfortable with people talking about his size
Pete Davidson's rumored size has been a subject of discussion for years. In 2018, his fianceé Ariana Grande responded to a fan's question about how "long" Davidson is, quipping, "Like 10 inches?"
Davidson responded to his ex's comment in a stand-up performance the following year. He admitted that he wished she never publicly opened up about their intimate life in the first place. He also denied that he was as well-endowed as she claimed he was.
"I don't like that she talked all that," Davidson said. "Why would she tell everyone that?" He joked that he now worries that women he's with in the future will be "disappointed." 
RELATED: Kanye West Addressed the Backlash After Burying Pete Davidson Alive In His 'Eazy' Music Video: 'Art Is Therapy'