Kim Kardashian Followed 'Strict' Diet to Fit Into Marilyn Monroe's Iconic 'Happy Birthday, Mr. President' Dress at Met Gala 2022
Kim Kardashian wore Marilyn Monroe's iconic nude sequin dress to the 2022 Met Gala. Kardashian had to lose 16 pounds and follow a strict diet to fit in the gown.
Kim Kardashian wore a piece of history to the 2022 Met Gala. It was a lot of work to fit into the dress originally worn by Marilyn Monroe — since it couldn't be altered, Kardashian had to follow a "strict" diet.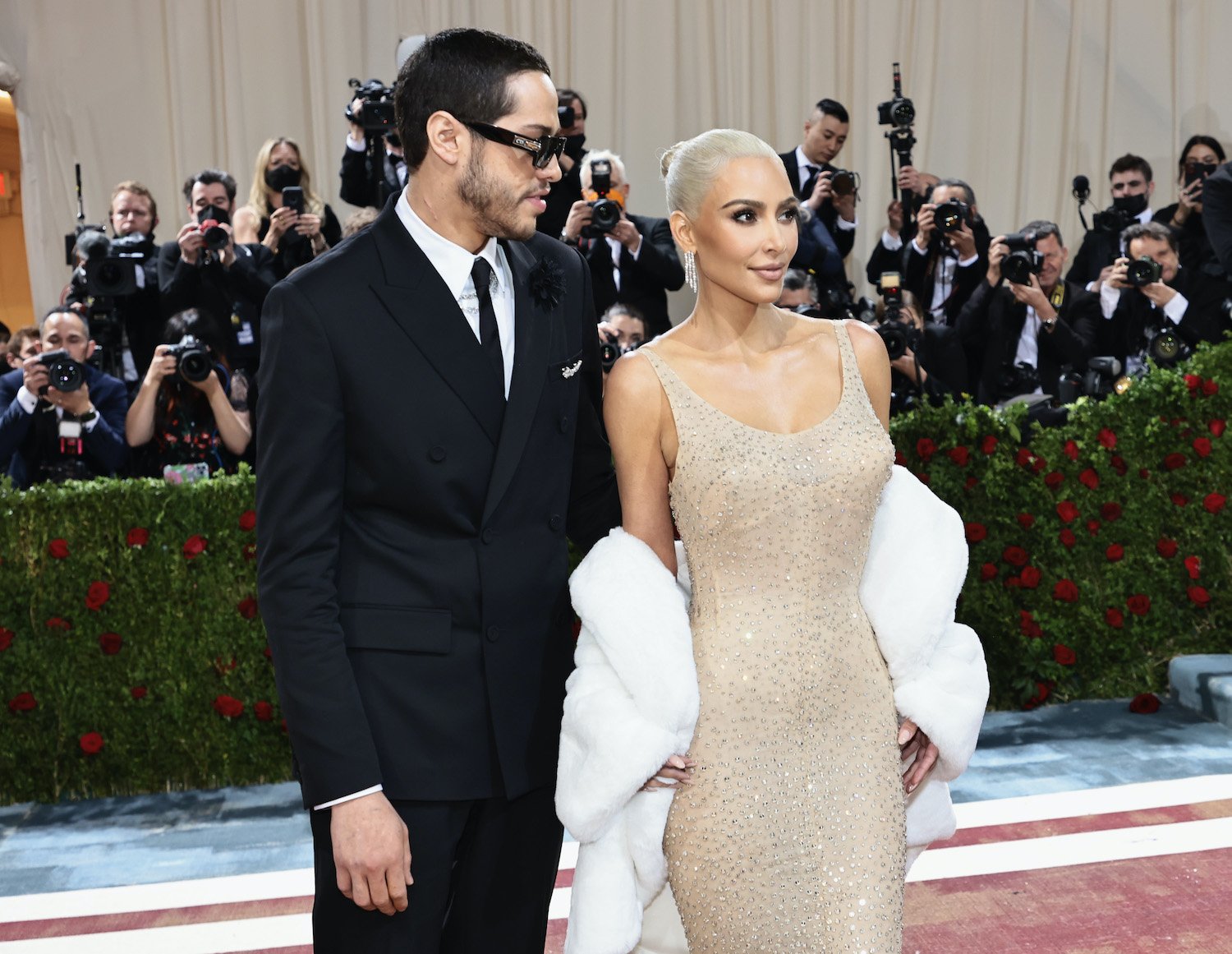 Kim Kardashian knew she wanted to wear Marilyn Monroe's dress to the 2022 Met Gala
Kardashian looked glamorous on the 2022 Met Gala red carpet for the theme "In America: An Anthology of Fashion." She rocked the iconic dress Monroe famously wore when she sang "Happy Birthday, Mr. President" to John F. Kennedy.
Kardashian explained the journey of getting the gown, telling Vogue on the red carpet, "This is Marilyn Monroe's dress and it's 60 years old and she wore this when she sang Happy Birthday to President John F. Kennedy in 1962."
The original dress couldn't have any alterations so Kardashian had to lose weight to fit into it. "I had this idea to put it on and try it on," she said. "And then they came with armed guards in gloves. I tried it on and it didn't fit me and so I looked at them and I said, 'Give me like 3 weeks.' And I had to lose 16 pounds … to be able to fit this."
Kardashian explained, "It was such a challenge. It was like a role. I was determined to fit it."
She had big post-Met food goals, however. "And afterward, since I haven't eaten carbs or sugar in about 3 weeks, we're eating pizza and donut party back at the hotel," Kardashian said.
Kardashian called Monroe's gown 'the original naked dress'
In an interview with Vogue, Kardashian shared why she had her heart set on wearing the Marilyn dress. "The idea really came to me after the gala in September last year. I thought to myself, what would I have done for the American theme if it had not been the Balenciaga look? What's the most American thing you can think of? And that's Marilyn Monroe," she said.
"For me the most Marilyn Monroe moment is when she sang "Happy Birthday" to JFK, it was that look," Kardashian added.
"Nowadays everyone wears sheer dresses, but back then that was not the case," Kardashian noted. "In a sense, it's the original naked dress. That's why it was so shocking."
Kardashian contacted Ripley's Believe It Or Not Museum, which owns the dress, and they allowed her to try on a replica for size. The replica fit, but she couldn't get into the original dress.
"The dress was transported by guards and I had to wear gloves to try it on," she explained. "I always thought she was extremely curvy. I imagined I might be smaller in some places where she was bigger and bigger in places where she was smaller. So when it didn't fit me I wanted to cry because it can't be altered at all."
Kim Kardashian followed a strict diet to fit into her 2022 Met Gala dress
"It was this or nothing," she said of her desire to wear the garment. So Kardashian followed a strict diet for the next month. "I would wear a sauna suit twice a day, run on the treadmill, completely cut out all sugar and all carbs, and just eat the cleanest veggies and protein," she said. "I didn't starve myself, but I was so strict."
The hard work paid off. "I wanted to cry tears of joy when it went up," she shared.
Kardashian only wore the original dress on the red carpet and up the steps of the Met (which proved challenging, but her boyfriend Pete Davidson patiently helped her with every step). She changed into a replica afterward.
"I'm extremely respectful to the dress and what it means to American history. I would never want to sit in it or eat in it or have any risk of any damage to it and I won't be wearing the kind of body makeup I usually do," she said. "Everything had to be specifically timed and I had to practice walking up the stairs."