Kim Kardashian Pops Khloe's Pimples in This 'KUWTK' Video and Fans Are Losing It
If the whole reality star/beauty mogul/shapewear creator thing doesn't work out for Kim Kardashian, she definitely has another gift to offer the world. In a clip from Keeping Up With the Kardashians that is both disgusting and oddly satisfying, Kardashian goes to work on one of her sister's pimples and it's clear that she enjoys it.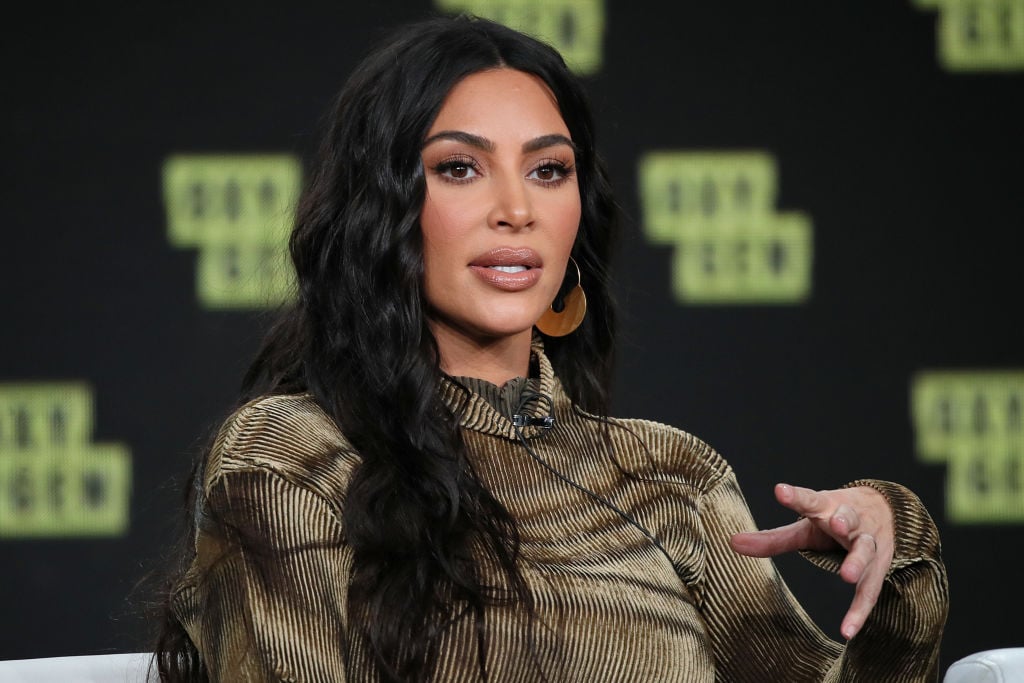 Kim Kardashian plays Dr. Pimple Popper
The Kardashian-Jenner sisters are always looking out for each other, but this clip shows a level of sisterly love that might not play out in every family.
It's the KUWTK bonus scene you didn't know you needed — and once you start watching, it's hard to look away. In the clip, Khloe Kardashian is laying down while Kim addresses some of her sister's skin issues.
Kim announces: "Dr. Pimple Popper to the rescue!," with Khloe telling her: "Just my neck, you're not going any further."
As she works on the job with a special pimple removing tool, Kim shares, "This is amazing," adding, "You stab a little area that has the pimple. Oh, this one is worth it!"
"That one hurts!" Khloe says, with Kim responding, "Well, hurts for a reason."
Kim recognizes her talent, saying, "I should have been an aesthetician," adding, "I can't take this up as a real hobby."
She offers Khloe the results of the popping, saying, "Okay, I'm done. Want to see what I got out of that one?" As you'd imagine, Khloe is pretty disgusted.
Among the comments on the video were many fans saying they're "obsessed" by this moment, with one commenter pointing out: "Imagine your pimple being popped broadcasted to the whole world."
Kim Kardashian's skincare routine is pricey
In April 2019, Kim shared her skincare routine on Instagram after showing off a facial she had at aesthetician Melanie Grant's Los Angeles clinic.
Kim posted a selfie of the facial on her Instagram stories and then shared all of the products she took home to use on her skin, beginning with CosMedix Purity Clean Cleanser, designed for oily, acne-prone skin types, followed by the CosMedix Rapid Renewal Serum, a nightly retinol serum for fine lines and wrinkles.
She moisturizes with The Rich Cream from Augustinus Bader and CosMedix Opti Crystal eye cream. The priciest product in her regimen is Chanel's L'Huille Rose body oil, which Kim called "heaven in a jar."
Khloe explained that their mom gave them the gift of beautiful skin
Khloe shared some of her makeup routine in a July video for Vogue. The busy mom of True shared: "Since becoming a mom, this is what I do… I had to learn how to do makeup really quickly, and not do too many wet things. Because if it's wet and I have to run after her, it's going to set really weird and then I'm going to look super blotchy."
Among the products she used in the video are Quinn's Alcohol-Free Witch Hazel Rose Petal and Aloe Vera Natural Toner, Drunk Elephant Lala Retro Whipped Cream, Kylie Cosmetics Translucent Loose Setting Powder, KKW Beauty Liquid Concealer, and Tom Ford Soleil Glow Bronzer.
Khloe also share how their mom Kris Jenner set them up for success with their fabulous skin, explaining: "We've always had a skincare routine."