Kim Kardashian 'Really' Likes 'a Lot of' Taylor Swift's Songs Now
After feuding with the singer-songwriter for years, Kim Kardashian West admitted in a new interview that she likes 'a lot of' Taylor Swift's songs.
It's no secret that the relationship between Kim Kardashian West and Taylor Swift is a rocky one. While the two celebrities have feuded in the past, it appears Kardashian West is ready to put the past behind her. In a new interview, Kardashian West admitted she likes several of Swift's songs.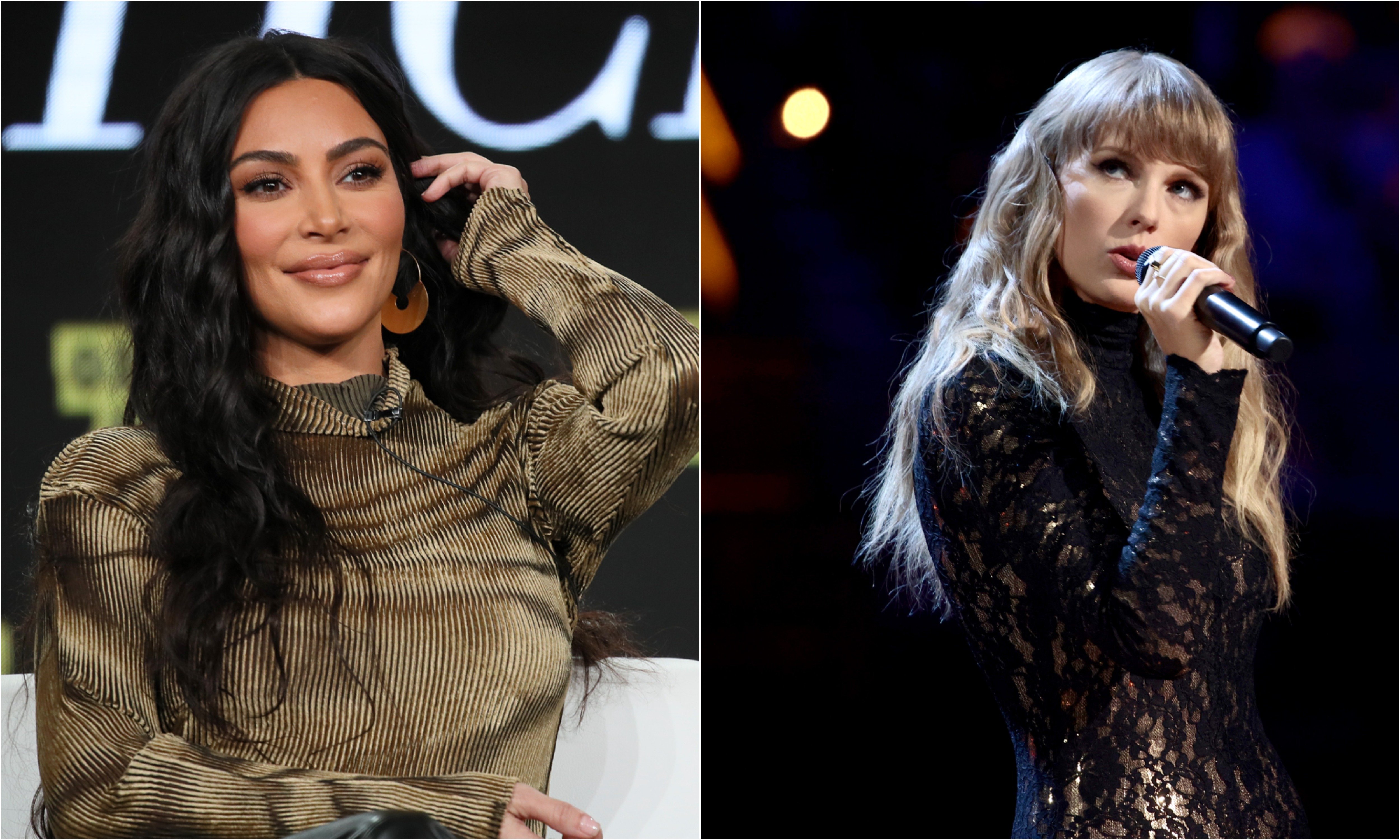 Kim Kardashian West is a fan of Taylor Swift again
In 2009, Kardashian West told Entertainment Tonight that she was the "biggest Taylor Swift fan."
"Number one song on my iPod? Taylor Swift, 'Love Story,'" Kardashian West told ET in an old interview. "I love Taylor Swift. I'm the biggest Taylor Swift fan."
Flash forward a few years, and Kardashian West publicly feuded with Swift in 2016, with the ramifications and gossip from the feud lasting well into 2020.
In a new interview with Bari Weiss, Kardashian West was asked about her favorite song of Swift's and admitted she likes multiple of the singer-songwriter's songs.
"I really like a lot of her songs. They're all super cute and catchy. I'd have to look in my phone to get a name," Kardashian West answered.
What happened between Taylor Swift and Kim Kardashian West?
In 2016, Kanye West released his song "Famous." The song includes a lyric that mentions Swift and West raps, "I feel like me and Taylor might still have sex / I made that b*tch famous."
Swift was quick to claim that she never approved the line "I made that b*tch famous." In July 2016, Kardashian West leaked video clips on her Snapchat account of West speaking with Swift on the phone about "Famous."
After Kardashian West leaked the videos, Swift faced public backlash but was adamant she never approved the lyric "I made that b*tch famous."
Taylor Swift addressed the feud on her album 'Reputation'
In 2017, Swift returned to music and released her album Reputation. Multiple songs on the album appeared to reference West, Kardashian West, and the "Famous" controversy.
While Swift discussed the feud in some interviews and on the Reputation Stadium Tour, Kardashian West appeared to have publicly moved on from the dispute.
In March 2020, the alleged full phone call between Swift and West leaked online, showing that West did not ask Swift to approve the "I made that b*tch famous" line. In response to the phone call leaking, Swift directed fans to donate to coronavirus (COVID-19) relief instead of focusing on the past drama.
Kardashian West then tweeted, ".@taylorswift13 has chosen to reignite an old exchange – that at this point in time feels very self-serving given the suffering millions of real victims are facing right now."
While their back-and-forth continued for multiple years, it seems the infamous feud between Kardashian West and Swift is permanently in the past.