Kim Kardashian West Buys $25,000 Janet Jackson Keepsake
Kim Kardashian West is now the proud owner of an iconic Janet Jackson fashion piece.
In honor of the Grammy-winner's 55th birthday on May 16, the Keeping Up With the Kardashians star purchased an outfit Jackson wore in one of her music videos — and she spared no expense on the custom memorabilia.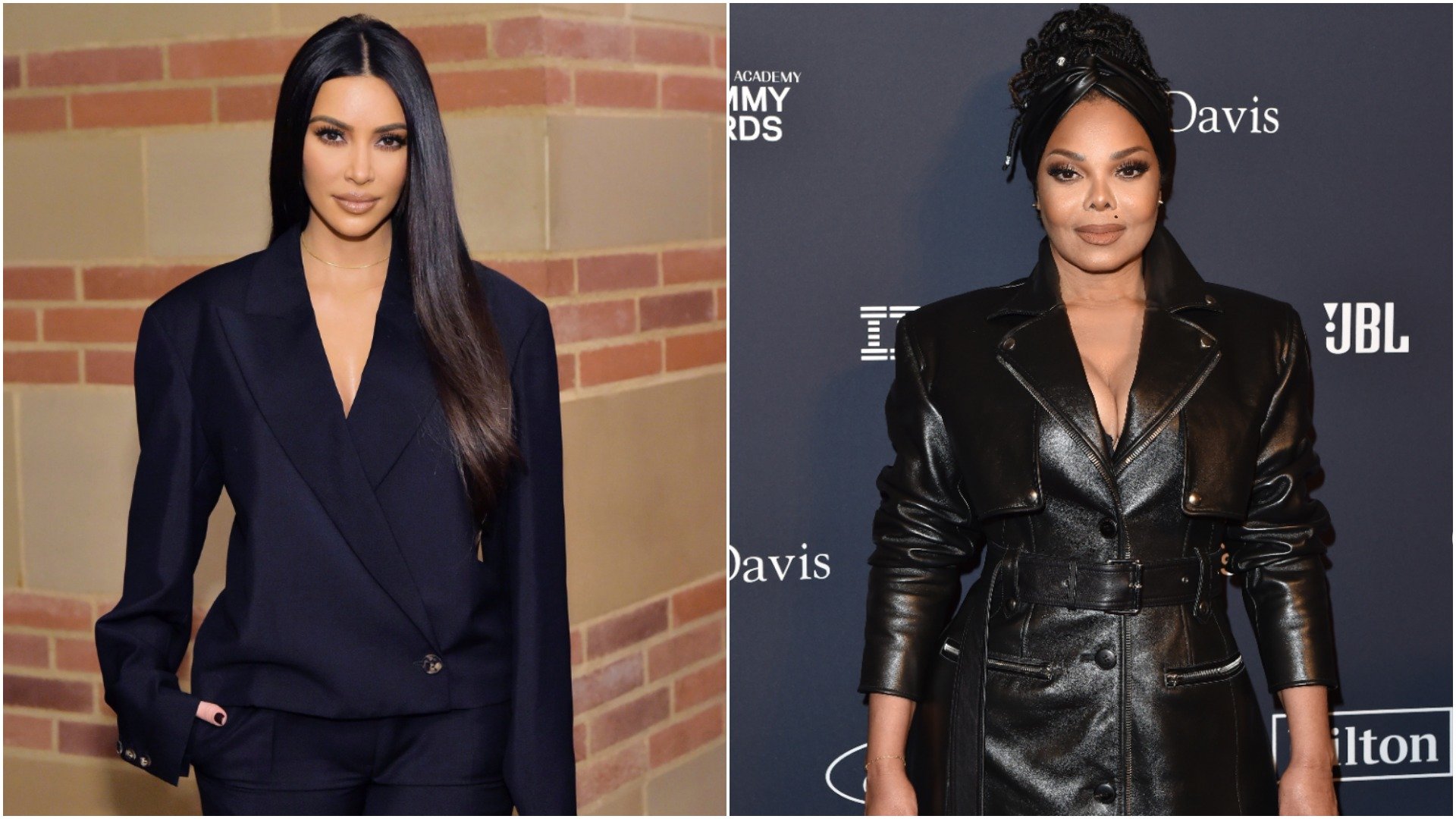 Kim Kardashian West bought Janet Jackson's custom outfit from her 'If' music video
Kardashian West celebrated Jackson's 55th birthday in the most fashionable way possible.
On May 16, the KKW Beauty mogul took to her Instagram Story, where she revealed that she purchased the custom outfit the "Any Time, Any Place" singer wore in her 1993 "If" music video.
RELATED: Kim Kardashian West Once Celebrated Her Birthday at Michael Jackson's Neverland Ranch
"Happy birthday queen!" Kardashian West wrote on her Instagram Story, alongside a clip of Jackson wearing the ensemble in the video."For @janetjackson's bday bc I'm such a fan I can't believe I won this on juliens_auctions."
Shortly after Kardashian West uploaded the post to her story, Jackson replied to the sweet shout-out on her own Instagram Story. "Thank u so much @kimkardashian!" she wrote. "I hope 'IF' gives u as much pleasure as it did me."
The outfit marks the third item of Jackson family memorabilia Kardashian has purchased over the years.
In 2019, the SKIMS founder and Kanye West bought their daughter, North West, Michael Jackson's custom velvet jacket with sparkly detailing, which he wore at Elizabeth Taylor's 65th birthday party in 1997. The couple spent a staggering $65,625 on the iconic piece.
They also bought the little girl the white fedora hat Jackson wore in the "Smooth Criminal" music video.
Many of Janet Jackson's iconic fashion pieces were recently sold at auction
According to People, Kardashian West purchased the "All For You" singer's one-of-a-kind ensemble complete with a cropped suede top with artificial bone detailing and a pair of black lace-up front pants for $25,000.
RELATED: Janet Jackson Was Banned From the Grammy Awards After Her Super Bowl Performance With Justin Timberlake
Kardashian West bought the outfit from the "Iconic Treasures From the Legendary Career and Life of Janet Jackson" auction, which was held to commemorate the singer's birthday.
In addition to Jackson's outfit from the "If" music video, plenty of other pieces she wore throughout her lengthy career were sold at the auction.
Not only did her iconic ensemble from her and Michael Jackson's "Scream" video sell for a whopping $270,000, but her Rhythm Nation tour jacket sold for $81,250.
Other pieces sold at the auction were her 1956 Chevrolet pickup truck for $112,000 and her 6x platinum plaque for Rhythm Nation 1814 for $30,000, which was roughly 30 times its pre-auction estimate of $800-$1200. Even her infamous key earring was purchased for an eye-watering amount.
According to Rolling Stone, the auction featured over 1,000 items from the singer's personal collection.
"Hey u guys. I've partnered with @JuliensAuctions to sell over 1000 items from my career & personal treasures. A portion of the proceeds will go to @compassion International," Jackson said in a video announcing the auction earlier this month. "Can't believe this will be the last time I'll see some of these items, but it's for a good cause."