Kim Kardashian West Fires Back After Kanye West Claims Daughter North West Is on TikTok 'Against [His] Will'
Kim Kardashian West publicly responded after Kanye West said that their daughter North West is on TikTok "against [his] will." Here's what the rapper said and how the reality star responded.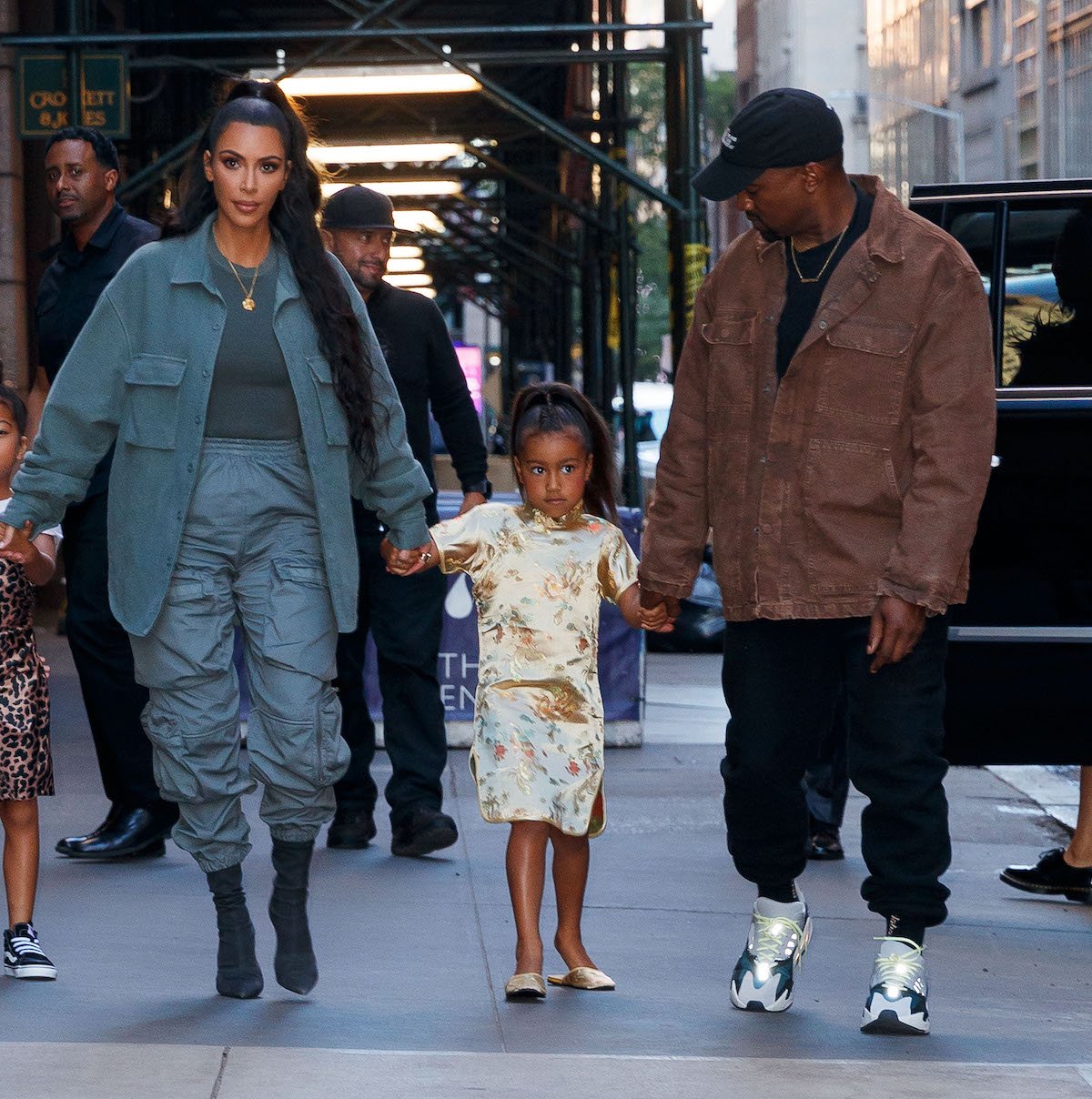 Kanye West shared on social media that his daughter North West is on TikTok 'against [his] will'
On Feb. 4, Kanye West shared an Instagram post about his oldest daughter, North West, being on TikTok. The post included a screenshot of 8-year-old North's face against a pink background, with the TikTok logo and her handle, @kimandnorth, clearly visible. 
"SINCE THIS IS MY FIRST DIVORCE I NEED TO KNOW WHAT I SHOULD DO ABOUT MY DAUGHTER BEING PUT ON TIK TOK AGAINST MY WILL ?" West captioned the photo.
North's father isn't the first family member to express concern over her presence on TikTok. Her cousin, Mason Disick, also sent text messages to Kim Kardashian West about the social media app.
"Hi I don't wanna disrespect north but I don't think she should do the lives unless someone is with her because people are always screen recording and she might tell information that isn't correct and stuff like that, that she will regret," the oldest Disick child texted (per CNN). 
"I did the exact same thing as she did. I would do the lives and now I regret saying one of the things that I said," he warned. "Just in case for safety."
Kim Kardashian West fired back after Kanye West posted about their daughter North West
Kanye West's wife, whom he is in the process of divorcing, must have seen his post about their daughter because she quickly responded with a long typed message in her Instagram Stories. But the rapper's post will stay up until or unless he deletes it, while Kardashian West's Story will delete automatically after 24 hours.
"Kanye's constant attacks on me in interviews and on social media is actually more hurtful than any TikTok North might create," the reality star wrote. "As the parent who is the main provider and caregiver for our children, I am doing my best to protect our daughter while also allowing her to express her creativity in the medium that she wishes with adult supervision – because it brings her happiness."
Kardashian West continued to say that "divorce is difficult enough" on their children and that "Kanye's obsession with trying to control and manipulate our situation" is "only causing further pain for all."
She concluded by saying that she wishes to "handle all matters regarding our children privately."
The rapper previously slammed his wife's parenting in his song 'Eazy'
Kanye West criticized Kim Kardashian West's parenting style before in his song 'Eazy,' which came out on Jan. 15. 
Although West rapped the lyrics, "We havin' the best divorce ever/If we go to court, we'll go to court together," he also slammed his wife's new boyfriend and the way she parents their children in the same song. 
"I got love for the nannies, but real family is better/The cameras watch the kids, y'all stop takin' the credit," West rapped, saying that his children spend more time with nannies than family. 
He also rapped, "When you give 'em everything, they only want more/Boujee and unruly, y'all need to do some chores/Rich-a– kids, this ain't yo mama house," implying that his four children are spoiled.
Finally, West threatened the reality star's boyfriend, Pete Davidson. "God saved me from that crash/Just so I can beat Pete Davidson's a– (who?)."