Kim Kardashian West Posted a Dolly Parton Quote Along With Bikini Pic on Instagram — Here's How the Queen of Country Responded
Kim Kardashian West and Dolly Parton don't exactly run in the same circles. But that didn't stop the Queen of Country from bestowing some good ol' fashion southern charm upon the reality star and entrepreneur when she quoted her in an Instagram post.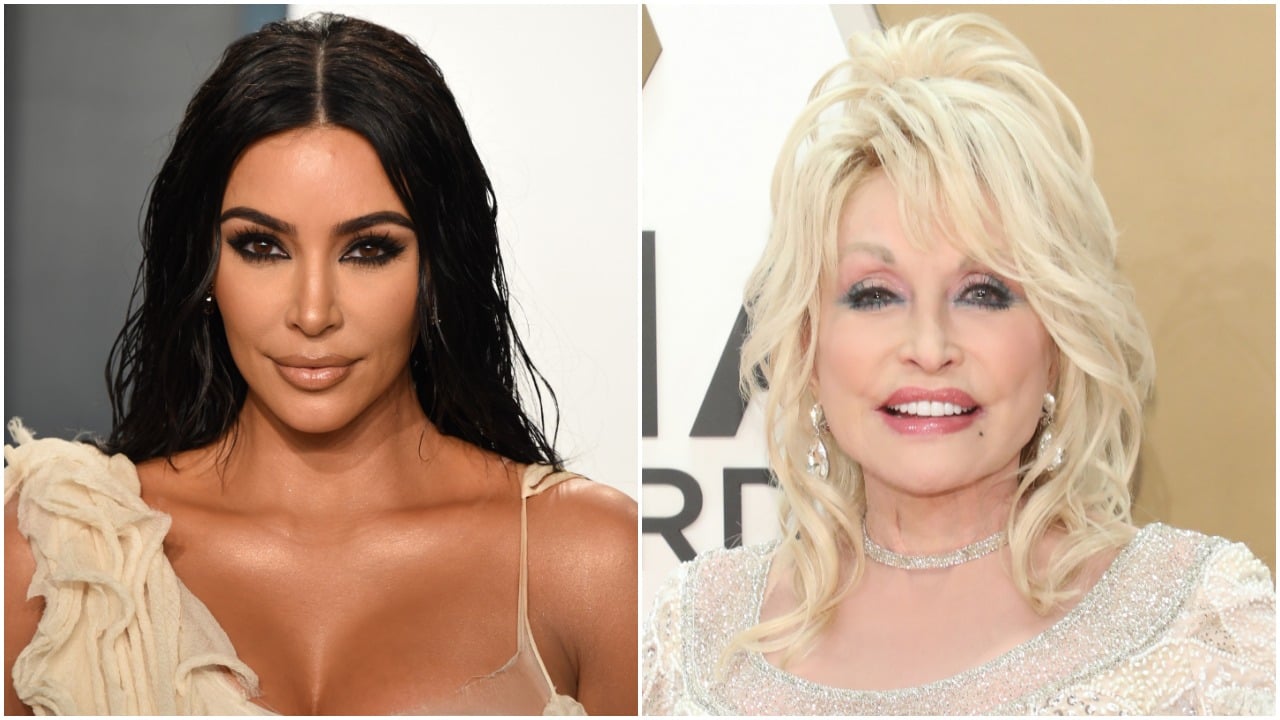 Kim Kardashian West's Instagram post, featuring a Dolly Parton quote
On July 16, Kardashian West took to Instagram to post a photo of herself sunbathing on a boat in a lavender bikini. The scene is pristine with green slender trees, golden grass, a blue cloudless sky, and a breeze that both perfectly lifts KKW's hair from her shoulders and gently stirs the water upon which the boat sits. The caption reads: "Don't get too busy making a living that you forget to work on making a life- Dolly Parton. Friendly reminder to always take a little time for yourself."
The post received over 2M likes and thousands of comments like "Oh yess 👏" and "😍theology." One such comment was from the "Jolene" singer herself, or, rather, her incredibly social-media-savvy team.
"You're doing great sweetie ❤️" wrote Parton.
The comment was of course a nod to Kris Jenner's famous catchphrase, "You're doing amazing, sweetie," which is reportedly in the process of being trademarked.
Fans appreciated the exchange, writing things like "Most EPIC & fitting comment!! You surely are witty, smart, & beautiful inside and out!! @dollyparton" and "The nod from Dolly, officially makes you legendary❤️🙌🙌🙌🙌🙌🙌🙌."
Dolly Parton has struggled to 'mak[e] a life' throughout her busy career
Though Parton has spoken about the importance of "making a life," it's something that she hasn't always been the best at herself. In her 2020 book, Dolly Parton, Songteller: My Life in Lyrics, she writes about all the things she had to sacrifice to have the career she's had.
Once, someone asked her, "How come all this success happened to you?"
"Well, the answer is, I gave up my time with family and friends," she wrote. "I gave up vacation for work."
Her song, "The Sacrifice," perfectly speaks to the lack of balance Parton has had with her work and life.
"Like the song says, 'You don't drink the water, if you don't drill the well.' One of my favorite lines I ever wrote is, 'I was gonna be rich, no matter how much it cost / And I was going to win, no matter how much I lost.'"
Parton has always been "very, very spiritual." She dove into her career with such discipline because she felt it was what God wanted.
"You can't veer off into this and that," she wrote. "You can't lose momentum if you've got a dream and a focus. I always felt like God was directing me. So I'm not going to let up until He says, 'Stop.' I just keep going, like a horse with blinders on."
Does Parton regret the way she's lived her life?
"Sometimes you wonder if you've made all the wise choices," she wrote. "Would you do things differently if you could?"
The thought does, sometimes, creep in.
"It's only in the wee hours, when you're fading off to sleep, that you ask, 'Is it worth the sacrifice?'" she wrote.
But, at the end of the day, the Queen of Country says it is.
"I think I probably wouldn't have done anything different, because I believe that this is what I was supposed to do," she wrote. "Who am I not to sacrifice to make things better for the people here that I am responsible for?"
"Yes, I would do it all again," she continued. "No doubt about it."
It's a sentiment Kim Kardashian West probably relates to herself. There is only so much time in a day. There are only so many days in a life. Like Parton, the SKIMS entrepreneur has a uniquely busy schedule. And there simply isn't time for it all.