Kimye's Marriage Might Be the Only Thing Keeping Kim's A-List Status Intact, Fans Say
Kim Kardashian West and her husband, Kanye West, are certainly one of the most talked-about couples in Hollywood right now.
Kim Kardashian West and her husband, Kanye West, are certainly one of the most talked-about couples in Hollywood right now. Talked-about is one thing, but are they respected? West is a talented musician in his own right, but Kardashian West has always faced criticisms that she has no particular talent and that she is just famous for being famous. 
Fans recently wondered whether Kardashian West's marriage is the only thing keeping her A-list status intact. Especially considering the rumors that their marriage is on the rocks, fans can't help but wonder: what would become of Kardashian West's fame if they ever were to get a divorce?
Kardashian West and West's relationship history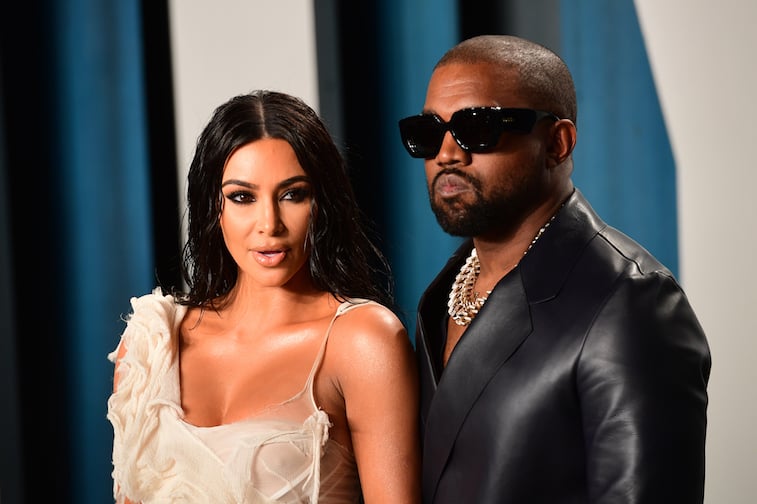 Kardashian West actually met her husband long before becoming romantically involved with him, but they didn't start dating until 2012. By the time they started dating, Kardashian West had already gone through two painful divorces, and she's stated that she wishes she'd started dating him immediately after they met so she could have avoided all the heartbreak.
Kardashian West was actually still married to ex-husband Kris Humphries when she and West started dating, but their divorce was soon finalized, and the couple got married in Italy a year later.
The two have seemed happy and grounded together since then, and have had four children together. Recently, however, rumors have flown about their marriage being on the rocks. An unnamed source told PageSix that the couple has been fighting a lot during quarantine. "She is frustrated with Kanye and thinks he's not pulling his weight in family responsibilities. They've been staying at opposite ends of the house to keep things civil," the source is quoted as saying.
Are the Kardashian-Jenners respected by Hollywood A-listers?
Recently fans on Reddit opened up a conversation about the Kardashian-Jenner family's relationship with other Hollywood superstars, and whether they are respected. "Personally I don't think they are. The only ones I think that may be friendly with the rest of Hollywood are Kim (because of Kanye) and Kendall (because she's a model)," the OP wrote. 
Another fan described an incident that really drove the point home about how little the Kardashian-Jenners are taken seriously in Hollywood.
"I don't think that they are super popular in like the A-list celebrity world and I'm making an assumption about that because earlier this year they presented at the golden globes (or maybe the emmys) for something with reality TV and part of their intro mentioned that they know something about being real and everyone in the audience laughed at them and it was really uncomfortable to watch lol," they explained thoroughly.
Fans think that Kardashian West would lose her A-list status without West
The opinion that Kardashian West is only slightly more respected than other family members because of her marriage to a famous rapper seems to be popular.
"People in the music industry are nice to Kim because Kanye is so big. Mostly, I think people are nice to their face and talk s*** behind their back," someone wrote.
Many people think that a divorce between Kardashian West and West would make the rest of Hollywood lose any semblance of respect towards the family. "If Kim and Kanye ever divorce it'll be the nail on the coffin for their position as pseudo A-listers," someone declared.
However, others think that Kardashian West has her own friends in Hollywood, with or without her husband. They point to the fact that many celebrities have stated that Kim is a kind person, despite how she portrays herself on the family's reality show.
Someone even reminded everyone that super A-lister Sarah Jessica Parker has even spoken positive words about Kardashian West, and that most celebrities who've spent time one-on-one with Kardashian West have nothing but positive things to say about her.
We'll never know how Hollywood really feels, and we wish only longevity and love for the couple so that we never have to find out.