Kiss' Gene Simmons Reveals Why Andy Warhol Never Painted Him and the Inspiration Behind His Powerful Self-Portrait [Exclusive]
Kiss frontman Gene Simmons never wanted to be immortalized on canvas by iconic painter Andy Warhol. During an exclusive interview with Showbiz Cheat Sheet, Simmons revealed the understanding he had with Warhol. He also opened up about the powerful self-portrait he shared with his mother and why she continues to inspire him today.
Simmons' art show will begin at the Animazing Gallery in Las Vegas, Nevada between October 21 and 23, 2021. Details about the exhibit times, location, and celebrity attendees can be found below, following the Q&A.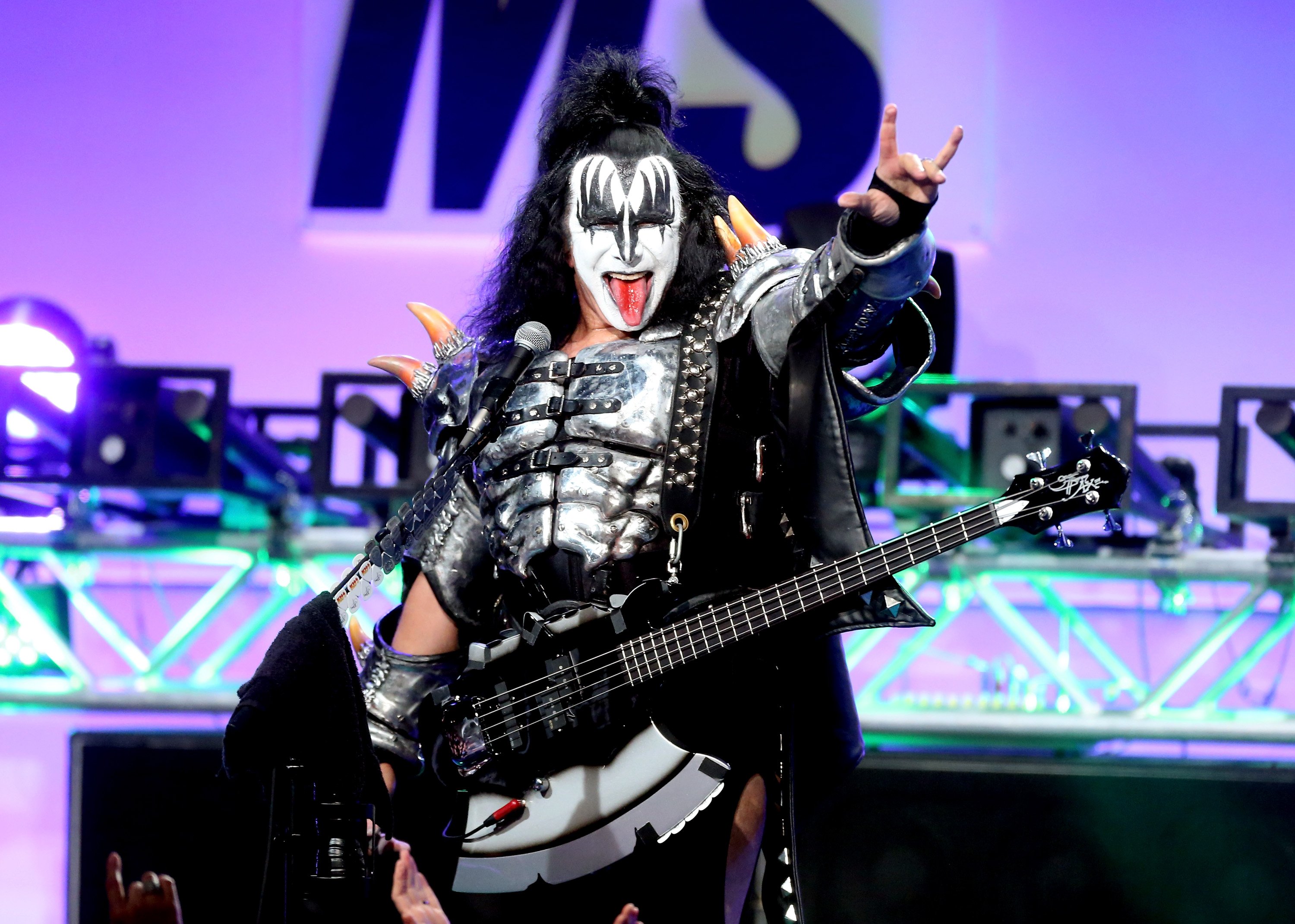 Kiss' Gene Simmons discusses his paintings and meeting Andy Warhol
Simmons revealed it's difficult to explain where the ideas for his paintings originate. "Sometimes children play with mud," he said. "They just make what they want out of the mud. They don't know why they did what they did. It's just spontaneous."
Simmons explained where the inspiration for one of his paintings — a striking image of a woman in Kiss makeup — came from. "I just had this image in my head and I created a painting of it," he recalled. "This image of this woman wouldn't leave my head. It was part of my subconscious."
Simmons also discussed why he chose to paint a portrait of himself as a child with his mother. "My mother was the greatest moral influence in my life, even more than any Jesus figure," he revealed. "She survived a concentration camp and yet she had such a belief in the goodness of people."
Simmons once met one of the most famous American painters: Andy Warhol. While Warhol was known for painting celebrities, he never painted Simmons. Simmons explained why.
"The topic came up," he remembered. "I never took it seriously. At the time, I wore makeup all the time, so I didn't think Warhol should paint me. Warhol was a very sweet guy. Very shy. He came from a small Christian town and yet here he was, a major celebrity."
Gene Simmons on who doesn't belong in the Rock & Roll Hall of Fame
According to Stereogum, Simmons famously said disco artists and rappers don't belong in the Rock & Roll Hall of Fame. "I'd like to clarify that," he said. "I don't think artists of other genres are untalented. I enjoy music of all genres. For example, I enjoy EDM if it's done well. It's just that not all genres are rock, and you don't want artists of other genres in the Rock & Roll Hall of Fame."
Simmons further discussed his comments by comparing the Rock & Roll Hall of Fame to the Country Music Hall of Fame. "Country music is a lot more similar to rock than disco is," he said. "There's a lot of crossover between country and rock, which is why you get artists who combine the two, like The Eagles. But no one gets upset that country singers are excluded from the Rock & Roll Hall of Fame, because there already is a Country Music Hall of Fame."
Where Kiss fans (and art fans) can see the legendary rocker's paintings
Simmons' work will first be available for viewing in Animazing Gallery at the Grand Canal Shoppes at The Venetian Resort in Las Vegas on October 21st at a private VIP event. Simmons and fellow Kiss band members Eric Singer and Tommy Thayer will appear at the gallery that day. Other celebrities and art aficionados will attend, including guitarist Billy Morrison, drummer Alan Childs, guitarist Steve Stevens, record producer DJ Ashba, and Steve Darnell of the reality show Vegas Rat Rods. 
The gallery will be open to the public on October 22 and 23. On those two days, Simmons will be at Animazing from 3 p.m. to 5 p.m. and 7 p.m. and 9 p.m. It should be a fantastic time for Kiss fans and art-lovers alike.