Kit Harington 'Genuinely Has No Idea' About His Future as Black Knight in the Marvel Cinematic Universe
'Game of Thrones' star Kit Harington has 'no idea' when he will appear next as Dane Whiteman – aka Black Knight – in the Marvel Cinematic Universe.
Kit Harington made his Marvel debut last year in Eternals as Dane Whitman. It was a smaller role in an ensemble piece. But a post-credits scene set him up to become the Black Knight in the Marvel Cinematic Universe. Despite this major teaser, the Game of Thrones alum insists he's still not sure what's next for him in the MCU.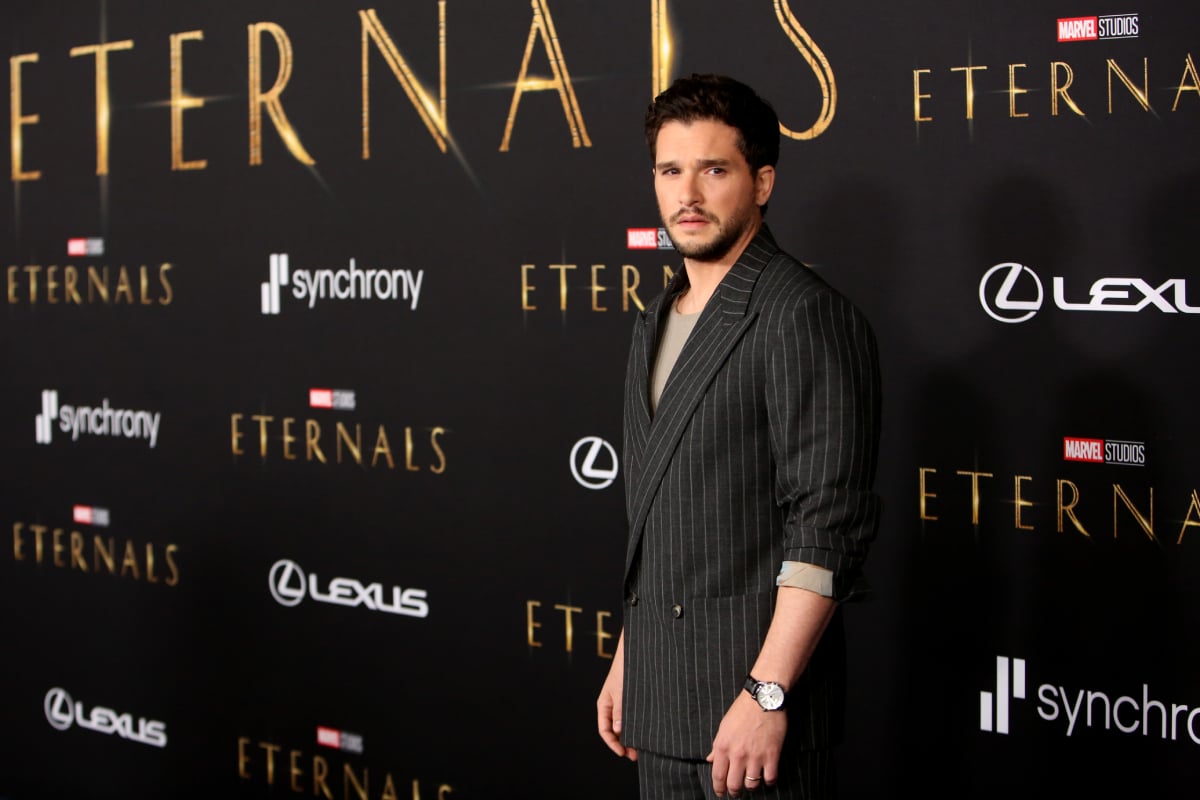 Kit Harington's MCU character raises a lot of questions
Marvel fans met Harington's Dane Whitman while the character was working at the Natural History Museum in London as a history professor. His connection to the Eternals in the film was that he was dating Sersi (Gemma Chan).
In a post-credits scene, Dane opens an old chest in his classroom that he inherited from his ancestors. And it was revealed to contain the Ebony Blade, a valuable family antique. This was a set up for the character's path to becoming the hero Black Knight. So he could possibly rescue Sersi and other Eternals from the celestial Arishem.
He shared some disappointing news about his future in the MCU
During a recent interview on BBC's The Zoe Ball Breakfast Show, Harington faced questions about his future in the MCU. But he didn't give the answer fans were hoping for. Instead, the actor shared a disappointing update.
"I'll have to ask you, because the fans have been asking, what's the future of Dane Whitman AKA Black Knight? Any more happening? Any things in the diary planned?" Ball asked Harington.
"No, not that I know of. It sounds like a very political answer but, I mean, it's exciting for me because the last film, as anyone who has seen it, kind of sets an idea up that I might go further," Harington replied.
Kit Harington insists that he 'genuinely has no idea' what Marvel project he'll be in next
Harington added that he was "hoping" his character did have a big future in the MCU. But he insists that he doesn't know what Kevin Feige and the Marvel bosses have planned. And he's "still waiting for a call on it."
"I think whenever you're answering questions about these things, people point at you and say 'liar' as if you know more than other people," Harington said with a laugh before adding that he "genuinely has no idea."
The actor might be telling the truth about his unknown future in the MCU. But fans are still skeptical, considering Andrew Garfield was forced to lie about his role in Spider-Man: No Way Home.
Marvel has not confirmed 'Eternals 2'
The Eternals ending did remain open for future movies. But for the mortal Dane Whitman, the film didn't leave much room for Harington's sword-wielding Black Knight in a sequel. But even if there isn't any space for Harington's character in Eternals 2, he still has a future in the MCU.
Another post-credits scene directly set up Mahershala Ali's Blade. And his voice was also part of Whitman's scene — "You sure you're ready for that, Mr. Whitman?"
With the vampire hunter confirmed to be starring in his own standalone film, chances are he will cross paths with Harington's Black Knight and mentor him as he makes his hero transformation.
Kit Harington is likely to appear in Marvel's upcoming Blade movie
According to Eternals VFX Supervisor Stephane Ceretti, it's extremely likely that Harington will show up in the upcoming Blade movie. Per Game Rant, Ceretti has confirmed that the Ebony Blade will show up in the film. Which also means that Whitman should be there.
"The funny thing is my second on the show — which is Mårten Larsson, my additional supervisor — is actually going to be supervising Blade very soon," Ceretti said. "So I told him, I said, 'I'm giving that [the Ebony Blade] to you as a gift, use it wisely and make good out of it.' But I'm sure it's going to do actually even better."
Eternals is now available to stream on Disney+.