'Knives Out 2': Every Star Confirmed for Rian Johnson's Upcoming Netflix Sequel
When the entire point of a movie is its central mystery, it's hard for fans to get new information ahead of its release. However, the recent run of casting announcements for Knives Out 2 has certainly helped tide fans over. They haven't even truly realized just how little they know about writer-director Rian Johnson's Knives Out sequel. But one thing they can start looking forward to is seeing the new ensemble cast play off each other.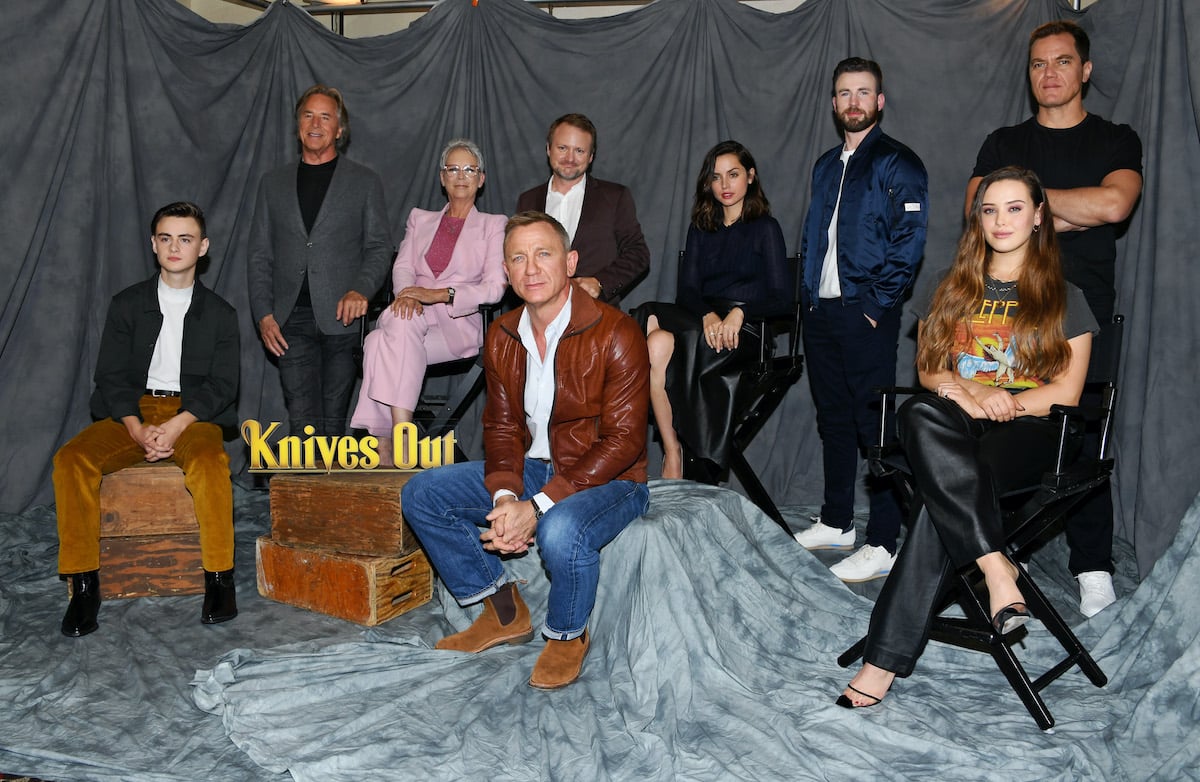 'Knives Out' introduced Daniel Craig as master detective Benoit Blanc
Off of the heels of Star Wars: The Last Jedi, writer-director Rian Johnson chose not to put his own spin on an established franchise. Rather, the filmmaker created one of his own. A self-professed fan of author Agatha Christie's mystery novels, Johnson created a master detective of his own. And in fall 2019, audiences met Daniel Craig's gentleman detective, Benoit Blanc, in Knives Out.
In that movie, Blanc pays a visit to the Thrombey family after its patriarch (Christopher Plummer) turns up dead. The ensemble cast included Chris Evans, Jamie Lee Curtis, Michael Shannon, and Toni Collette. And as development of a sequel began to take shape, Johnson was adamant that essentially none of the first film's cast — with the notable exception of Craig — would return.
RELATED: 'Knives Out' Director Rian Johnson Once Pointed Out His Movie Spoils Its Own Mystery
'Knives Out 2' has already lined up an even more impressive ensemble supporting cast
So far that's certainly been the case. But if anything, Johnson has assembled an even more intriguing group of actors to serve as murder suspects in Knives Out 2. Dave Bautista, Edward Norton, Janelle Monáe, Kathryn Hahn, Leslie Odom Jr., Kate Hudson, Madelyn Cline, Jessica Henwick, and Ethan Hawke will all join Craig in the movie. Of course, no details about their characters have been officially revealed.
Already, the above list of names feature far more variety. Johnson clearly cherry-picked a few key stars from the Marvel Cinematic Universe, including WandaVision breakout Hahn. But he also has some musical talent at play this time around, with both Monáe and Tony winner Odom among the cast. Prior to the onslaught of casting news, fans had a blast speculating who could join the film. Even then, some of these are surprises.
RELATED: The 1 Crucial Way 'Star Wars: The Last Jedi' Shaped 'Knives Out'
When can fans finally watch 'Knives Out 2'?
Johnson announced on Twitter that Knives Out 2 had begun filming in Greece in June 2021. But the film already has a groundswell of anticipation surrounding it. So when can fans count on seeing the movie for themselves? There's no official release date just yet. But Netflix paid $450 million for two Knives Out sequels.
So whenever the second film is done, it's likely to land in Netflix's streaming library sometime in 2022 or so. For now, Johnson's hard at work. And after delivering an original franchise starter in a cinematic landscape overwhelmed by sequels, reboots, and remakes, the director certainly deserves to take his time and do it right.