Kobe Bryant's Instagram Proves Family Was Just as Important to Him as Basketball
There's no doubt the death of basketball star Kobe Bryant rocked the sports world, and celebrities are coming forward with their well-wishes to the Bryant family. He's forever solidified as a great in the world of basketball thanks to his multiple NBA championship wins. And by his 30s, he was already known as the all-time leading scorer for the Los Angeles Lakers.
Not only was Kobe known for his incredible career wins, but he was also a family man who adored his wife and kids. He had four daughters with his wife, Vanessa, with the youngest being only 7 months old. While he's no longer with us, his legacy remains — and, of course, we can look back at his Instagram photos of his family that prove they were just as important to him as his favorite sport.
Kobe Bryant died in a helicopter crash along with his 13-year-old daughter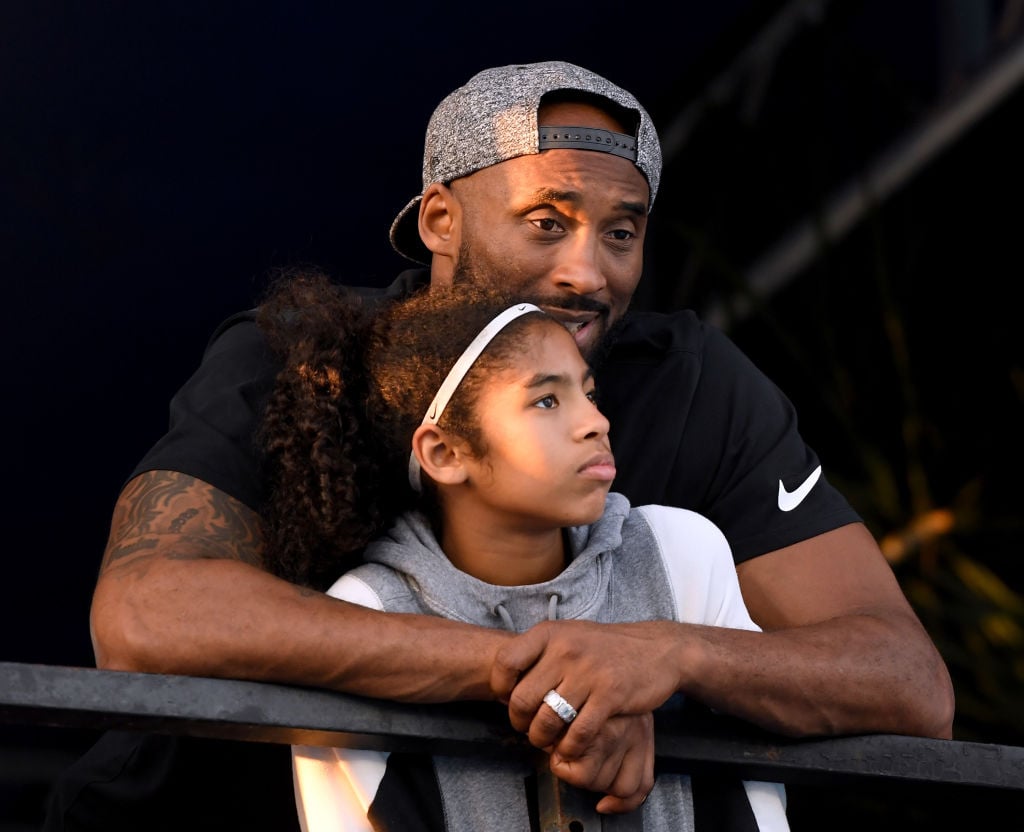 All of the details surrounding the helicopter crash that killed Bryant and his 13-year-old daughter, Gianna, are unclear. So far, it's been reported that the helicopter took off around 10 a.m. PT on Jan. 26 from Orange County, California, and it crashed into a hillside in Calabasas. In total, nine people were killed in the crash.
As for where Gianna and Kobe were going, they were headed to Gianna's basketball game, as she was a member of the Los Angeles Lady Mamba girls basketball team.
Jerry Kocharian, a witness to the crash, said he saw the helicopter "flying unusually low and struggling." He also added that he saw it "falling and sputtering. But it was hard to make out as it was so foggy." When the helicopter crashed, the aircraft caught fire as well, which "no one could survive," Kocharian claimed.
Kobe frequently posted photos of his kids to his Instagram
There's no doubt Kobe loved basketball, but his devotion to his family earned him many more fans. In Touch Weekly reminds us Kobe and Vanessa met back in 1999 and then tied the knot in 2001. Since then, Vanessa gave birth to their four children. Natalia is 17, Bianka is 3, and Capri, the baby of the family is just 7 months old.
Kobe posted NBA photos to his Instagram, but his family is much more prevalent. On Jan. 19, he posted a photo of Natalia to wish her a very happy birthday. And on Jan. 5, he posted another video of Natalia playing volleyball along with the caption, "Our eldest but always our baby, Natalia," proving how proud he is to see his daughters play sports.
Since Gianna was the most likely daughter of the family to become a basketball pro, there's plenty of Instagram content showing her on the court, too. Kobe added a photo of Gianna playing basketball in heels on Dec. 20, 2019. And he added another sweet photo of just the two of them on Sept. 3, 2019, with the caption, "My Gigi."
And, of course, Kobe has a number of photos with Vanessa. "On this day 20 years ago I met my best friend, my Queen @vanessabryant I decided to take her on a date to Disneyland tonight to celebrate old school style (pre 4princesses) I love you my mamacita per sempre," he captioned a post on Nov. 28 showing him and Vanessa together years ago.
It seems Kobe and Vanessa were willing to try for another child, too, as they wanted a little boy. "She's like, 'You're giving me all girls, let see if you can give me a boy.' I'm going to have the best starting five," Kobe told Extra in March 2019.
His devastated fans are commenting on his posts
Celebrities and fans alike are sending their condolences to the Bryant family. And fans are flooding Kobe's Instagram to share their shock and sadness after the unexpected events.
"You made history as one of the best athletes in history and this page will make sure you're never forgotten! See you on the other side," a fan commented on Kobe's recent photo of him with Lebron James.
And on Kobe's photo of him and Gianna, another fan commented, "The two Mambas are balling out in heaven right now. Rest in Power, Kobe and Gianna."
"Rest well in Heaven Kobe and Gigi," another wrote.
We're wishing the Bryant family privacy and peace during this time.
Check out Showbiz Cheat Sheet on Facebook!