Kourtney Kardashian Reveals a Heartwarming Christmas Tradition
Plenty of people finish up the year with a holiday bash, but the Kardashians' Christmas traditions have a tendency to steal the spotlight. Recently, Kourtney Kardashian opened up about the details of this year's soirée and shared touching moments from the event. 
While many fans were disappointed to see that the famed Kardashian-Jenner Christmas card didn't make an appearance in 2019, they still got a taste of the family's holiday spirit with a glimpse into some of their other fun and festive traditions.
The Kardashians threw a big backyard Christmas party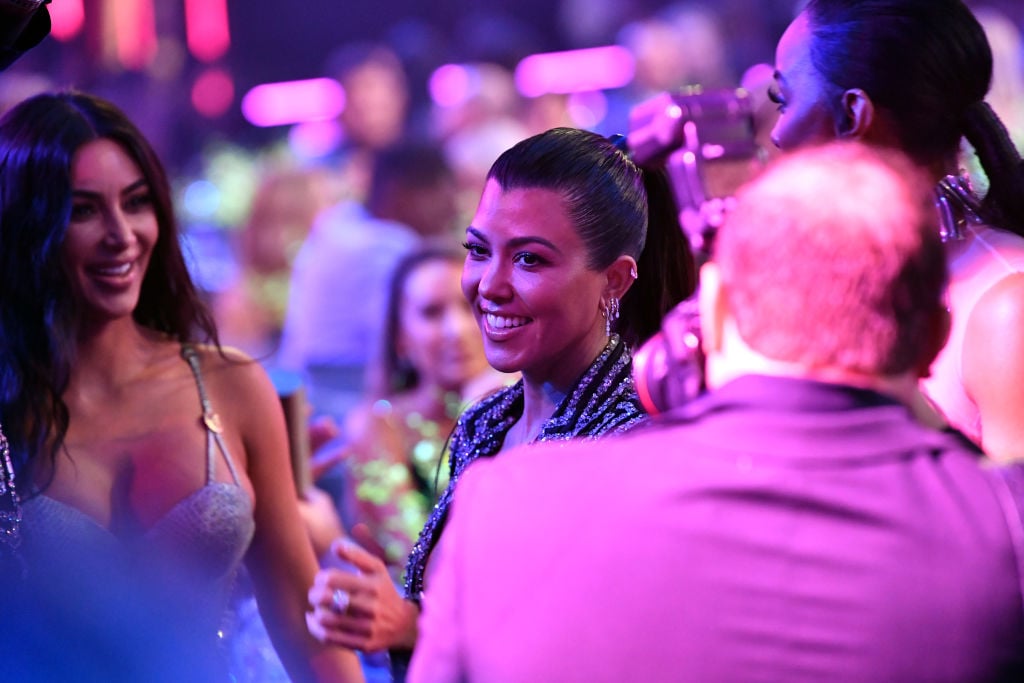 This year's Christmas celebration was hosted by Kourtney Kardashian, who made headlines not that long ago by announcing her hiatus from the family's beloved and long-running reality series, Keeping Up with the Kardashians. She threw the party in her own back yard, and she shared details about the event in a post on her website Poosh.
In an Instagram post featuring the event, Kardashian appeared in front of the lavish decorations decked out in a bright red dress. She captioned it with "One of my favorite nights of the year since I was born, our tradition."
Kardashian had professional help with the decor
The decorations were show-stopping and included an upside-down tree and dozens of bright red poinsettias in the entryway, setting the stage for a festive night from the first moment guests arrived. The goal was a "wintery-chic vibe," and it was achieved with the help of Mindy Weiss' professional party planning team. 
Weiss' portfolio includes stunning and colorful scenes for everything from bat mitzvahs to baby showers to weddings, and she has been featured in Vogue, Harper's Bazaar, and Brides Magazine. Weiss' tasteful and impressive decorations for Kourtney's event certainly contrasted with Kim Kardashian's minimalist Christmas decor for her own home. 
The star-studded guest list of course included Kardashian's famous family members like her brother-in-law Kanye West and her mother Kris Jenner. Kylie Jenner attended and dressed herself and toddler daughter Stormi in matching outfits. It wasn't just family members in attendance, however. Sia, who performed her hit "Chandelier," and Kathy Griffin also made appearances at the party.
The Kardashians always serve this unusual food
While the impressive guest list and stunning decorations certainly took center stage, the food is a huge part of the Kardashian traditions. In fact, there is one unusual dish that is a long-standing staple for their Christmas events. 
Throughout the event space, there were areas dedicated to food, and one of them included corn dogs, which the Kardashians serve every year as part of their feast. "There was a kid's world with four booths, one was decorated like an old European marketplace at Christmas time, one with 'Hot Dog On a Stick,' which we have every year serving turkey corn dogs and french fries, a hot beverage booth serving matcha lattes, hot cocoa, and coffee drinks, and a candy bar with an artist who blows different shaped lollipops," Kourtney explained.
Kourtney's turn at hosting was part of a new tradition
In years past, Kris – the matriarch of the family – traditionally hosted the event, but her daughter Kim had asked to take over duties during the 2018 festivities. In an episode of their reality series, Kim approached her mother to discuss the change: "The time has come that maybe we switch the location and we have it here at our house. We just have a different vibe and different energy." Kim added that her siblings agreed with her about the need for a new approach. 
It looks like a new tradition has now officially begun with a rotation from one sister's house to another's. We'll have to wait to find out where the 2020 bash will be held, but it seems likely that one of the other famous sisters will next get a turn at playing host.