Kourtney Kardashian Reveals the Recipe for Her Keto-Friendly Avocado Smoothie
Kourtney Kardashian is back on the keto diet. The 'Keeping Up With the Kardashians' star is trying the low-carb, high-fat eating plan again, she announced in a June 29 Instagram Story.
Kourtney Kardashian is back on the keto diet. The Keeping Up With the Kardashians star is trying the low-carb, high-fat eating plan again, she announced in a June 29 Instagram Story. 
"Keto starts today…," the 41-year-old wrote over a photo of a salad with avocado, cheese, and turkey, according to Us Weekly. Kardashian didn't share why she was embracing the keto diet again, but she has said that she's gained a bit of weight in quarantine. In the past, she's said she loved the way she looked when she was on the diet. 
"I want to look and feel my best. My body never looked better than when I did the keto diet two and half years ago, when I did it for two months," Kardashian wrote in a 2019 blog post for her website, Poosh. 
Kourtney Kardashian drinks this smoothie every morning
While Kardashian likes the effect of the keto diet, it does require some adjustments to her normal way of eating. The mom of three has sung the praises of her simple avocado smoothie before, saying she likes to sip on the three-ingredient concoction in the morning. But some of the ingredients aren't keto-friendly. Fortunately, with a few tweaks, she can keep enjoying her post-workout boost. 
Here's the recipe for Kardashian's keto-approved avocado smoothie, as shared on Poosh.
Ingredients: 
1 organic avocado, pitted and peeled
1 cup macadamia milk 
¼ teaspoon MCT oil
1 scoop of vanilla bone broth protein powder
2 drops of Stevia
1 stick of BrainON 
Directions: Combine all the ingredients in a blender and process until smooth. 
The new recipe isn't quite as straightforward as the original, which calls for just avocado, dates, and coconut milk. But it's still pretty easy to whip up. Plus, it's dairy-free and gluten-free. 
Kourtney's favorite keto snacks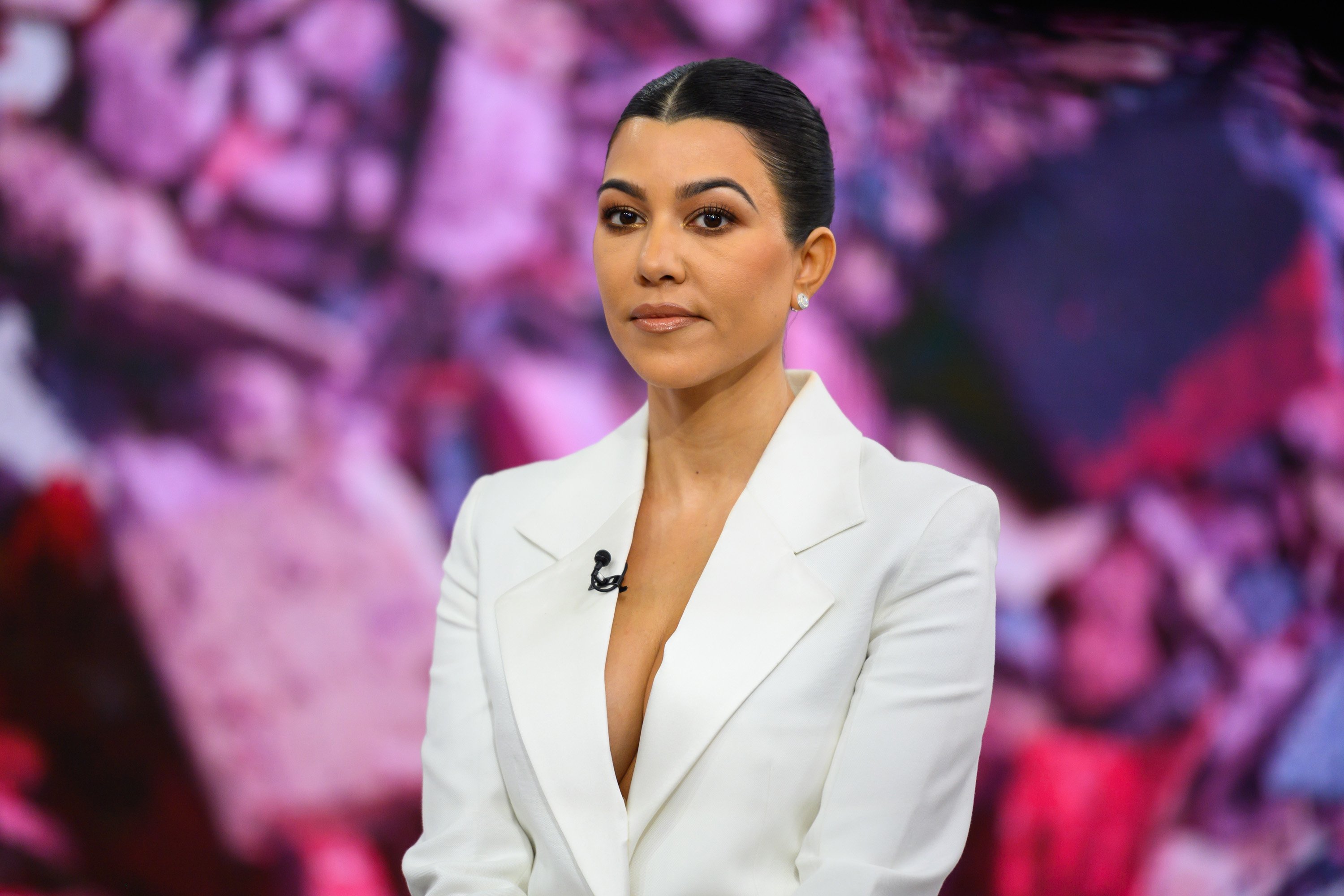 Kardashian's go-to smoothie looks pretty filling, but she also likes to have some keto-friendly snacks on hand "to help curb midday cravings," she shared on her website. 
When hunger pangs hit, she sometimes reaches for an avocado, which she tops with salt, pepper, and olive oil "for a filling bite." The Kourtney and Khloé Take Miami alum — who has admitted she has a sweet tooth — also suggests keeping blueberries in the freezer so you have something to reach for when you're craving sugar. If the desire for dessert is really strong, you can also whip up a batch of her three-ingredient coconut butter keto cups.  
Other fave snacks are sliced turkey roll-ups with dairy-free cream cheese or sliced cucumbers or Kalamata olives with walnuts or pecans. Sometimes, she eats a small salad of mixed greens with a hard-boiled egg and cucumbers and a dressing of olive oil, apple cider vinegar, salt, and pepper.
Some think Kardashian's diet is unhealthy 
While Kardashian likes going keto from time to time, some people have slammed the diet as unhealthy. A few days after announcing her new eating regimen, she took to social media again, this time to defend her choices. 
"To all of you saying keto is unhealthy, my doctor has me do it for brief periods to help detox metals or toxins," she wrote, according to Us Weekly. "And diabetes does run in my family and my doctor also has me check my glucose levels while doing keto for those questioning that too… Thank you all for your concern."
Check out Showbiz Cheat Sheet on Facebook!