Kristen Bell Explains the Surprising Reason Why Anna Isn't Her Kids' Favorite 'Frozen' Character
Just when you thought Frozen fever had cooled, Frozen 2 is heading to theaters this week. The new Disney film promises to keep families everywhere just as entertained as its 2013 predecessor. But star Kristen Bell — who voices Anna in the movies — recently shared what Frozen means to her household.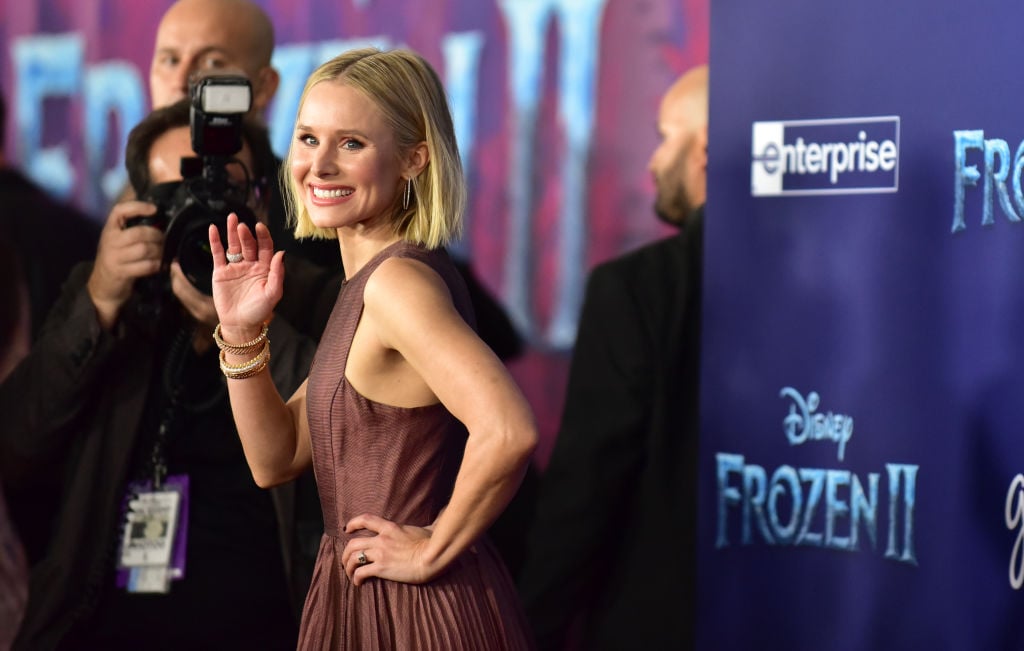 What her kids think of 'Frozen'
Frozen turned out to be one of the most popular animated films ever made and a true cultural phenomenon. So it should be no surprise that Bell's own children — 6-year-old Lincoln and 4-year-old Delta — are also big fans of the franchise. But not for the reason you think.
"They get just as excited as other kids," Bell said in a new interview with USA Today. "They just don't necessarily love to talk about the fact that I'm in the movie."
This news might shock fans. After all, who wouldn't be impressed that their mother gets to be a Disney princess? But Bell has a different approach to her daughters' attitude toward her work as Anna, princess of Arendelle.
It's in your DNA to reject what your parents do. We're supposed to think our parents are dorky. No matter how many times I tell my daughters how cool I am, they're not buying it because it's part of the pattern of human development that allows you to break away from your family and assimilate to a larger tribe, which is Earth.
The actress has a very mature and philosophical response to her kids' reactions. In fact, it sounds like she prefers it this way.
"I like the fact that my daughters are like, 'No, Frozen is mine. I don't need to involve you in it.' There's something really beautiful about that," she said.
Who their favorite characters are
Not only have Bell's daughters chosen to ignore their mother's involvement in the Frozen series, the two princesses at the story's center aren't even their favorite characters. Instead, Lincoln and Delta prefer Anna's love interest, ice-selling mountain man Kristoff, and his reindeer pal Sven.
The reason? Bell's daughters are playing those characters in a production of "Frozen Junior." Just as they prefer not to think of their mother and Anna as one and the same, the girls don't consider Jonathan Groff — who voices Kristoff — to have ownership over the character.
"They're of the mindset that Sven [voiced by Frank Welker] and Kristoff don't belong to Jonathan," Bell said. "Once they started listening to Hamilton a lot, they had a lot of questions for Jonathan about who he was and who he identified with more, King George or Kristoff."
How Kristen Bell makes Anna her own
Regardless of how her daughters feel about her role in Frozen, Bell goes to great lengths to put elements of herself into her performance. From her signature "Wait, what?" line to showing Anna snoring and drooling as she awakes in the first film, the actress has advocated for making Anna feel "real" and relatable. Essentially, she hoped to create a character she would have responded to as a kid.
"I was very quirky and weirder than people I knew," Bell said, "and I wore my heart on my sleeve, and I thought that love was my superpower."
That description certainly nails Anna's personality. Frozen 2 even takes things a step further, leaning more into the character's emotional nature.
"In times where she's talking to Elsa, Anna lets her emotions blow out of her, and that's the most me I could infuse into the movie," Bell said.
Frozen 2 arrives in theaters on November 22.