Kumail Nanjiani's Net Worth, Notable Roles, and Awards
Writing, acting, and producing push Kumail Nanjiani's net worth into the millions.
Kumail Nanjiani plays a prominent role in the latest entry to the Star Wars universe. Whether he was supposed to or not, Nanjiani revealed a few details about his character ahead of Obi-Wan Kenobi's premiere. Nanjiani went from the Marvel Cinematic Universe to Star Wars, so his blockbuster franchise bonafides continue to grow. Is Nanjiani's net worth growing, too? Let's find out as we also take a look at his notable roles and awards wins.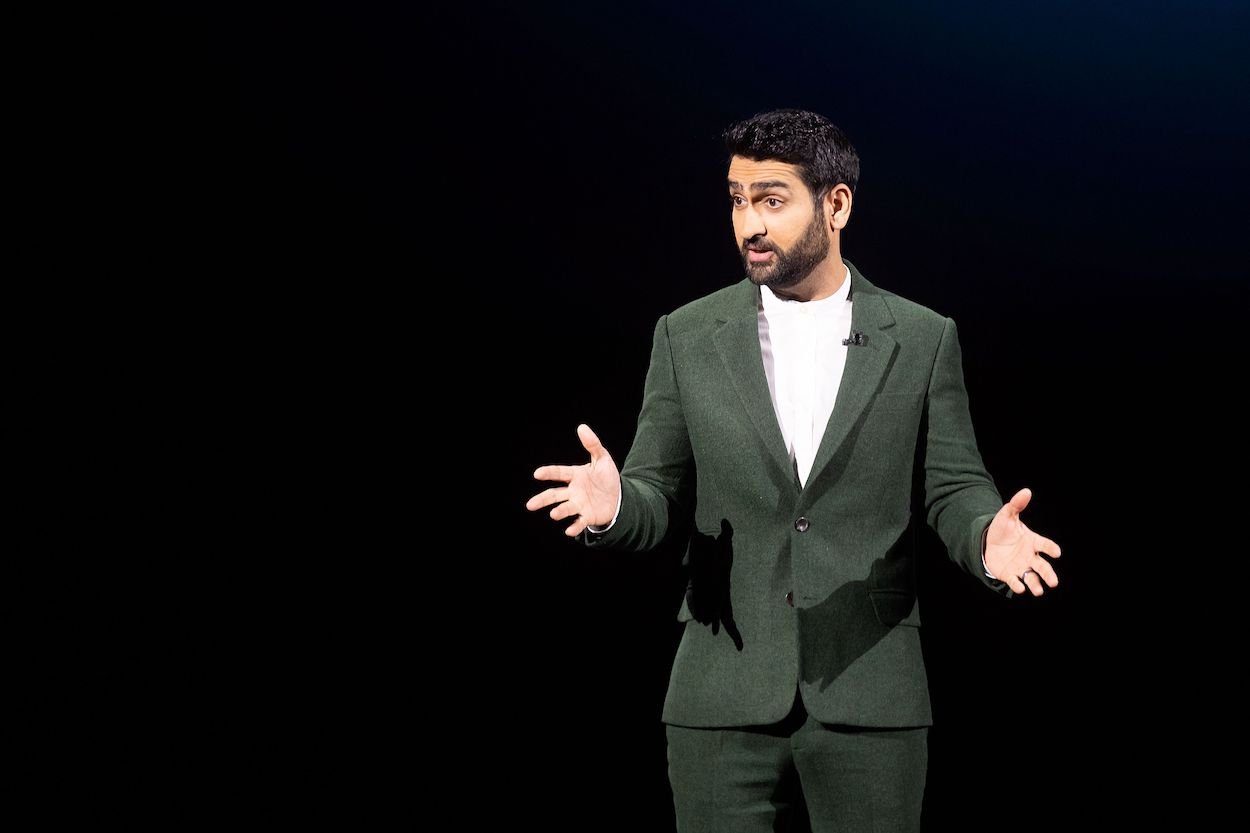 Nanjiani's career hit a new level with Marvel's 'Eternals'
Nanjiani logged several notable roles before 2021, but that's when he became a certifiable action star.
He acted in Marvel's Eternals in 2021, which was a fun, exciting, and epic role for the comedian-turned-actor. The movie, which also starred Angelina Jolie, Salma Hayek, Game of Thrones' Kit Harington, and Harry Styles, among others, was a smash hit. It earned more than $400 million at the worldwide box office, according to Box Office Mojo.
The MCU helped make Nanjiani a box-office star, but he had a few recognizable parts that contributed to his net worth before Eternals.
He provided a voice in The Lego Ninjago Movie in 2017, the same year he starred in The Big Sick. Nanjiani had recurring appearances in Portlandia, but playing ​​Dinesh Chugtai in the hardly-watched Silicon Valley was probably his most notable role before the MCU and Obi-Wan Kenobi.
Kumail Nanjiani's net worth hits seven figures
Nanjiani was fairly well-known before Eternals, thanks to Silicon Valley and other noteworthy roles, but the MCU pushed his notoriety to another level. Obi-Wan Kenobi figures to do the same, but acting isn't the only way Nanjiani's net worth grows.
His roots as a stand-up comedian, where he wrote his own material, led to him earning several credits as a writer. Nanjiani wrote a handful of episodes for the talk show Harmontown. He also contributed as a writer to the AppleTV+ series Little America, which he also developed and produced. With shooting for Kenobi done, Nanjiani is producing and starring in the TV series Immigrant.
Thanks to his many talents, Nanjiani's net worth checks in at $8 million, per Celebrity Net Worth. 
Nanjiani's awards and nominations include the Academy Awards
Nanjiani's net worth derives from more than just acting. So do the awards he's won in his career.
Emily V. Gordon, his wife, and Nanjiani shared a best original screenplay nomination at the 2018 Academy Awards for The Big Sick, and the movie accounts for his biggest award win.
Nanjiani and Gordon won for best first screenplay at the 2018 Film Independent Spirit Awards. They also earned nominations for several urban film critics groups awards (Chicago, Denver, Detroit, Houston, Los Angeles, and more), per IMDb. 
Nanjiani won the auteur award at the San Diego International Film Festival for The Big Sick. He also earned a BAFTA nomination (along with Gordon and others) in 2021 for Little America.
If Nanjiani continues mixing his creative efforts with acting roles in blockbuster films, it's not a stretch to believe his net worth will continue to grow.
For more on the entertainment world and exclusive interviews, subscribe to Showbiz Cheat Sheet's YouTube channel.