Kurt Cobain's 'Unplugged' Guitar Goes to Auction, and There's a Lot of Drama Behind the Sale
You can own a piece of music history — if you have a spare $1 million or so lying around. The guitar Kurt Cobain played during Nirvana's 1993 MTV Unplugged performance is coming up for auction. But Cobain's family may not be happy about the sale.
Kurt Cobain's guitar is expected to fetch $1 million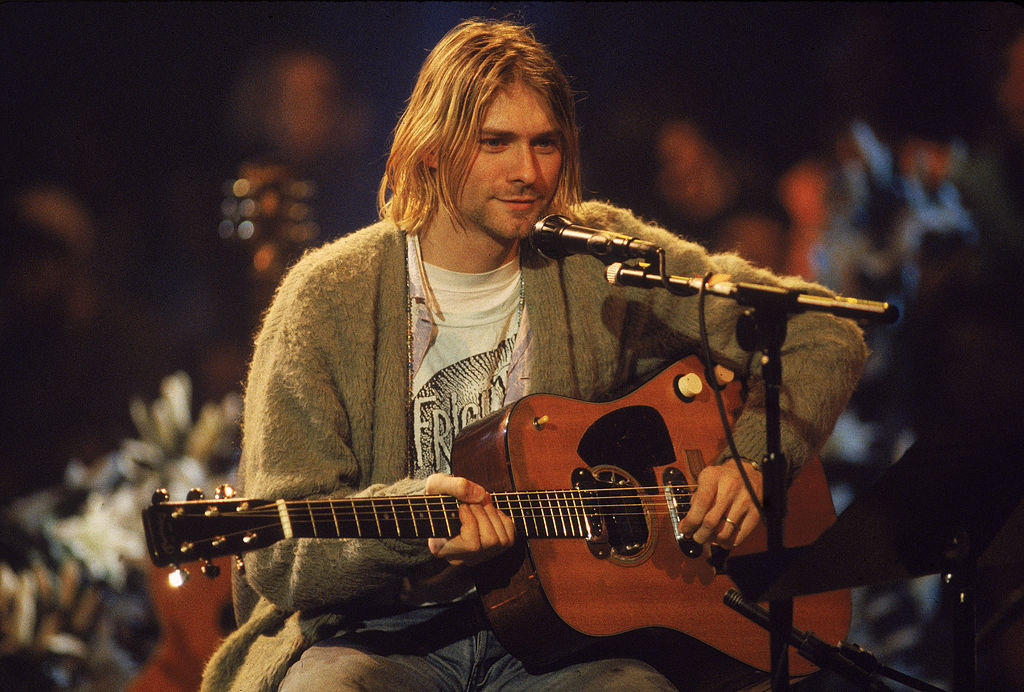 Cobain's 1959 Martin D-18E will be offered by Julien's Auctions' as part of its Music Icons sale, scheduled for June 19 and 20. The instrument is expected to fetch at least $1 million. 
The rare guitar, which was customized by the Nirvana frontman, comes with a half-used pack of Martin guitar strings, three guitar picks, and a suede "stash" bag decorated with a small silver spoon, fork, and knife. The winning bidder will also get the original hard-shell case, which the "Come As You Are" singer decorated with a flyer advertising the band Poison Idea's 1990 album Feel the Darkness. Several baggage claim ticket stubs and an Alaska Airlines sticker are also attached to the case. 
More Nirvana memorabilia is also up for auction
While the MTV Unplugged guitar is the auction's showpiece, a number of other pieces of Nirvana memorabilia are also being offered for sale. These include a smashed Fender Stratocaster Cobain used on 1994's In Utero tour, the silver lamé shirt Cobain wore in the "Heart-Shaped Box" music video, and a copy of the band's 1989 debut album Bleach signed by Cobain. 
Collectors can also bid on a typed set list from the Unplugged show and typed lyric sheets for the songs "Plateau," "About a Girl," and "Lake of Fire." Also for sale are handwritten lyrics to the song "Oh Me," which Nirvana performed as part of the Unplugged set but which wasn't broadcast or included on the subsequent album, MTV Unplugged in New York. 
In a previous auction, the cardigan sweater Cobain wore during the November 18, 1993, performance sold for $334,000.
Courtney Love called the 'Unplugged' guitar a family heirloom  
The Unplugged guitar has had a complicated history. Cobain's daughter Frances Bean Cobain and her ex-husband Isaiah Silva have been engaged in a drawn-out battle over who is the true owner of the instrument. 
Silva, who was married to Cobain's only child from 2014 to 2016, says Frances Bean gave him the guitar as a wedding gift. When the pair split, he kept it over his ex's objections. A 2018 divorce settlement awarded the guitar to Silva, but as of last year, his Frances Bean and her mother Courtney Love were still trying to get it back, according to a Page Six report.
In 2016, Cobain's widow told TMZ that she and her daughter wanted Silva to return the guitar. "It's a treasured heirloom of the family," she said. "It's not his to take."
Julien's Auction has not revealed who is selling the guitar, but it seems unlikely that Love or her daughter are the sellers, given their efforts to get it back. Neither has commented yet on the auction. 
Check out Showbiz Cheat Sheet on Facebook!