Kurtwood Smith: Why Now Is the Perfect Time for a 'That '70s Show' Spinoff
Showbiz Cheat Sheet spoke with Kurtwood Smith in an exclusive interview about the upcoming Netflix series That '90s Show. Here's why the Red Forman actor says now is the perfect time for a That '70s Show spinoff, plus what showrunners have said about creating That '90s Show in the era of reboots. 
'That '70s Show' is seeing a resurgence in interest 
Like many popular shows from the early 2000s, Smith has noticed more and more interest in That '70s Show. That's mostly thanks to meme culture and Netflix's announcement regarding That '90s Show. But it also has a lot to do with That '70s Show being a sitcom with quality writing and a cast of stars that allowed it to withstand the test of time. 
"I think the old show — That 70s Show — is becoming more and more popular online," Smith explained. "So it seems like a good time to kind of boost it up a little bit, you know? And what better way than to have new kids in the basement?"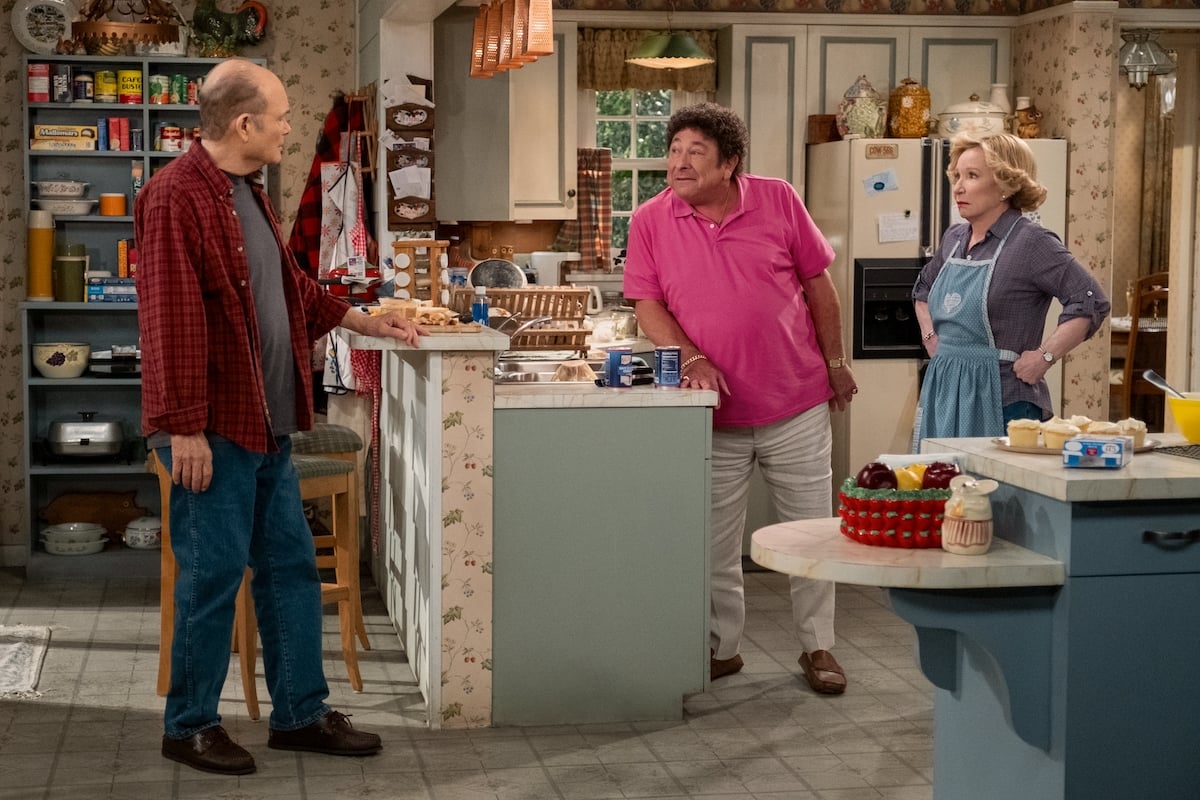 Most of the original cast from That '70s Show returns in the spinoff. Still, the Netflix series centers around Leia Forman (Callie Haverda) and her friends (Ashley Aufderheide, Mace Coronel, Reyn Doi, Maxwell Acee Donovan, and Sam Morelos). 
'That '90s Show' gives Netflix subscribers a 'much-needed comfort' 
Smith's sentiments regarding That '90s Show matched Bonnie Turner's, who spoke about the series with Netflix Queue in December 2022. "It's a wonderful time to go home," she told the outlet. "The world is so chaotic, and there's so much noise, and we want to be somewhere peaceful, some place that's familiar. We need comfort food right now more than ever, and I think the show delivers that."
'That '90s Show' cast of kids made creating the spinoff series easy 
As Smith told us, fulfilling the desire for more stories from the world of That '70s Show was easy because of the cast. "I had a great time doing the ten episodes," he said. "Of course, it was great reuniting with Debra Jo … but these kids are younger, and they're so impressive." He added: 
"They're smart, but they're very easy to work with. They just have a great work ethic, all five of them. They show up on time, they don't mess around, they know their lines, and yet they're fun and bubbly and having a great time. Debra Jo and I were so enthused by the kids." 

Kurtwood Smith
Smith worked with a group of so-called kids the first time around on That '70s Show — Mila Kunis was 14 years old at the time. But the cast of That '90s Show is even younger. "They range from I think 13 to 17," Smith estimated. Regardless, Smith says the work ethic and desire to be on set are the same from both casts. 
Is there more 'That '90s Show' on the way? Kurtwood Smith is 'knocking on wood' 
During our conversation with the man who brings iconic TV dad Red Forman to life, we had to ask about the possibility of That '90s Show returning for a second season. "Sure, there's always [whispers about another season], but it's all just people talking through their hat," Smith told us while simultaneously knocking on wood for luck. "We'll see what happens." 
Stay tuned for updates regarding the future of That '90s Show. Watch all 10 episodes on Netflix.