'KUWTK': Kourtney Kardashian and Scott Disick Tease They're 'Going for Baby No. 4'
Will Kourtney Kardashian and Scott Disick have a fourth baby? That was the question of the hour during the Season 19 finale of Keeping Up With the Kardashians on Nov. 12.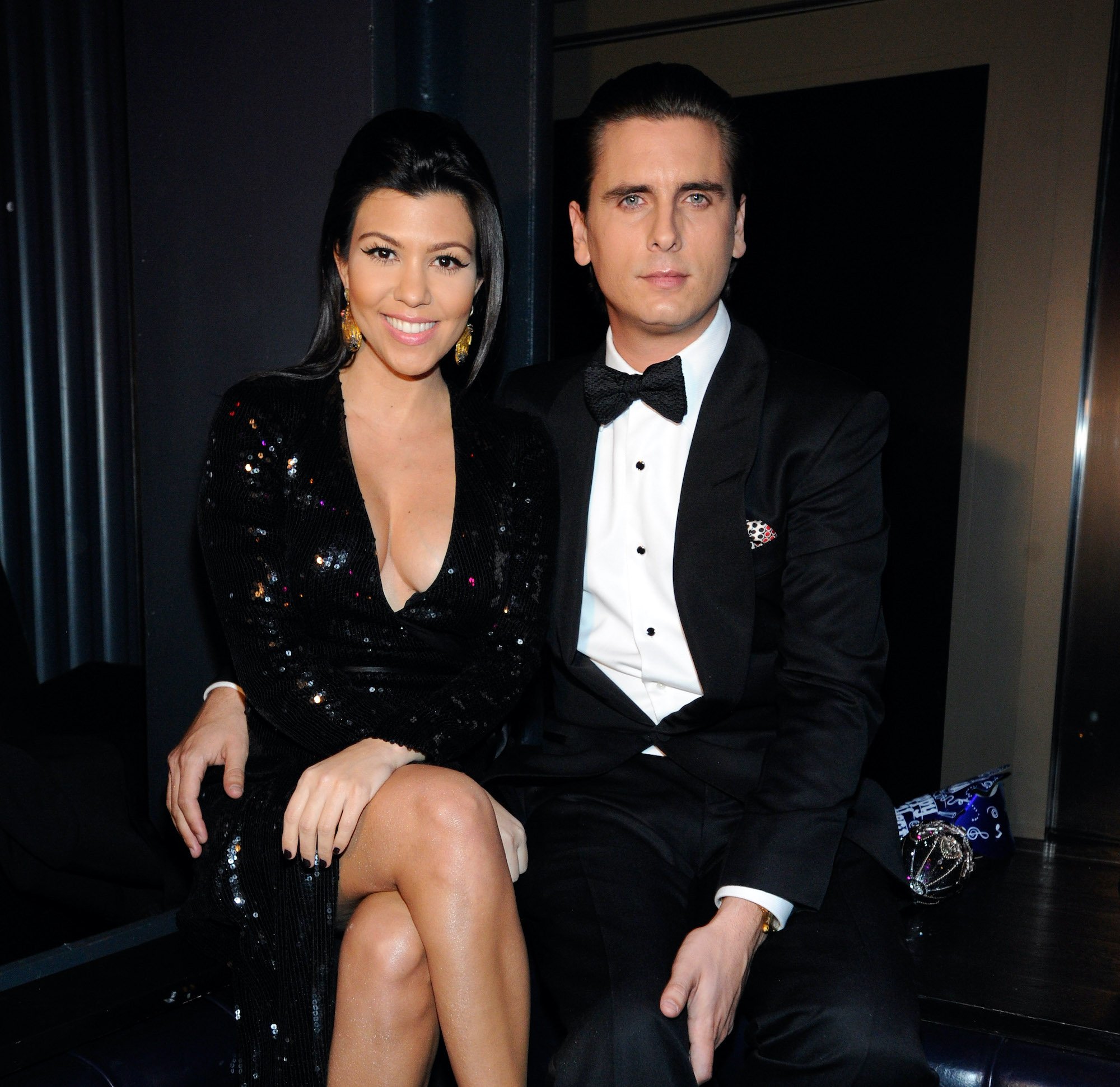 Scott Disick and Kourtney Kardashian sent a photo to their family group chat teasing another baby
While gathered as a family for Scott's 37th birthday, Kim Kardashian put the former couple on blast, asking about a photo Scott sent to their group chat of him and Kourtney.
"Is it like, the elephant in the room—that photo that you guys posted in our group chat?" Kim said. "Scott's like, 'We're going for baby No. 4.' Was that a joke or is that serious? I want to know."
The photo in question was a shot of the co-parents posing in a pool. The father of three's arm is around Kourtney's shoulder in the image.
Kris Jenner bore a shocked look on her face in response to Kim's question, while Khloé Kardashian responded, "Are you really having a baby? No!"
Kourtney and Scott teased their family about baby No. 4 at Scott's birthday party
For their part, Kourtney and Scott seemed very entertained by this conversation.
Scott calmly said, "Yeah!" in response to the question.
Kourtney pulled up her shirt, rubbed her belly and asked, "What do you guys think? Look!"
Don't freak out, Kardashian fans. This wasn't a pregnancy reveal. The former couple was just poking fun at their family, like they seemingly did with their photo in the group chat.
As Kris shot back at her oldest child, "Stop! You just pushed that out."
The two already share Mason Disick, 10, Penelope Disick, 8, and Reign Disick, 5. And Kourtney has expressed interest in having another baby in the past. On top of all of this, Kourtney and Scott are both reportedly single, and fans are theorizing that the pair is on their way to rekindling their romance.
Kourtney fueled this speculation in a post on her Instagram Story on Nov. 4. The Poosh creator shared a throwback photo of her and her ex from their early relationship years, captioning the photo "wow" with a laughing emoji. She also tagged the Talentless founder in the post.
While the two have not confirmed any kind of relationship outside of their co-parenting dynamic, fans are eager for them to get back together. (And clearly, their family thinks it would be exciting if they had a fourth child.)
As one fan wrote on Reddit in response to Kourtney's throwback Instagram Story, "It would actually be kinda cool if they got back together and were able to make it work. I feel like the both of them have grown up so much since they spilt. I feel like they could make it work this time around bc they took that time apart to live their lives and grow as individuals."
Now that Season 19 of KUWTK has concluded, there's only one season left before the show ends for good. A Kourtney and Scott reconciliation really would bring the show full circle.