Kylie Minogue Made Her Mark on the 'RuPaul's Drag Race' Franchise
Kylie Minogue has yet to make her American debut on this reality competition series. Still, her original songs impacted RuPaul's Drag Race and RuPaul's Drag Race: UK vs. The World. Here's what we know about her appearance on Drag Race Down Under.
Kylie Minogue appeared on the 'RuPaul's Drag Race' spinoff, 'Drag Race Down Under'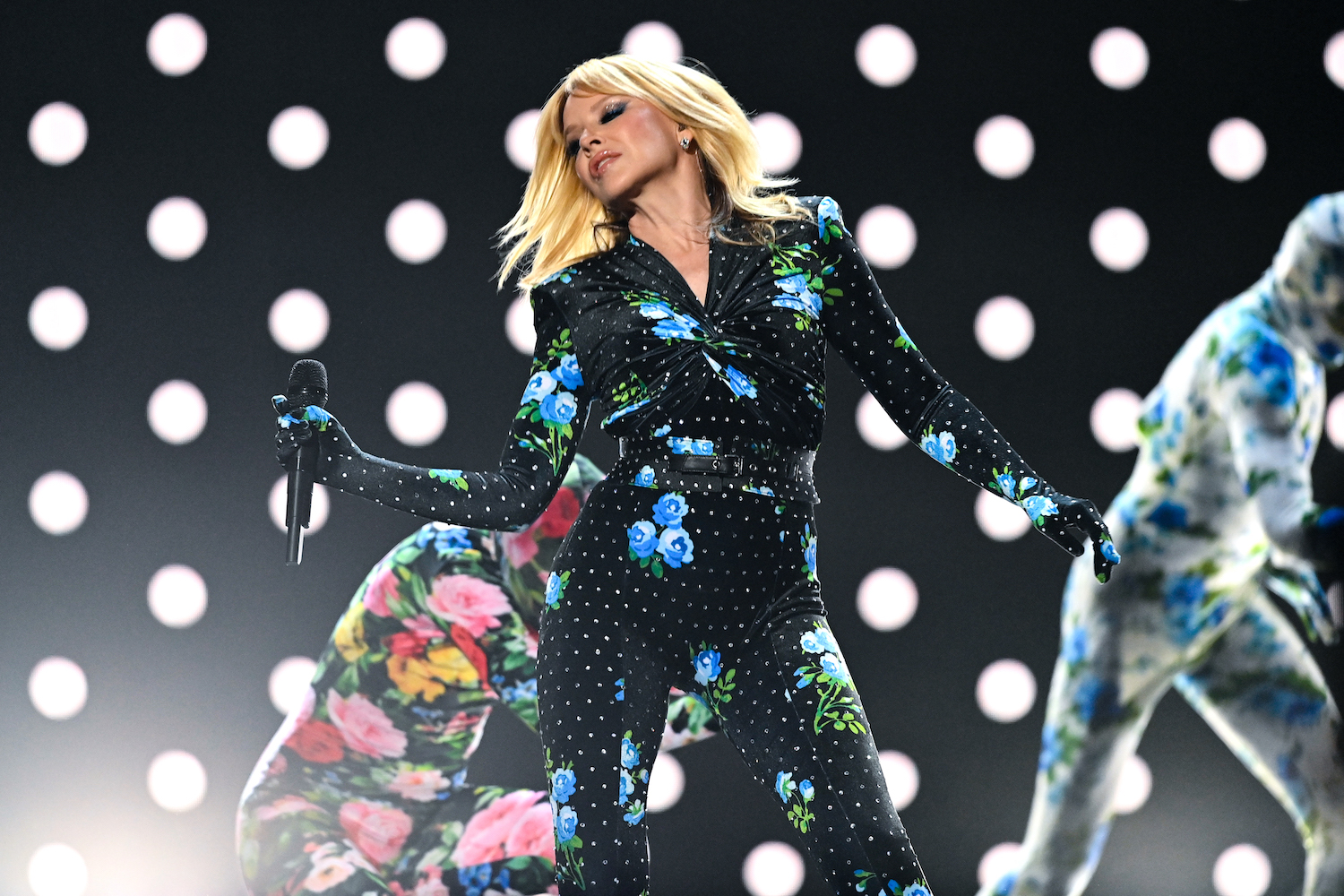 With RuPaul's Drag Race snagging several Emmy Award wins, host and creator RuPaul took this reality series overseas. There's Drag Race UK, Drag Race Thailand, Drag Race Holland, and Drag Race España, among other spinoffs.
For Drag Race Down Under, artist Minogue appeared as a guest judge, along with her sister ​​Dannii Minogue and the Jojo Rabbit filmmaker Taika Waititi. With Minogue being an Australian-born pop star, it makes sense for her to appear on this version of the competition show.
"I'm so excited to finally be a part of RuPaul's Drag Race for the first series [of] Down Under," Kylie said in a statement. "It's such an iconic show, and I can't wait to watch the contestants perform their hearts out to win the title of Down Under's first Drag Superstar!"
Several Kylie Minogue songs appeared in the 'RuPaul's Drag Race' franchise
Minogue songs appeared in several Drag Race episodes, including season 14. When June Jambalaya and Maddy Morphsis landed in the bottom two, these contestants "lip-synced for their lives" to "I Love It" from Disco.
For RuPaul's Drag Race: UK vs. The World, the lip-sync between the finalists was also a Minogue song. Blu Hydrangea and Mo Heart performed "Supernova" in front of RuPaul, with Blu Hydrangea eventually earning the title of "Queen of the Mother-Tucking World."
Minogue wouldn't be the only artist with several tracks featured in RuPaul's Drag Race, as several Lizzo, Ariana Grande, and Britney Spears originals became well-known lip-sync songs.
Kylie Minogue is known for her song 'Can't Get You out of My Head'
In addition to her 2020 release Disco, Minogue debuted several well-known tracks throughout her music career. The best-known being "Can't Get You out of My Head."
This artist is also known for her support of the LGBTQ community even dating back to the 1980s. In honor of 2018's Pride Month, the artist announced performances at New York City's Pride Island and the Bowery Ballroom.
"It happened without me knowing it," Minogue said of her "gay icon" status during an interview with Billboard. "I was in Sydney, and there's a famous bar on Oxford Street called the Albury, and at the time, it was the gay bar in the gay area in Sydney." 
"I was in the car, my manager was in the car with me along with a couple [of] other people, and someone said 'there's Kylie Night at the Albury tonight,'" she continued. "And I was like 'What?!' I'd never heard of a Kylie Night, but I said 'We should go! We should go!'"
RELATED: 'RuPaul's Drag Race' Fans Are Comparing Charli XCX's 'All-Stars 6' Look to This Disney Channel Pop Star