Lady Gaga and Ariana Grande: Who Has a Higher Net Worth?
Lady Gaga and Ariana Grande prove they're true powerhouses in the world of pop music. And their hit, "Rain On Me," is the Grammy-nominated song fans know and love. While both women are incredibly successful, one is certainly richer than the other. So, what is Ariana Grande's net worth? What is Lady Gaga's net worth? And who's worth more in 2021?
What is Ariana Grande's net worth?
RELATED: Ariana Grande Bought a $13.7 Million Home Right Before Getting Engaged to Dalton Gomez
Ariana Grande's net worth continues to grow, as the superstar makes hit after hit fans, critics, and radio stations love. She got her career started with Nickelodeon, as she played Cat Valentine on Victorious in 2009, Celebrity Net Worth reports. But Grande's true calling was music. In 2013, she dropped her first album, and it hit No. 1 on the U.S. Billboard charts.
In 2014, Grande released her second studio album, and she continued to attain wealth. Two of her albums in 2019 became No. 1 hits, and it's estimated she brings home between $20-$30 million annually.
Albums aside, Grande also makes a ton of money with her tours. Her tour for Dangerous Woman was one of the highest-grossing tours in 2017, as it grossed $71 million. And when she performed at Coachella Valley Music and Arts Festival in 2019, she was paid $8 million for two days.
Overall, Grande's net worth stands at $150 million.
What is Lady Gaga's net worth? Who's worth more?
Lady Gaga's net worth has also grown exponentially over time — and she got her start long before Grande. According to Celebrity Net Worth, Gaga started performing rock music in New York City way back in 2003. She was later discovered by musical celebrity Akon and signed with a label. By 2008, she released The Fame, her first album that also received critical acclaim for its hits. Since then, she's created six studio albums, one of which includes the legendary Tony Bennett.
Gaga's wealth doesn't just come from her music, though. She continues to prove she's a force to be reckoned with on both the big and small screen. In 2015, she was cast for American Horror Story: Hotel. And she played the leading role in A Star Is Born in 2018. That year, she won an Academy Award, a Grammy, a BAFTA, and a Golden Globe Award.
So, how much is Gaga worth? She reportedly has a net worth of $320 million. This is $170 million over Ariana Grande's net worth.
Are Lady Gaga and Ariana Grande friends?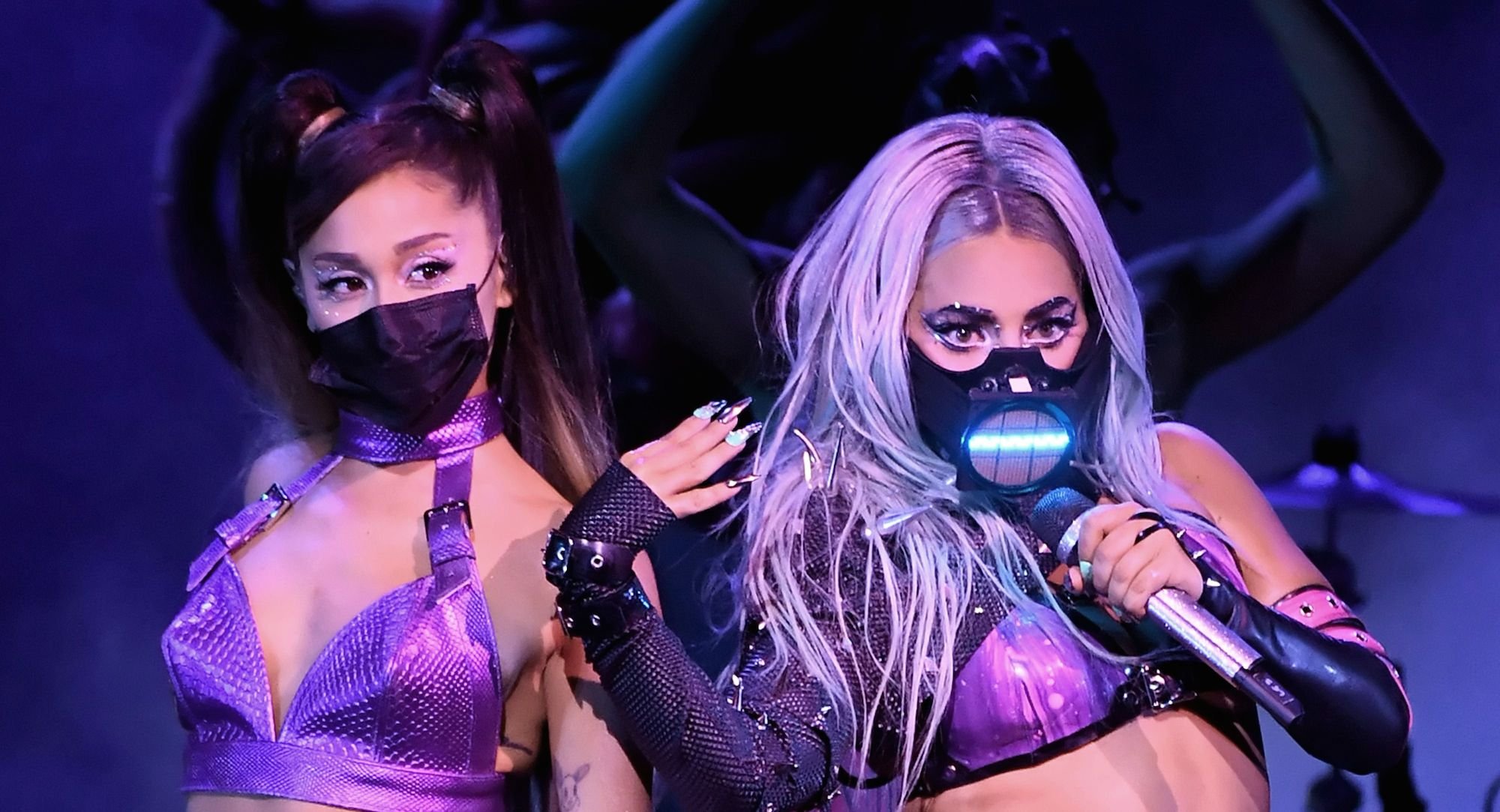 RELATED: Lady Gaga Said That Elton John and Ariana Grande Help Her Feel Better When She's Feeling Down
Lady Gaga's net worth might be more than Ariana Grande's net worth, but they're both still incredibly wealthy living in the same sphere. So, are the talented women friends? It seems they are. After recording their hit song, "Rain on Me," Gaga talked about how they formed a friendship — but it wasn't easy. Gaga was reluctant to get too close to Grande, as she didn't want to negatively influence the younger pop star.
"She was so persistent," Gaga said during an interview for Apple Music's Beats 1. "She would try over and over again to be friends with me. And I was too ashamed to hang out with her, because I didn't want to project all of this negativity onto something that was healing and so beautiful."
Finally, Grande's persistence paid off. "She was, 'You're hiding,'" Gaga noted of Grande. "And I was like, 'I am hiding. I'm totally hiding.' And then this friendship blossomed."
We're happy to see Grande and Gaga so friendly these days, and we're really hoping it means more amazing music for fans in the future.
Check out Showbiz Cheat Sheet on Facebook!