Lady Gaga Accepted the First Tricon Award — Here's What the New MTV VMA Recognition Is
Did MTV create a new award for Lady Gaga? Here's everything you need to know about the new Tricon Award.
Lady Gaga is the talk of the MTV Video Music Awards. She donned a different mask almost every time she came out on stage. The singer-songwriter, actress, and activist also accepted a brand new award — the Tricon Award. Here's a breakdown of what that new recognition is.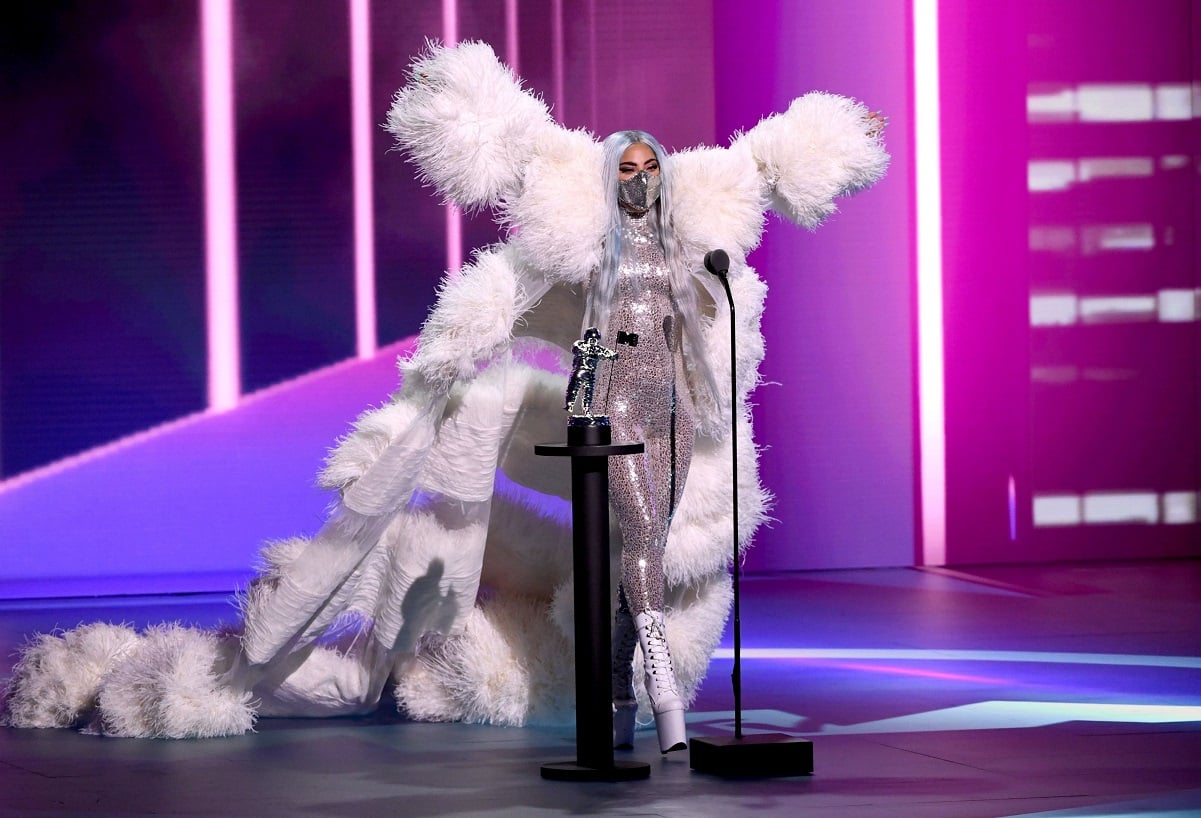 The MTV VMA Tricon Award replaced the Video Vanguard Award
Although MTV did not announce that the new recognition was replacing the Video Vanguard Award, many outlets believe it did. The last time the Michael Jackson Video Vanguard — also known as the Lifetime Achievement Award — was given out was in 2019 to Missy Elliot. 
The ceremony began in 1984 and was presented by MTV for artists who made significant contributions and a profound impact on the music industry. Instead of a silver-plated "Moonman," the recognition came with a gold one. 
The Beatles and director Richard Lester received the first award of it's kind in 1984 for the creation of the music video. David Bowie was also given the video vanguard during the same ceremony.
What is the Tricon Award, accepted by Lady Gaga at the 2020 MTV Video Music Awards?
Lady Gaga was presented with a brand new award. The Tricon Award recognized her for being an icon in music, acting, and activism. 
"MTV is recognizing an artist who is impossible to define," Bella Hadid presented Lady Gaga with the Tricon Award. "You can't just call her a triple threat because her talent and influence seems endless. She turns pop music into high art, she redefines fashion. She is not only an incredible musician and composer but a powerhouse actor, and she's a bold champion for equality, human rights, and mental health."
The icon did not disappoint with her incredible acceptance speech while wearing her fourth unique mask of the evening. 
"I want to share this award with everybody at home tonight," Lady Gaga told her fans. "Everybody at home is their own form of a tricon. I wish for you to think right now of three things that define who you are and take a minute to reward yourself for your bravery."
Lady Gaga continues to inspire the world
"Artist, actress, and advocate for LGBTQ equality — a true legend fit for the first-ever VMAs
Tricon Award," the Human Rights Campaign wrote on Twitter. "We love you, @ladygaga!"
Her speech continued to inspire others. She gave examples repeatedly throughout the night to encourage her fans never to give up.
"I want you to know I failed over and over again as an actress and as a musician when I was young, so I gave back to the local community," Lady Gaga continued. "Philanthropy became a much bigger part of my life as a star."
She ended her acceptance speech with words to remember and another nod to the importance of wearing masks during the coronavirus (COVID-19) pandemic.
"Just because we're separated right now, and culture may feel less alive in some ways, I know a renaissance is coming, and the wrath of pop culture will inspire you," the icon told fans. "The rage of art will empower you as it responds to hardship with its generosity and love. This is what I believe. I want nothing more than to be your artist in 2020. Stay safe and speak your mind. I might sound like a broken record but wear a mask. It's a sign of respect."