Lady Gaga's Infamous Meat Dress Wasn't That Unique
All of the fashion statements of the 2010s pale in comparison to Lady Gaga's meat dress. Some found it disgusting, some felt that it had a social message, and others simply didn't know what to make of it. One thing's for sure: Lady Gaga certainly wasn't the first artist to use meat in an unconventional fashion. Here are a few predecessors to Lady Gaga's meat dress.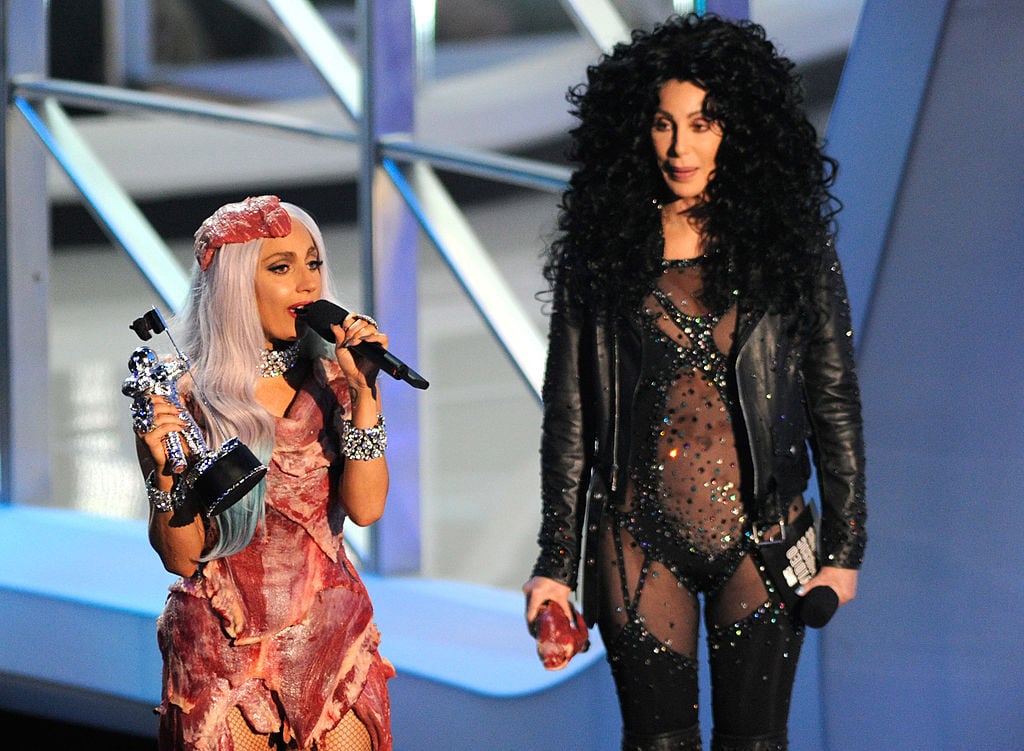 'Incarnation' by Mark Ryden
Mark Ryden is a pop artist, and he certainly lives up to the "pop" label. He has painted a number of pop culture icons ranging from Jimi Hendrix and Colonel Sanders to Amanda Seyfried and Leonardo DiCaprio. He also released an album with contributions from a number of prominent musicians, including Katy Perry, Tyler, the Creator, "Weird Al" Yankovic, and Kirk Hammett of Metallica.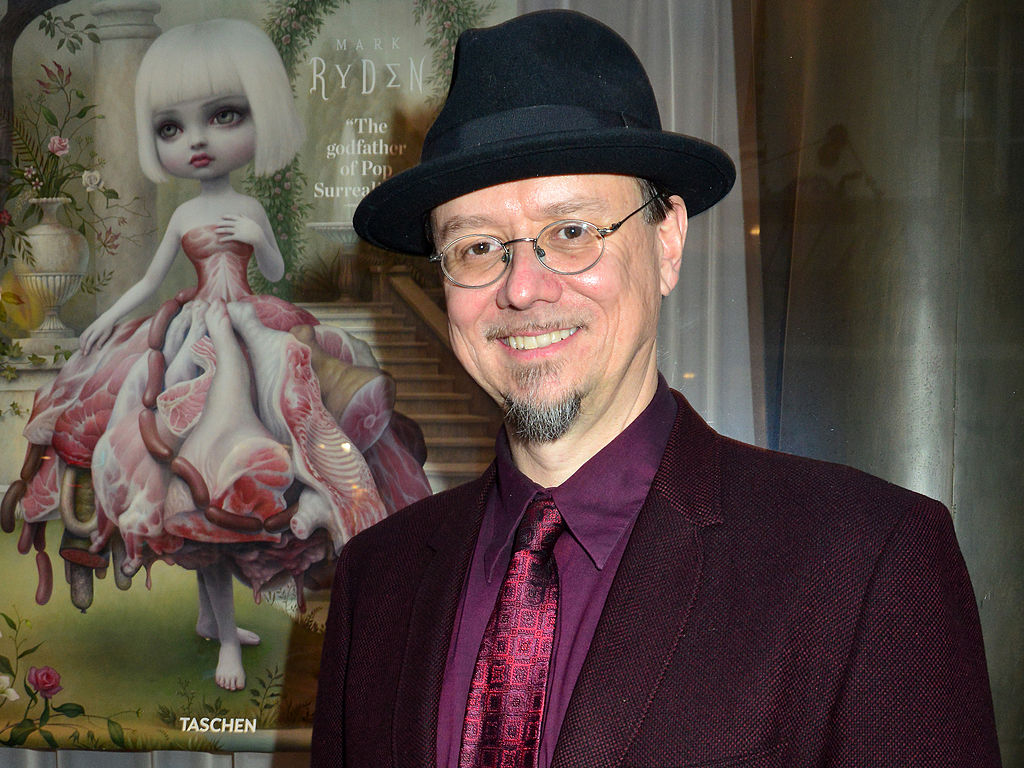 In 2009, he created a typically bizarre painting called Incarnation; the painting depicts a young girl with bleach blonde hair wearing a dress made out of raw meat. When Gaga attended the MTV VMAs the following year, she was wearing a bleach blonde wig and a dress made of raw meat. The New York Times reported that Ryden felt that Gaga was influenced by his painting. His official comment on the matter was "What can I say for the record? It's flattering to be the inspiration for another creative person."

Vanitas: Flesh Dress for an Albino Anorectic by Jana Sterbak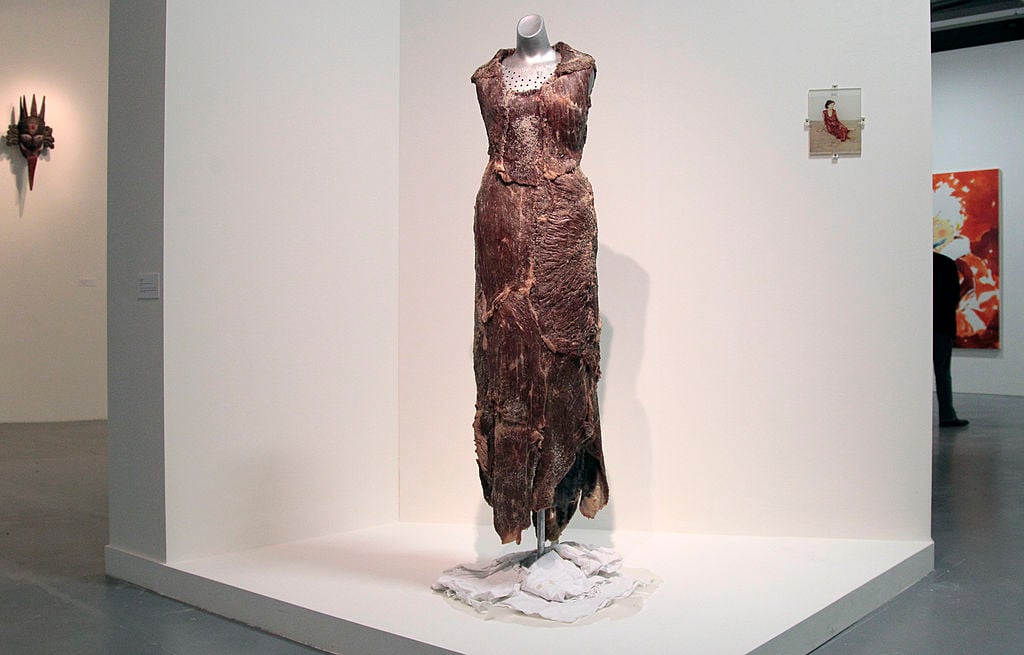 Lady Gaga's meat dress debuted over 20 years after Jana Sterbak's piece Vanitas: Flesh Dress for an Albino Anorectic. Sterbak created a dress made out of steak as a statement about aging and decay. Her dress debuted in 1987 at the National Gallery of Canada. Some commentators saw the dress as a waste of food in tough economic times for the nation. The fifty-pound dress cost over $260 to make and was recreated in 1991 and 2011.
'Yesterday and Today' by the Beatles
The Beatles were probably the first prominent musicians to use raw meat to upset people. In 1966, the Fab Four released a compilation album called Yesterday and Today. The original cover of the album depicted John, Paul, George, and Ringo dressed as butchers. On their laps sat an array of cuts of raw meat and severed parts of baby dolls.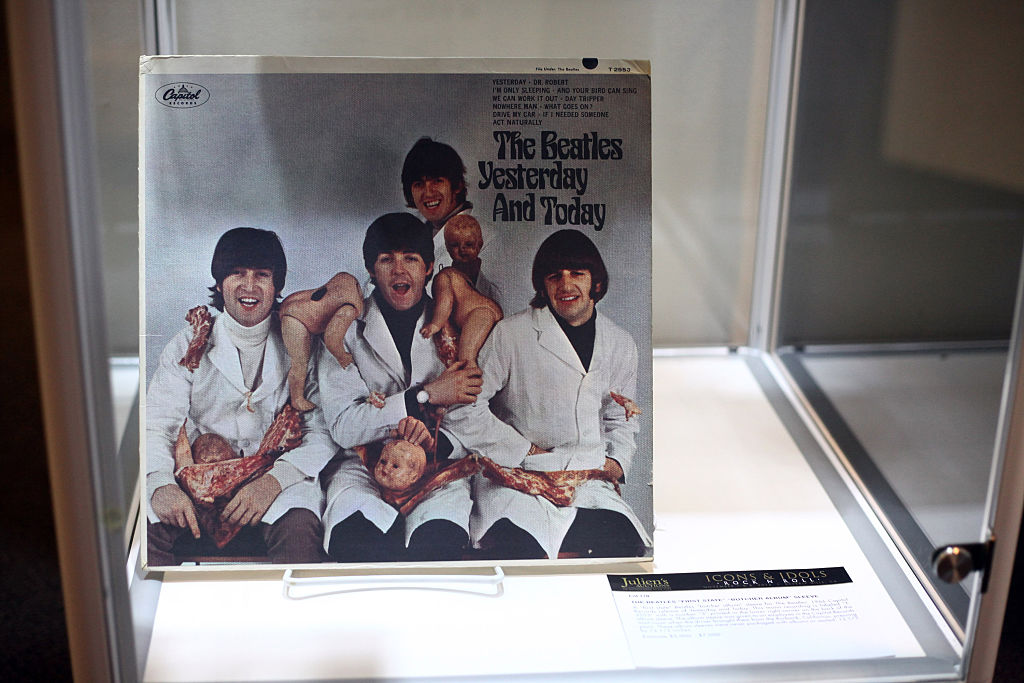 The cover was the brainchild of photographer Robert Whittaker, who wanted to use the picture to shed the Beatles' squeaky-clean image. George Harrison would later comment on the controversial cover, opining "Sometimes we all did stupid things, thinking it was cool or hip when it was naïve and dumb, and that was one of them."
Although many found the image disturbing, the Beatles were all smiling on the album cover, as if they found some sort of enjoyment or dark humor in their situation. The graphic cover sparked outrage and Columbia Records recalled it from stores. A new, less exciting cover replaced the old one. Despite the recall, a number of copies of the album featuring the original cover did make it to stores.