Lana Del Rey Got Her Grammys Dress at the Mall. She's Not the Only Star to Buy Her Awards Show Outfit Off the Rack
Lana Del Rey may not have taken home a trophy at the 2020 Grammy Awards — much to fans' dismay — but she did win on the red carpet. And she did it on a budget. The 34-year-old singer wore a silver beaded gown with a keyhole neckline that she found while shopping at the mall. While she already had another dress picked out for the big night, she loved this one so much she made a last-minute change to her look. 
Lana Del Rey's Grammys dress cost under $600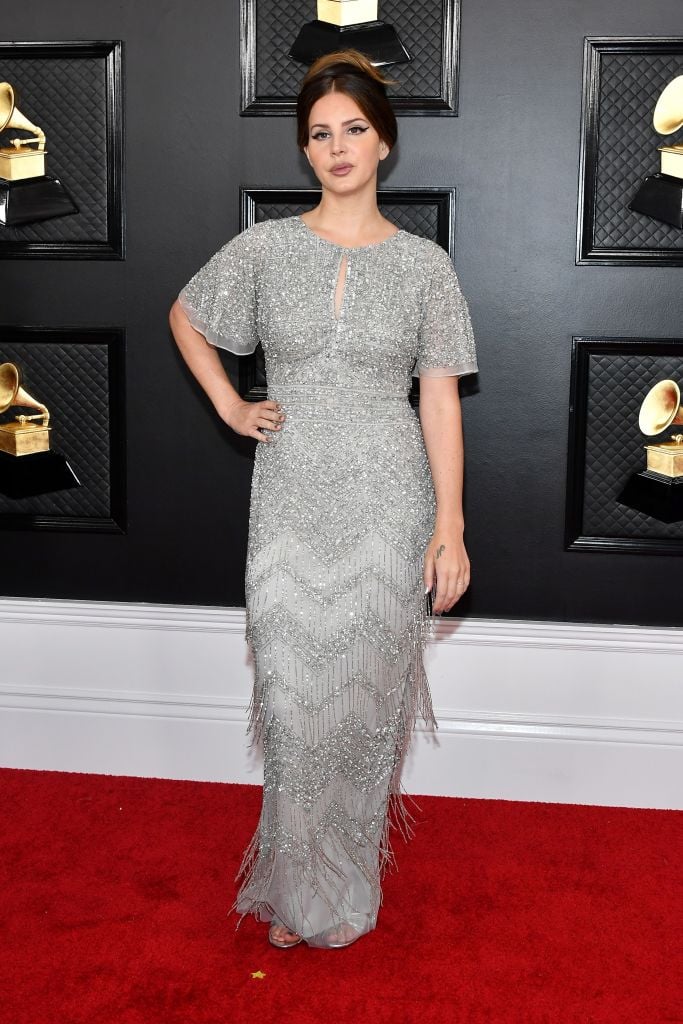 Del Rey, who was nominated for Song of the Year and Album of the Year, attended the Grammys with her boyfriend Sean "Sticks" Larkin of Live PD. It was while shopping for him that the "Norman F***ing Rockwell" singer spotted her dress.  
"I had another dress and then my boyfriend and I were getting a belt for him at the mall and I saw this and I loved it, so this is a last-minute dress," she told Entertainment Tonight's Lauren Zima. 
The dress fit almost perfectly, though she did say that she to have the sides taken in a bit. "I tailored it right there," she said, gesturing to her waist. "So, you know, a little mix and match. … We're making it all work."  
Del Rey didn't reveal at which store she purchased the dress or the designer's name, but it didn't take people long to figure it out. It's an Aidan Mattox gown, and it retails for about $600 at stores like Saks Fifth Avenue and Dillard's. 
Del Rey is not the first to dress herself for an awards show
Usually, female stars walk the red carpet at major events like the Grammys and Oscars in gowns loaned by designers. The celeb doesn't have to shell out for an expensive dress, and the designer or brand gets loads of free publicity. Sometimes, designers will pay an actress to wear their clothing, E! News explained. 
But occasionally, stars like Del Rey do purchase their own clothing for awards shows. Some opt to dress themselves for personal reasons. Others have said they've had trouble finding designers willing to work with them because they don't fit in sample sizes, a problem voiced by Leslie Jones, Octavia Spencer, Gabourey Sidibe, and Christina Hendricks.    
Bryce Dallas Howard found a dress at Topshop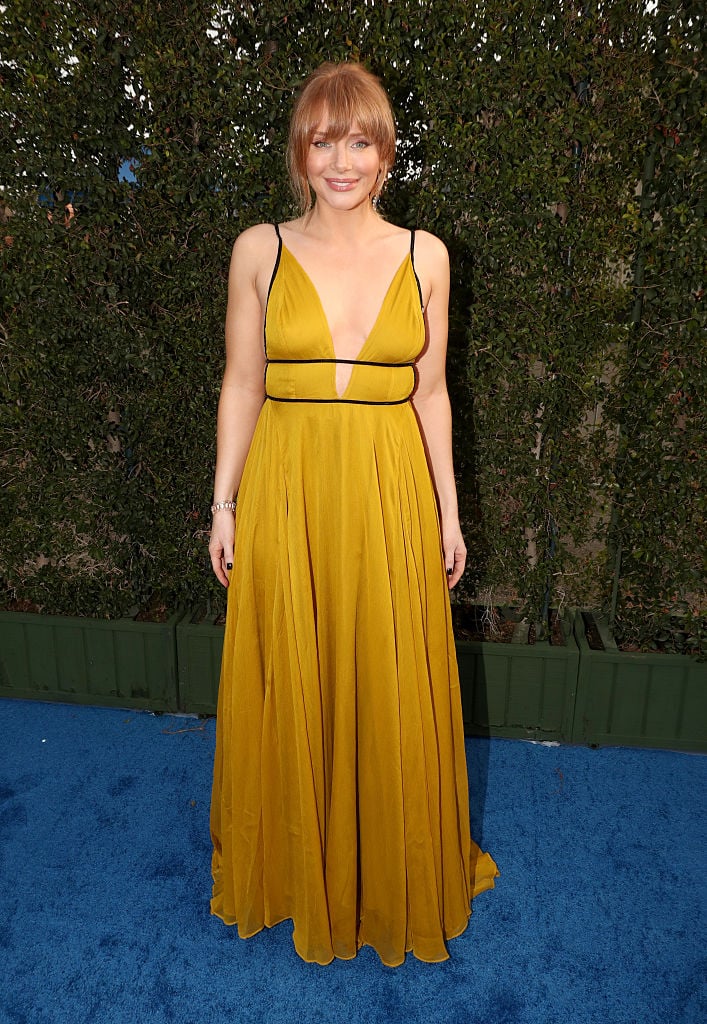 Actress Bryce Dallas Howard has walked multiple red carpets in gowns she purchased off the rack. In 2016, she donned a $240 bright yellow gown from Topshop when she attended the Critics' Choice Awards. At the Golden Globes a year earlier, she wore a Jenny Packham dress from Neiman Marcus. 
At a size 6, Howard said that she felt like doing her own shopping meant she had more options to choose from. "I like having lots of options for a size 6, as opposed to maybe one option so I always go to department stores," the actress told E!'s Giuliana Rancic, according to USA Today.
Hayden Panettiere bought her own Tom Ford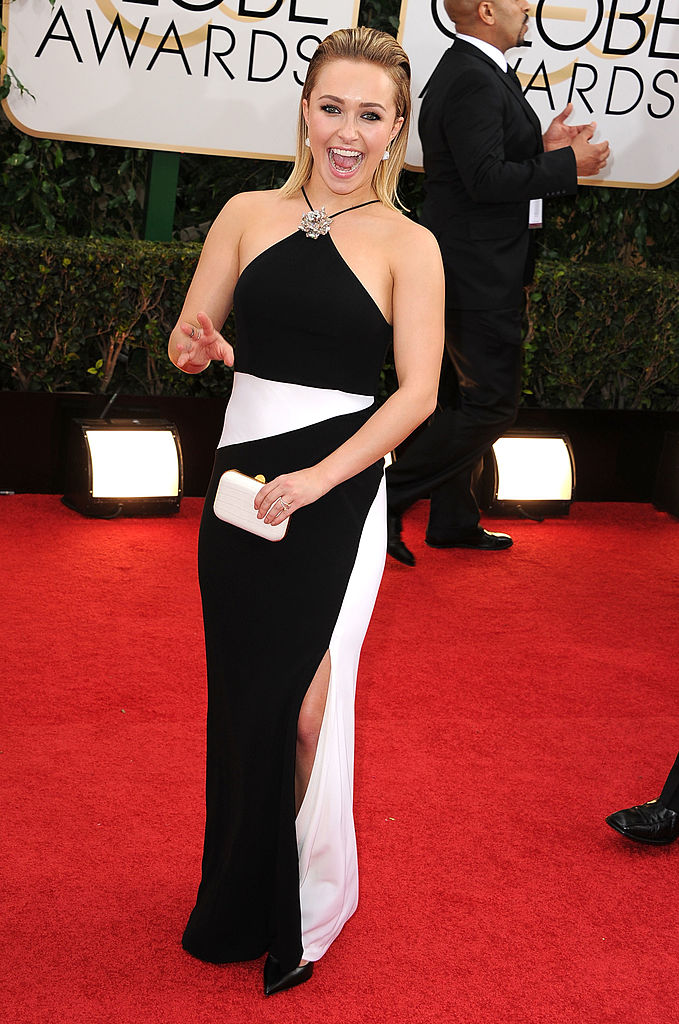 Actress Hayden Panettiere wanted to wear Tom Ford to the 2014 Golden Globes, but she couldn't get her hands on a loaner gown. So she took matters into her own hands and purchased a black and white halter dress from the designer for $10,000.
"I feel sexy in it, I feel comfortable in it, and I'm in Tom Ford. I would wear a plastic bag if it was designed by him," she told E! News at the time. Ford later sent her a thank you note with a bunch of white roses for her kind words. 
Rachel Bloom planned to resell her Emmys dress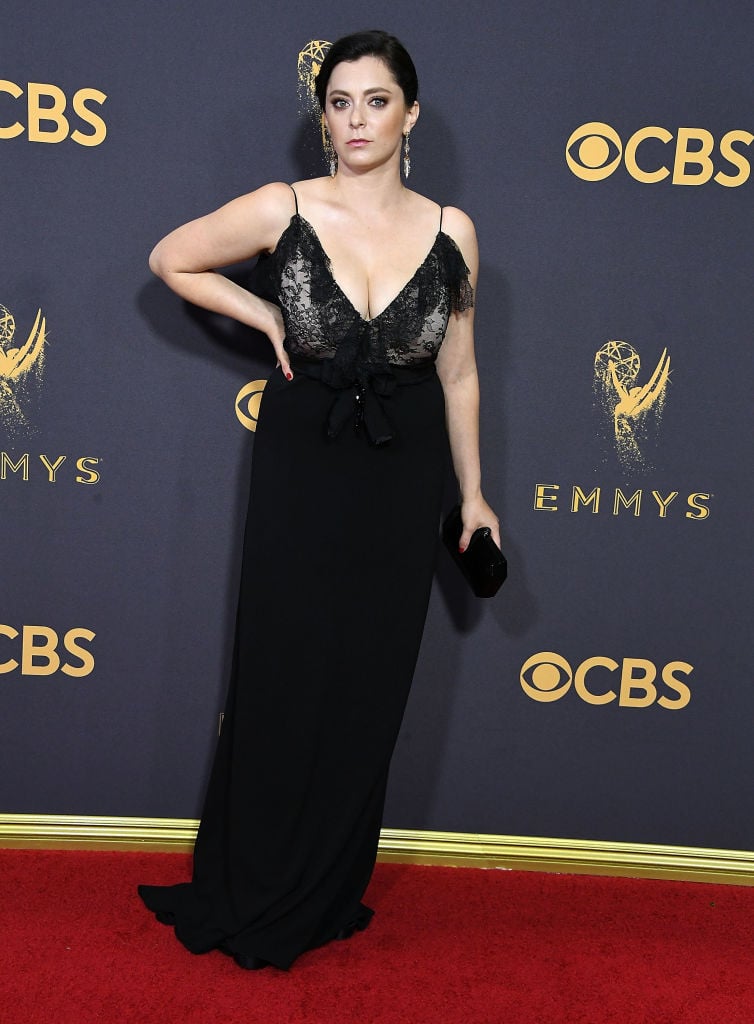 When Crazy Ex-Girlfriend star Rachel Bloom attended the 2017 Emmys, she wore a black Gucci dress she purchased off the rack for $3,500. The actress said that it was hard to find designers who would lend her dresses because she wasn't a size 0. 
But Bloom wasn't too upset about having to pay for her gown. "I can always resell it," she said, according to Entertainment Weekly. "I do have an account on The RealReal … Take a look on The Real Real for this dress tomorrow."
Edie Falco had a saleswoman help her choose her dress for the Golden Globes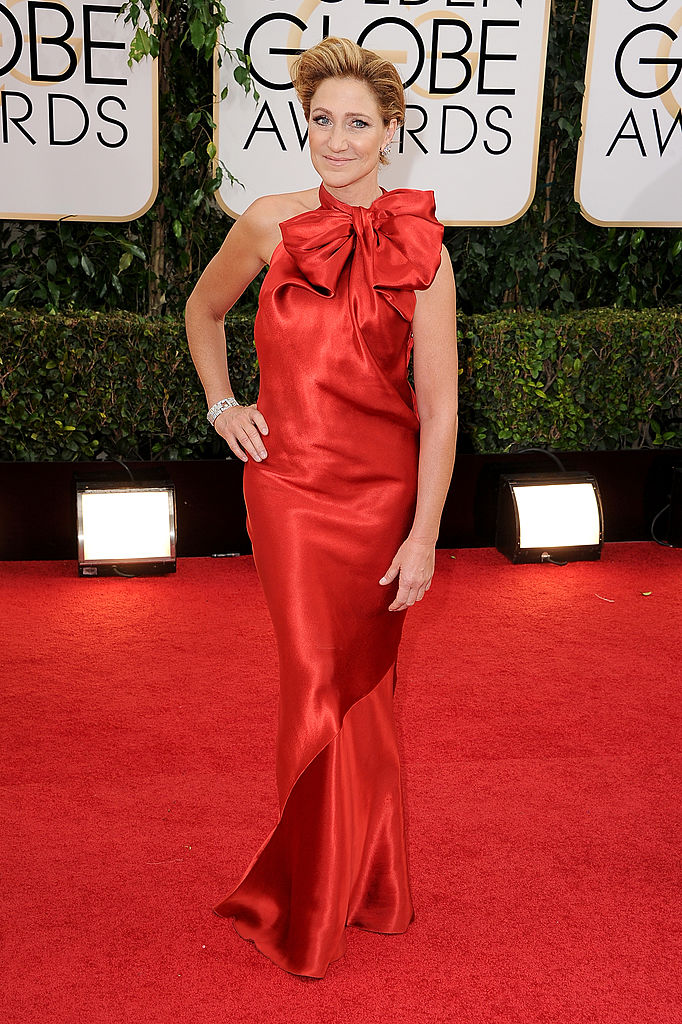 Actress Edie Falco may have been nominated for a Golden Globe in 2014, but she still went shopping for her own dress. The Nurse Jackie star headed to a NYC boutique where a saleswoman helped her select the perfect look — a red silk gown by Lanvin with a large bow at the neck. 
"It's Lanvin, as I have been instructed to pronounce it. I walked into Jeffrey on 14th Street in New York City and a woman named Chantal said, 'I have just the dress for you,' and this is it," Falco told Entertainment Weekly. "She handed it to me, I bought it, and that's the story."