'Last Man Standing': Tim Allen Shot Down First 'Home Improvement' Cross Over Idea
Tim Allen spent years playing Tim Taylor on 'Home Improvement'. When 'Last Man Standing' executives approached him about a cross-over, Allen was incredibly protective of the Tim Taylor character.
Last Man Standing ended after nine seasons on May 20, 2022. The niche sitcom followed Mike Baxter, a marketing executive for a sporting goods store, as he navigated life with his wife, three daughters, and grandson. Baxter, played by Tim Allen, felt like one of Allen's previous characters. Mike and Home Improvement's Tim Taylor did have a lot in common, but the series took a big chance in the finale season by bringing the character of Tim Taylor into Mike Baxter's world. The storyline fans saw was not the one the writers original pitched to Tim Allen. The famed actor shot down the first idea.
'Last Man Standing' showrunner, Kevin Abbott, wanted to incorporate 'Home Improvement' into the final season
Last Man Standing showrunner, Kevin Abbott, liked Home Improvement when it aired. He liked the actors, too, but never thought of crossing over the two shows, at least not character-wise. In an interview with The Wrap, Abbott recalled how Tim Taylor came to be on Last Man Standing. Abbott said the network was pressuring him to provide "something flashy" for the final season that they could promote. A writer came up with the idea to bring Tim Taylor, as a character, onto the show. The stunt casting was both promotable and certainly attention-grabbing.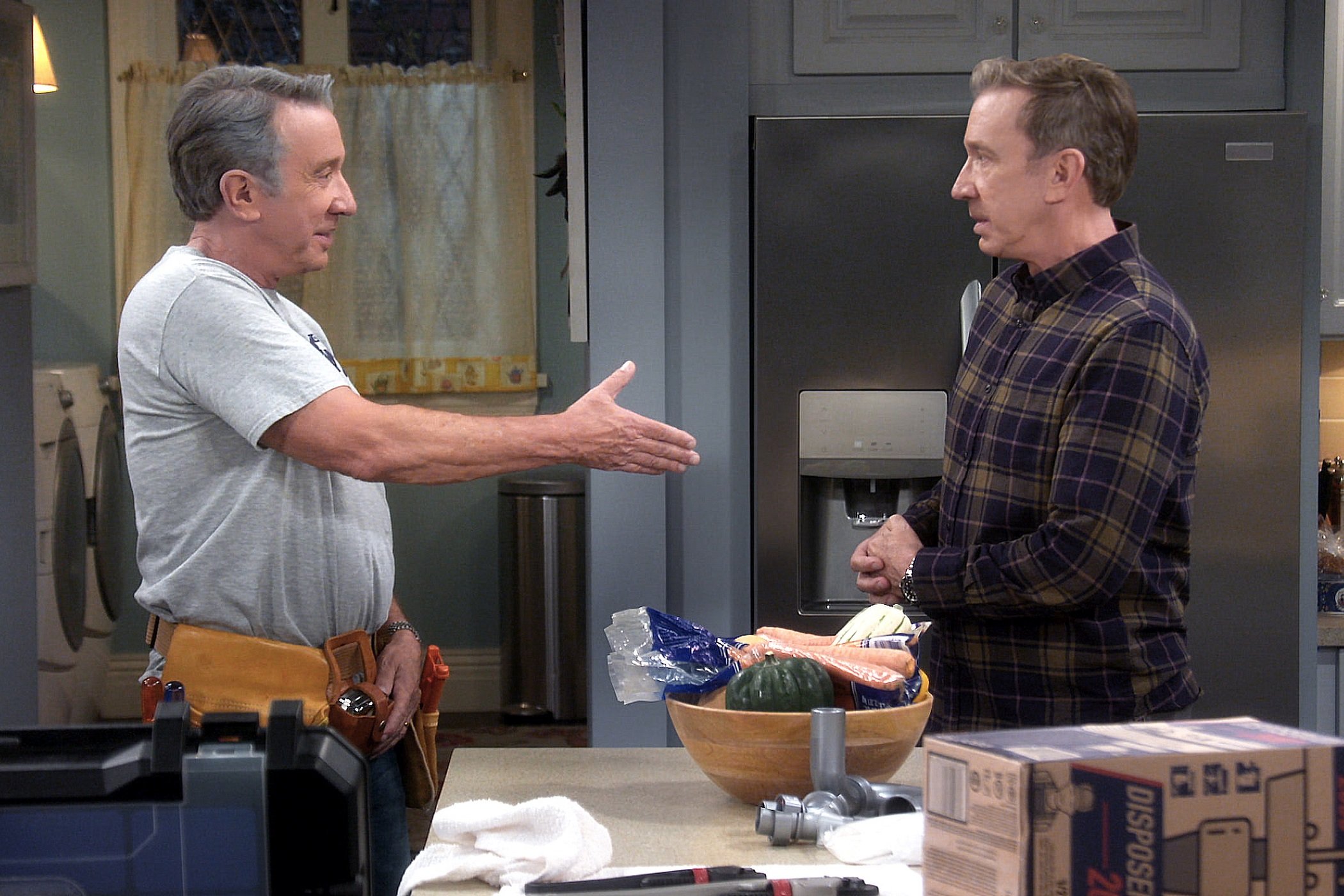 Abbott said his first instinct was to "go negative" with the storyline. He said he wanted to show Tim as a divorced handyman, initially. That's not what fans saw. Instead, Tim and Mike Baxter discuss life after Vanessa Baxter hires him to fix something in the Baxter family home. In the episode, it's revealed that Tim stepped away from Tool Time but was successful at Binford Tools. 
Tim Allen shot down the idea of going negative with the character
The interaction between Tim Taylor and Mike Baxter fans got to see in "Dual Time" was far from Abbott's first idea. While he initially planned to go negative, Tim Allen shot down the notion. According to Abbott, Allen quickly "disabused" him of the idea. According to Abbott, the entire episode's theme was about being afraid to move forward. Seeing Tim in a negative life situation wouldn't have gelled well with the theme, anyway. 
That wasn't the only reason Allen was against his iconic character being down on his luck. Home Improvement was one of Tim Allen's first big hits. It's certainly the series he is best known for. Because of that, he's deeply connected to the character of Tim Taylor. He wanted to ensure the series honored that character instead of destroying him.
Tim Taylor appearing on the show wasn't the first 'Home Improvement' throwback on 'Last Man Standing'
Last Man Standing opted to bring the character of Tim Taylor onto the show in the final season to honor Home Improvement, but it wasn't the first time the series paid homage to Allen's breakout sitcom. Jonathan Taylor Thomas and Patricia Richardson both appeared on Last Man Standing.
Thomas appeared multiple times on the show, breaking a nearly decade-long hiatus from television. Thomas portrayed John Baker in Last Man Standing. He later returned as Randy in the season 4 episode, "Helen Potts." Thomas famously portrayed Randy Taylor on Home Improvement.
Richardson, who played Tim Taylor's wife, Jill, on Home Improvement, appeared on Last Man Standing as Helen Potts. The series also honored Earl Hindman. Hindman played Wilson Wilson Jr., Tim's wise neighbor. Hindman died in 2003.