Laura Dern Said Billy Bob Thornton Broken Engagement Was 'Like a Sudden Death'
Jurassic Park star Laura Dern and Sling Blade actor Billy Bob Thornton met on the set of Ellen. Shortly afterward, they became a Hollywood power couple shortly thereafter. The pair were even engaged to be married, when Thornton shockingly married someone else. Dern said the shattered engagement felt "like a sudden death" that left her with no sense of clarity or closure. Has she ever gotten over it? Here's what we know:
Laura Dern and Billy Bob Thornton's doomed love affair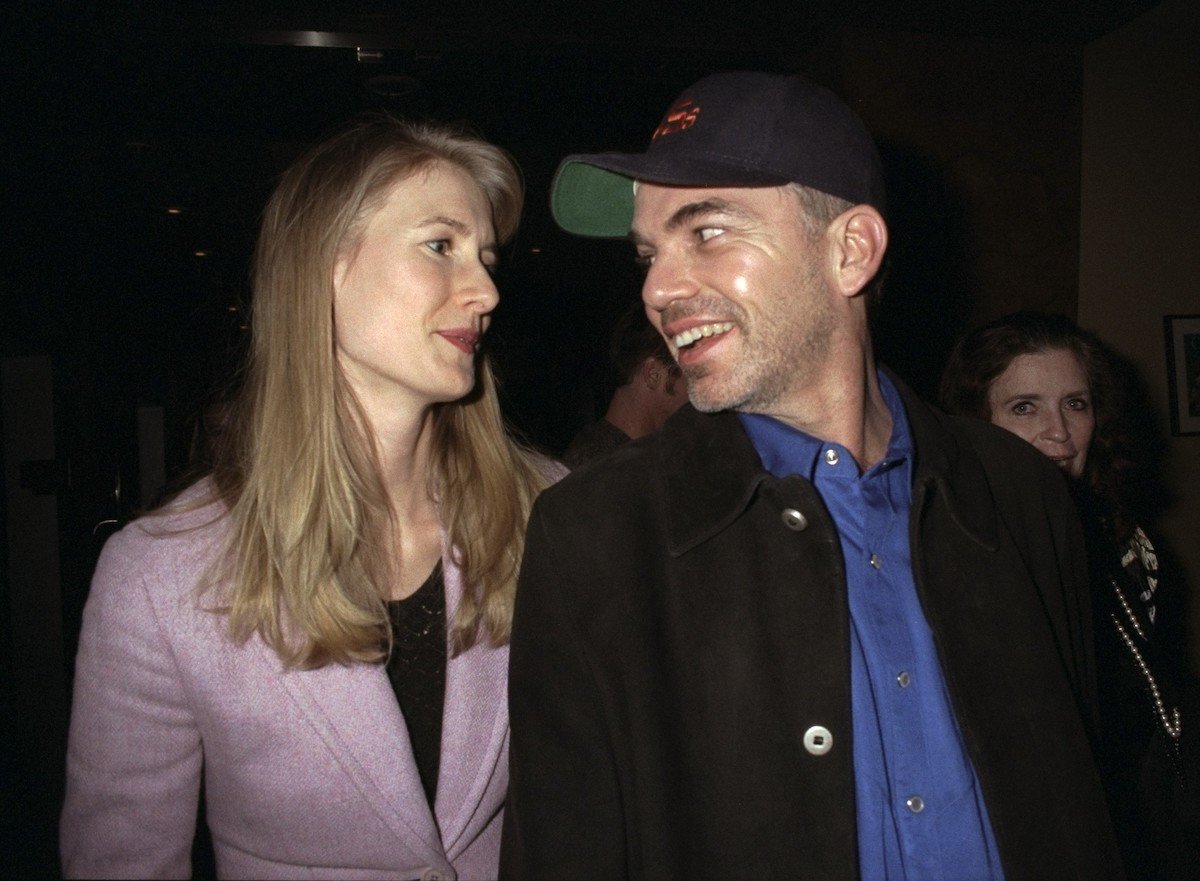 As mentioned above, Dern and Thornton first laid eyes on one another at a taping of Ellen. The moment was extra-memorable, because it was the April 30, 1997 episode in which DeGeneres came out as gay.
When Dern got involved Thornton, he'd already been married and divorced four times. Nonetheless, she agreed to marry him and the two became engaged. According to Dern, she had no idea he was fooling around with his Pushing Tin co-star.
Feeling secure in their relationship, Dern wasn't worried that her live-in boyfriend was making a movie with a pretty co-star. She went off to make a movie of her own. It was then that Dern discovered via a tabloid headline that not only was Thornton messing around, he'd had the bad taste to marry his mistress on May 5, 2000. As if that weren't awful enough, Thornton ghosted Dern in the process.
In a Celebrity Cheating Scandals slideshow, the New York Daily News reported Dern as saying, "I left our home to go and make a movie, and while I was away my boyfriend got married, and I never heard from him again."
Aside from an awkward almost-encounter at the 2017 Golden Globes awards show during which they did not make eye contact, Dern and Thornton have not seen each other since he ghosted her in favor of his co-star. He did, however, make a weak public apology to the October Sky actor in a Guardian interview in 2001. Thornton said, "Others may say that you left our girl and married someone else, but it made me happy and somebody else happy. I'm sorry it caused pain."
Thornton also told the Guardian that he'd "f*cked up a lot of things" and been wrong in relationships but did not believe in couple's counseling because he didn't like to "work on things."
The identity of Billy Bob Thornton's 'other woman' comes as no surprise
Trusting one's boyfriend, husband, or significant other to work on-set with Angelina Jolie is a recipe for disaster. The same can be said for anyone involved with Jolie.
As reported by Metro UK in 2007, the Girl Interrupted star admitted to being "very sexual" as long ago as kindergarten: "I was very sexual in kindergarten. I created a game where I would kiss the boys and give them cooties. Then we would make out and we would take our clothes off. I got in a lot of trouble!"
Trouble, indeed. In 2009, Radar Online referred to a soon-to-be-published book by tell-all biographer Andrew Morton, in which it was revealed that Jolie bedded her mother Marcheline Bertrand's boyfriend when she was a mere 16 years old.
Jolie and Thornton were both romantically involved with other people when they eloped to Las Vegas. Thornton was engaged to Dern, and Jolie was the girlfriend of The Falcon and the Snowman star, Timothy Hutton.
The now-infamous marriage of Jolie and Thornton, complete with matching vials of blood around their necks, came to a screeching halt in 2002. Two years later, Jolie and a married Brad Pitt became involved on the set of Mr. and Mrs. Smith, tanking his marriage to Friends actress, Jennifer Aniston. Ten years and six kids later, Jolie and Pitt broke up for good.
Who are they with now?
Before falling in and out of love with Thornton, Dern dated a number of notable actors, including her Blue Velvet co-star, Kyle MacLachlan, her Wild at Heart co-star, Nicholas Cage, and her Jurassic Park co-star, Jeff Goldblum, with whom she broke up with shortly before meeting Billy Bob Thornton.
After the surprising-to-her breakup with Thornton, Dern went on to marry musician Ben Harper. The couple divorced in 2013. For the past four years, the 55-year-old actress has been dating but is not married to two-time NBA All-Star basketball player, Baron Davis, says Celebs Couples.
Had they married, Dern would have been Thornton's fifth wife. Instead, that dubious distinction went to Jolie. Despite swearing off marriage for good in 2008, as reported by Hollywood Mask, Thornton ultimately married movie puppeteer, Connie Angland on October 22, 2014. Whether or not the sixth time is the charm remains to be seen.
As for Jolie, she is rumored to be dating a singer named The Weeknd as well as her pre-Thornton ex, Johnny Miller. CelebsHaunt reports that these rumors cannot be substantiated, and that Jolie herself claims to be single with "no time to commit to a relationship now."
RELATED: Billy Bob Thornton Once Said He Was 'Afraid' of His Then-Wife Angelina Jolie