'Laverne & Shirley': 2 Characters Had to Be Made Family-Friendly Before Introduced Into the Series
'Laverne & Shirley' was a beloved series, but fans might not know 2 characters had to be made family-friendly before coming into the show.
Most fans don't know that Happy Days is a spinoff of another TV show. The popular sitcom was born out of a much less popular one, called Love, American Style. Then, Happy Days itself went on to have four spinoffs, making the history behind Laverne & Shirley much longer than most television shows. But the other three Happy Days spinoffs, Mork & Mindy, Joanie Loves Chachi, and the cartoon The Fonz and the Happy Days Gang, never had the pull of Laverne & Shirley.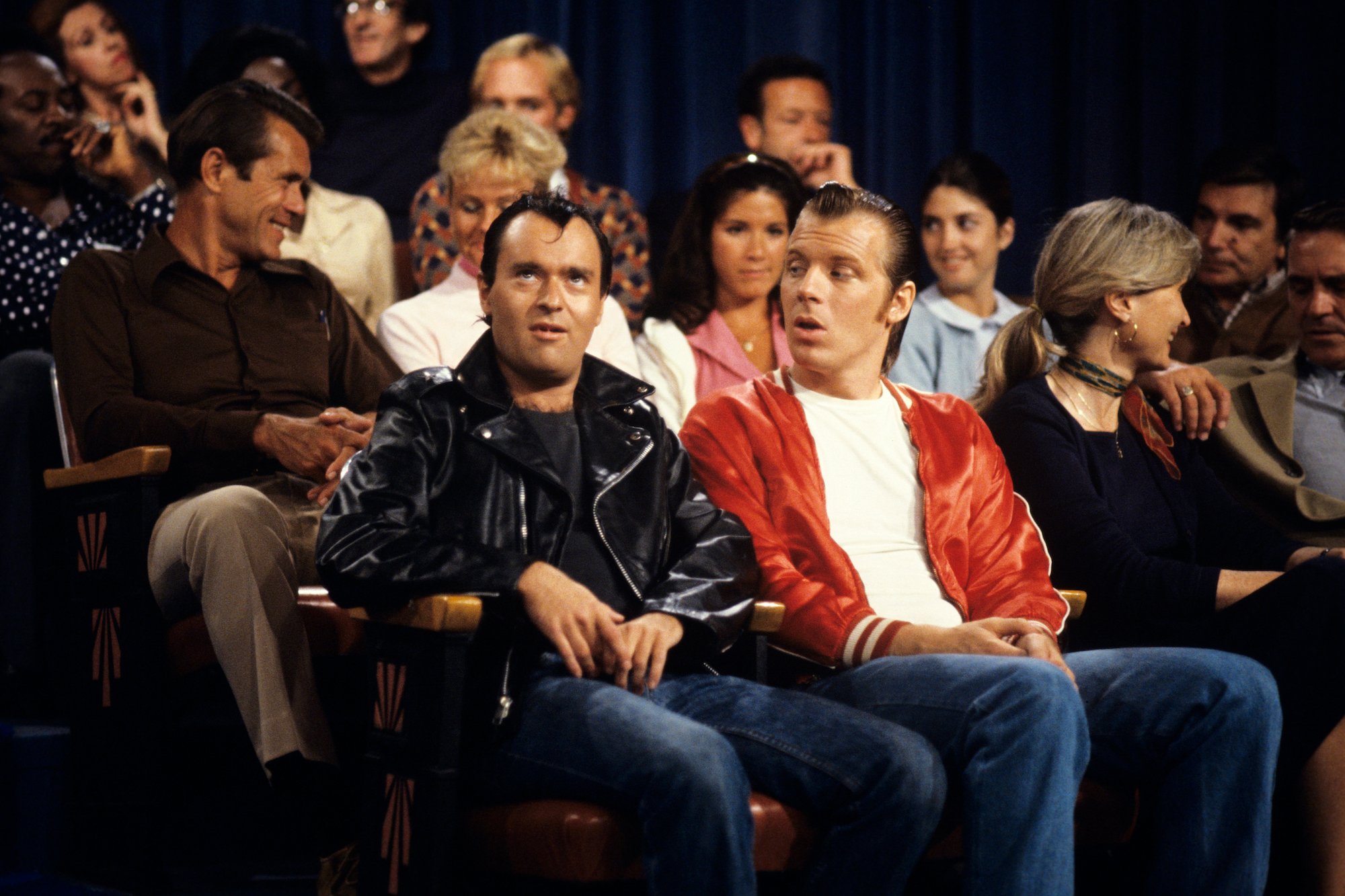 'Laverne & Shirley' was the most successful 'Happy Days' spinoff
Although Mork & Mindy was the career launchpad for superstar Robin Williams, it never caught up to the parent show, Happy Days. Like Mork in Mork & Mindy, Laverne and Shirley were intended to be bit parts on Happy Days. But according to Mental Floss, the studio audience ate up their comedy style.
Apparently, Garry Marshall, the creator of Happy Days, had a leftover script from another show. The original show starred Garry Marshall's sister, Penny Marshall. When the pilot wasn't picked up, Penny Marshall's part was dead in the water. Garry Marshall continued to see major success in basically all his television ventures. His mom wasn't happy that one of her kids was a star while the other was unemployed. After some pestering from mom, Garry Marshall took the failed pilot and re-wrote it as an episode of Happy Days. Penny Marshall reprised her role, but now as Laverne DeFazio. Cindy Williams played opposite her as Shirley Feeney, and the rest is history. 
Lenny and Squiggy were second only to Laverne and Shirley 
Laverne and Shirley were instantly an iconic duo. Their episode on Happy Days did so well that the studio started working on their spinoff before the episode even aired. Once they got their own spinoff, Laverne and Shirley needed male counterparts. Enter Lenny and Squiggy. The two working-class girls were a little rough around the edges. To smooth them out, writers decided to put them opposite two characters whose edges were even rougher. 
But Garry Marshall didn't create Lenny and Squiggy. They already existed. Penny Marshall actually discovered Michael McKean and David Lander. The two had a comedy routine where they were already playing Lenny and Squiggy, but with a dirty twist. The comedy routine was full of innuendo and sexual references, which wasn't appropriate for television at the time. Garry Marshall told the two that if they could clean up their act, they would be cast in Laverne & Shirley. 
Squiggy was originally Italian
In McKean and Lander's original act, Squiggy was an Italian American named Anthony Squiggliano. But Garry Marshall felt that the show already had too many Italian American characters. Laverne was Italian American, and he had pushed for her father to be played by Phil Foster. Garry Marshall owed a lot to Foster. The older actor gave Garry Marshall one of his first writing gigs. After Garry Marshall made it big, he decided he had to pay Foster back. Despite objections from the studio, he was hired to play Frank DeFazio. 
Foster wasn't Italian or Italian American like Frank DeFazio. He did have a strong Brooklyn accent and wasn't a great annunciator. Garry Marshall got around any potential issues with communication by writing Foster as an Italian native with a thick, and sometimes unintelligible accent. But since both Laverne and her dad were of Italian heritage, Garry Marshall didn't want any other Italian characters on the show. So Anthony Squiggliano became Andrew Squiggman or Squiggy for short. The show was an immediate hit and dominated ratings for its first four seasons.