'Laverne & Shirley' Once Turned a Show the Whole Cast Hated Into One of Their Funniest
Laverne & Shirley was one of the classic TV shows of the '70s and '80s, but it was set in the '50s and '60s. Michael McKean played Lenny, the upstairs neighbor of Laverne (Penny Marshall) and Shirley (Cindy Williams). Lenny and his roommate Squiggy (David L. Landers) were helpful and funny on the show, but the Laverne & Shirley cast didn't always like their material, McKean revealed.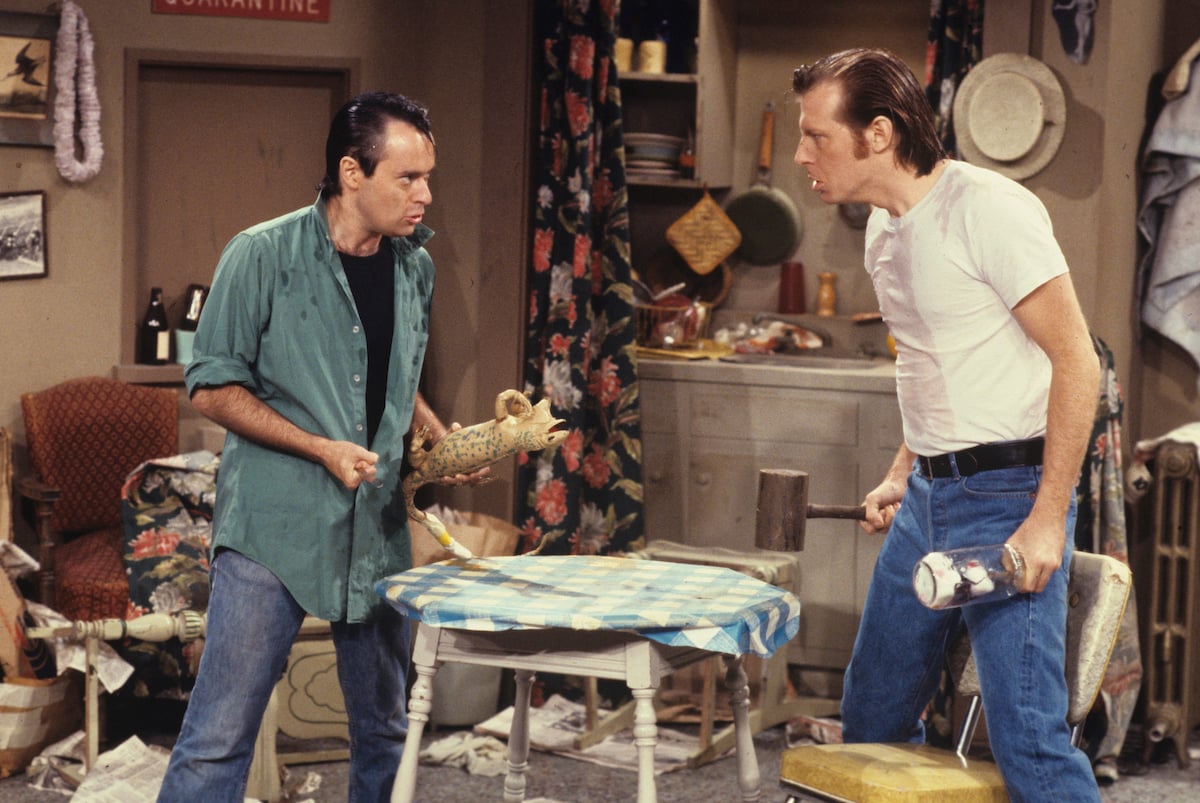 McKean was a guest on Tig Notaro's Don't Ask Tig podcast on May 25 to help give advice to her listeners. However, when Notaro asked McKean about Laverne & Shirley, he revealed one time the writers and actors turned a dud of an episode all the way around.
Michael McKean and the cast hated this 'Laverne & Shirley' episode
Garry Marshall, Lowell Ganz, and Mark Rothman created Laverne & Shirley. Not too shabby, as members of that team were also involved in Happy Days and Mork and Mindy. But every show has some duds and McKean said this was no exception.
RELATED: 'Laverne & Shirley': Why Garry Marshall Refused to Let His Kids Visit the Set
"There was one moment that stands out to me in that whole process of seven years," McKean said on Don't Ask Tig. "We were doing a show that we hated. On the pink version at the table, the week before it was like, 'Let's just throw this in the garbage because this is terrible.'"
The pink version refers to colored rewrite pages. Every rewrite has a different color and by pink, they still hadn't cracked it.
Michael McKean narrows down the 'Laverne & Shirley' episode in question
McKean didn't name the episode in question. However, he narrowed it down to four by mentioning a guest star who appeared in four Laverne & Shirley episodes.
RELATED: Why 'Laverne & Shirley' Star Cindy Williams Quit the Show and Filed a $20 Million Lawsuit Against the Studio
"So they rewrote it, fixed it, fixed it, it's a little better, a little better," McKean said. "So we got it on its feet and because of the guest cast, including Peter Elbling who's a very, very funny actor and because we really wanted to get it over with, we wound up shooting this amazing show. And it's one of the funnier shows."
Michael McKean credits the cast with elevating the material
McKean said the writers only got the script so far. But, something else happens when you perform in front of a live studio audience. Sometimes you can make the material even better in the delivery. McKean would put that energy into action throughout his career making improvisational comedy films. McKean remembered the energy he and Williams felt while performing that Laverne & Shirley episode. 
"Having crapped on the show all week, we're backstage, we're shooting, the audience is really digging it," McKean said. "Cindy and I run off and we have an entrance, right about to go back on. She's panting, she goes, 'show's cooking.' We didn't do high fives in those days but there was an emotional high fives."
RELATED: 'Laverne & Shirley' Is a 'Happy Days' Spin-Off After a Double Date With The Fonze and Richie Was a Massive Hit