'Law & Order': Original Star Michael Moriarty Left Show Over Censorship Concerns
One of television's most successful crime dramas, NBC's Law & Order, was the center of its own drama back in 1994 when star Michael Moriarty began a campaign against an attempt to censor the violence seen on the show. The series continued for an additional 16 years after Moriarty's abrupt departure and spawned numerous spinoffs like Law & Order: Special Victims Unit, Law & Order: Organized Crime, and Law & Order Criminal Intent among many others.
The show is now several episodes into a Law & Order reboot as well, starring Sam Waterston and Anthony Anderson who returned for their original roles. The show is undoubtedly a success, however, how much of that success is due to Michael Moriarty's censorship battle from long ago?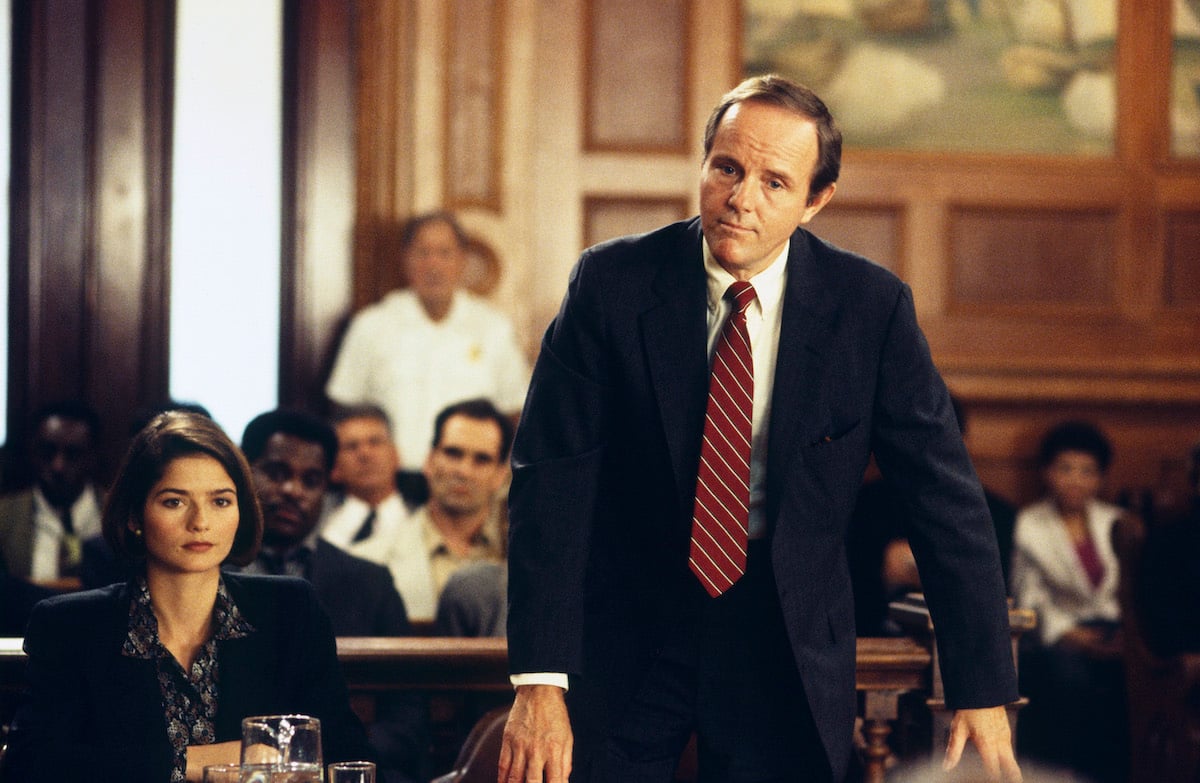 Who did Michael Moriarty Play on Law & Order?
In the first four seasons of the show, from 1990 to 1994, Michael Moriarty portrayed Executive Assistant District Attorney Benjamin Stone. As one of the top prosecutors in the country, Moriarty's character seemed to have an unwavering belief in the American legal system and be ready to fight until the end against injustice—something that Moriarty believed in whole-heartedly himself.
While Moriarty's departure was a sad loss for many early fans, his leaving the show made way for the now-iconic character Jack McCoy, played by Sam Waterston.
Michael Moriarty and his battle for violence
In 1994, Moriarty claimed that his exit from Law & Order came after the show diminished his role in response to his public battle against then-attorney general Janet Reno. After attending a meeting between the network (NBC), Law & Order's executive producer Dick Wolf, and Reno, during which Reno accused the show of excessive violence, Moriarty then accused Reno of attempting to censor the show and drew public comparisons to the censorship seen during the McCarthy era. At the time, the Los Angeles Times reported,
"He was outraged by Reno's conclusion that television was inspiring real-life violence. And he says he was sickened by what he saw as the attorney general's contempt for both television and the U.S. Constitution." 
Moriarty began a campaign that quickly turned into a public war over the issue, however, Moriarty saw little support.
"He called a news conference and blasted Reno. He took out ads in the trade papers seeking support for creative expression. His pleas were met with silence. No call from Clint Eastwood. No fax from Sylvester Stallone or Steven Segal. No one else in Hollywood, it seemed, was willing to support Moriarty's position that violence has always been an important part of drama."
The actor claimed that his resignation from Law & Order came after his character, ADA Ben Stone, suffered decreased screen time and significantly less story. Moriarty's publicist Gary Springer released a statement after the event claiming,
"It's obvious to Michael that NBC is trying to censor him and his views – cut him off and cut him out. He's also had this feeling for a while that he was being slowly weaned off of Law & Order, so the audience would get used to having him around less and less."
Law & Order producer, Dick Wolf, however, responded by saying,
"Moriarty's request to be released from his contract comes as a complete surprise. … This is a very disappointing development as there were no plans or discussions to reduce his role in any way."
What happened to Michael Moriarty and the future outlook for Law & Order
After his battle led to his departure from Law & Order in 1994, Moriarty declared himself under political exile and moved to Canada. His character, Ben Stone, however, left a legacy in the Dick Wolf universe, as his son Peter Stone is a major character on Law & Order spinoff Law & Order: SVU and other shows in the franchise.
Law & Order has also lived on and recently gotten a reboot after fans mourned Law & Order's end in 2010. Ordered in September of 2021, season 21 of the show returned to NBC on February 24 with original showrunner Dick Wolf and writer Rick Eid at the helm along with several returning cast members including Anthony Anderson as Kevin Bernard and Sam Waterston as Jack McCoy. New cast members for Law & Order's season 21 reboot include Hugh Dancy and Jeffrey Donovan along with Camryn Manheim and Odelya Halevi.
Although Wolf claims that the show never altered its protocol or portrayal of violence following the meeting with Janet Reno, it does stand to reason that Moriarty's very public battle against any attempted censorship of the show may have impacted the show's response to the threat and may, in turn, be partly responsible for the show's lasting success.
RELATED: 'Law & Order: SVU': 5 of the Dumbest Things Said on the Show, According to Fans