'Law & Order: SVU:' Mariska Hargitay on the Sweet Way Taylor Swift Became Her Friend
Law & Order: SVU star Mariska Hargitay and Taylor Swift are friends. Hargitay once revealed the sweet way the two entertainers became besties.
Mariska Hargitay was in Taylor Swift's 'Bad Blood' music video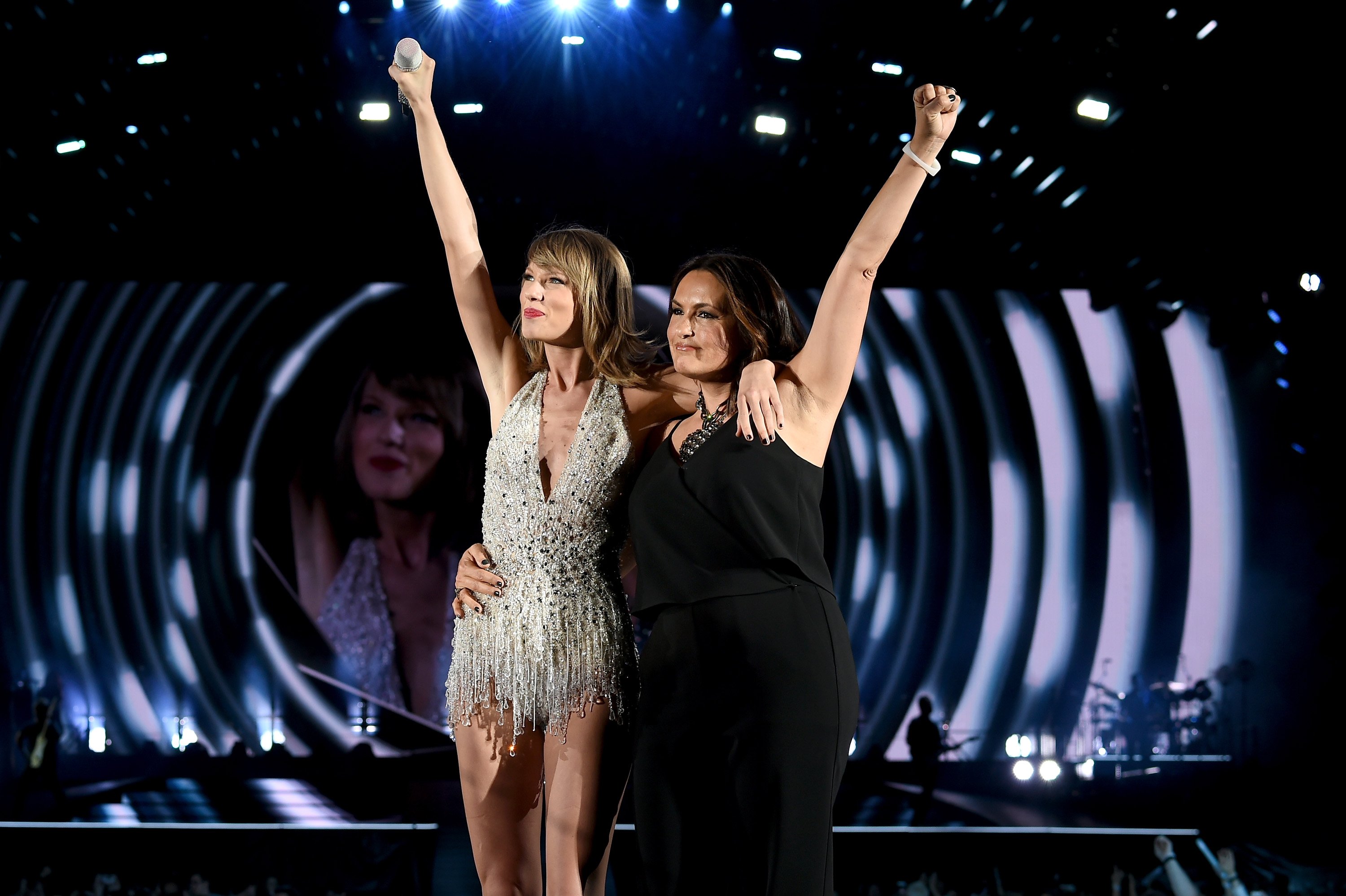 Fans would likely agree that one of Swift's most memorable music videos was for her hit song "Bad Blood." If you look closely, you'll catch a glimpse of Hargitay alongside Grey's Anatomy star Ellen Pompeo. How did Hargitay become part of the video? The actor says she received a text message from the singer, asking if she would be in the video.
Hargitay told Andy Cohen that being added to Swift's "girl squad" sort of just "fell out of the sky." She explains that her participation in the video just happened one day. "I got a text from her one day, and she said, 'Do you want to be in my video?'"
The SVU star says she had a lot of fun on the video set and she didn't feel left out of Swift's tight-knit group. "I didn't know what to expect, but they were so lovely and inclusive, and I had so much fun with them. I met a lot of them before, but Karlie Kloss just grabbed my hand, and she's like, 'I'm staying with you.' I felt like I was in 7th grade and the cool girl picked me."
How Mariska Hargitay and Taylor Swift became friends
During an interview with Seth Meyers, Hargitay explained how she and Swift became friends. She says they first met at the Met Gala. Swift came up to her and told her how much she loves Law & Order: SVU. Later on, Swift and Hargitay met again at a concert being held during the gala.
Once the event was over, Hargitay says she and her husband, Younger star Peter Hermann, realized they didn't have a way to get back home. Hargitay says the gala was "so far out in Queens, [New York]." Swift generously offered them a ride home. They've been friends ever since.
"She was like a little angel that goes, 'Oh, do you guys need a ride?'" said Hargitay. "She drove me home, and that was the end of it."
Taylor Swift named her cat after Law & Order: SVU's Olivia Benson
Swift is such a big fan of Law & Order: SVU that she named her cat Olivia, after Hargitay's character (she also has a cat named Meredith Grey, after the Grey's Anatomy character). The cat's full name is Detective Olivia Benson, but she's also known as Dibbles. Swift joked her cat became confused after the character was promoted to sergeant on the show. Olivia even has her own Instagram account. What's more, Swift's cat is reportedly worth $97 million.
Hargitay says she was flattered to hear that Swift named her cat after her character. "I laughed so hard," said Hargitay, during an interview with Extra. "Hopefully, we'll get her on the show, and the kitty and I will become partners," she joked.
Follow Sheiresa Ngo on Twitter.