'Leave It to Beaver's Jerry Mathers Was an Aspiring Rock Star: 'We Were Pretty Much Like a Garage Band'
By the time the classic television comedy Leave It to Beaver finished its run on ABC in the early 1960s, its star Jerry Mathers was 15 years old.
And like most teenagers in the '60s, the music scene in the U.S. was changing dramatically. More rock music, less jazz and standards.
Mathers was part of the revolution and he didn't fare too badly.
Mathers began performing at a very young age
By the time Mathers was cast as Beaver Cleaver, he had a résumé many adult actors would have been jealous of. He'd already appeared in several films and television programs.
The actor told the Archive of American Television in 2006 how it all came about.
"It's kind of an interesting story, I must admit," Mathers began.
He explained that his mom had taken him out, around the age of 4, to purchase an outfit for his upcoming birthday, when he was noticed by a modeling professional.
"A lady came up to [his mother] and said, 'Your little boy looks just like the family in our catalog. Would it be possible for him to be a model for our catalog?'" he recalled.
Although his mother didn't know what to make of the stranger's offer, according to the actor she was sold when the catalog scout said, "'We could pay him and he could keep all the clothes that he would wear.' My mom said, 'You know, he could probably do that.' So that's actually how I started."
He started his own band after 'Beaver'
RELATED: 'Leave It to Beaver' Star Jerry Mathers Said His Character Was 'Voiced By a Little Girl' in This Country
Once Leave It to Beaver ended, the actor pursued his musical side, starting a band of his own. One would think he would have wanted to put as much space between himself and the show that he was most identified with, but surprisingly Mathers and his band mate gave their musical group a name that was very familiar.
"We started a band called Beaver and the Trappers," he said. "But the funny part is in high school, I was known as the Beaver and I didn't mind that people called me that."
Being called Beaver through high school was fine with Mathers, but it didn't happen because of the television show.
"[They didn't call me Beaver] because of Leave It to Beaver," he explained. "It's because we used to play all the proms and sock hops. It was Beaver and the Trappers and I was the lead singer. So they knew me from this rock and roll group."
Beaver and the Trappers enjoyed some success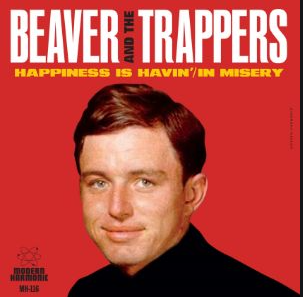 The band not only performed for crowds; they also recorded a single, "Happiness Is Havin'" /"In Misery."
"We recorded; I did three different records. Beaver and the Trappers did a record. I also recorded for Atlantic, so I [made] three rock and roll records. So I think [television actor and recording artist] Rick Nelson was the inspiration for that, but I think it was far below his quality of work," he added, laughing.
His singles "Wind-Up Toy" and "Don't You Cry" not only received air-time; they ranked on the charts.
"We were No. 1 in Alaska and Hawaii," he said. "But those were the only two states. I guess we debuted on Billboard with a bullet, but only in Alaska and Hawaii."