When Led Zeppelin First Broke Out Dragon-Themed Suits and Other Exotic Tour Gear
Led Zeppelin didn't break out its most legendary looks until several albums in.
Though it might seem like Led Zeppelin arrived fully formed in floral-patterned satin suits, that wasn't the case. It took a while for Jimmy Page and his bandmates to hit that particular peak of '70s stadium-rock excess.
In the early Zeppelin years ('68-'70), you might find the band members in a old-fashioned button-down or (gasp) a t-shirt on stage. At the June '70 Bath Festival, the audience witnessed a bearded Page perform in an overcoat and bucket hat.
Yet Page would occasionally flash the exotic looks he'd worn in his Yardbirds days — and would again soon with the Zeppelin. A flowing, yellow-gold robe he wore at a '69 Chicago show seemed appropriate for a Zep performance. And by '72, he was sporting custom looks on stage.
But the band was only getting its fashion warmed up at that point. In '73, on Zep's record-smashing tour, the band set a new standard for rock-god appearances. With a crew working on special stage effects, Page and Zeppelin began unveiling some of their most exotic looks.
Led Zeppelin starting wearing its most exotic outfits on the '73 tour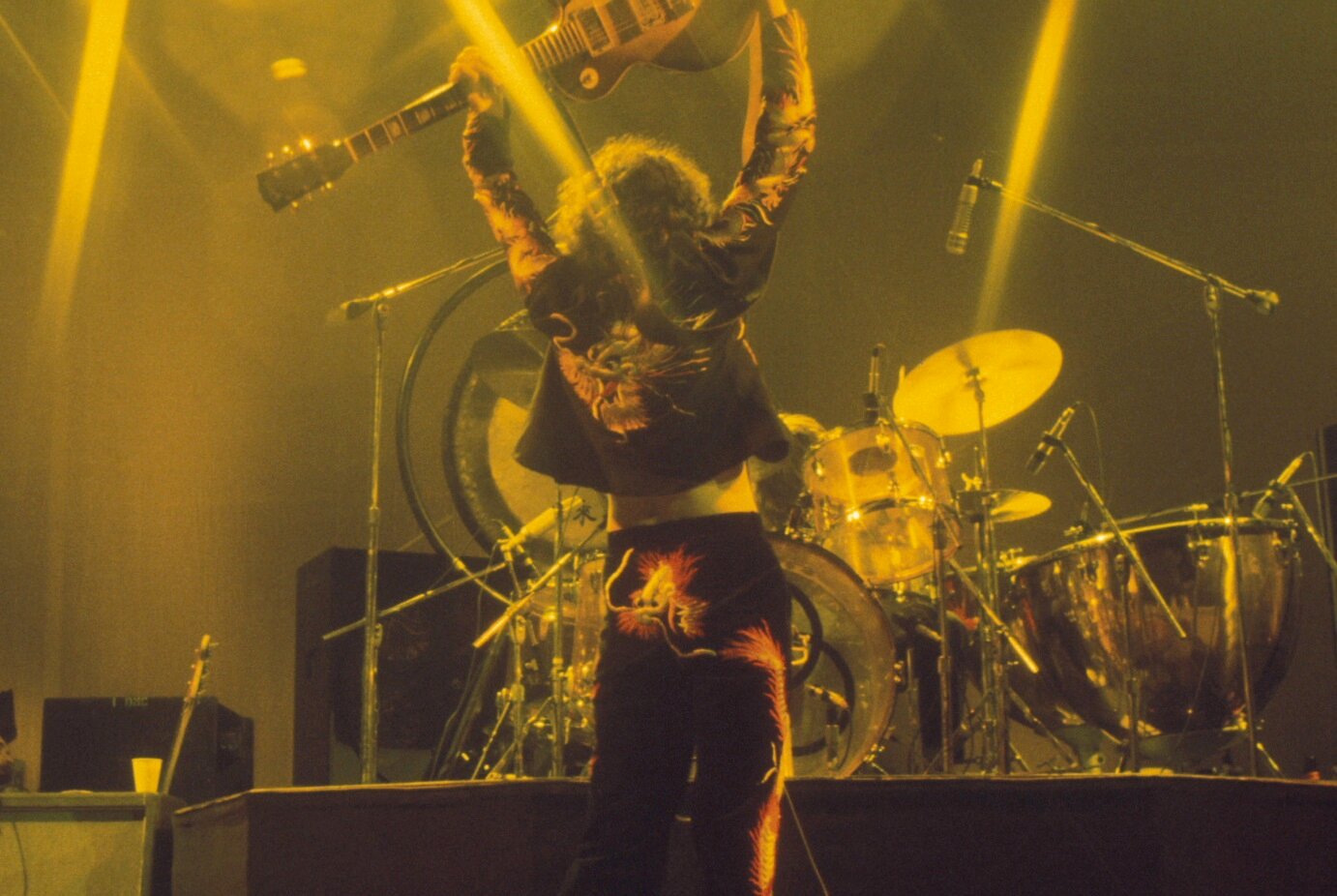 After the successes of Led Zeppelin IV (1971) and Houses of the Holy (1973), the Zep had no peers, commercially. At the start of its '73 tour, the band broke The Beatles' record for concert attendance, hammering home the point.
While flying around in its chartered luxury airliner (The Starship), Zeppelin appeared on stage with fog effects (dry ice), revolving reflectors on the drums, mirror balls, smoke bombs, and a complete light show. And they had the clothes to match.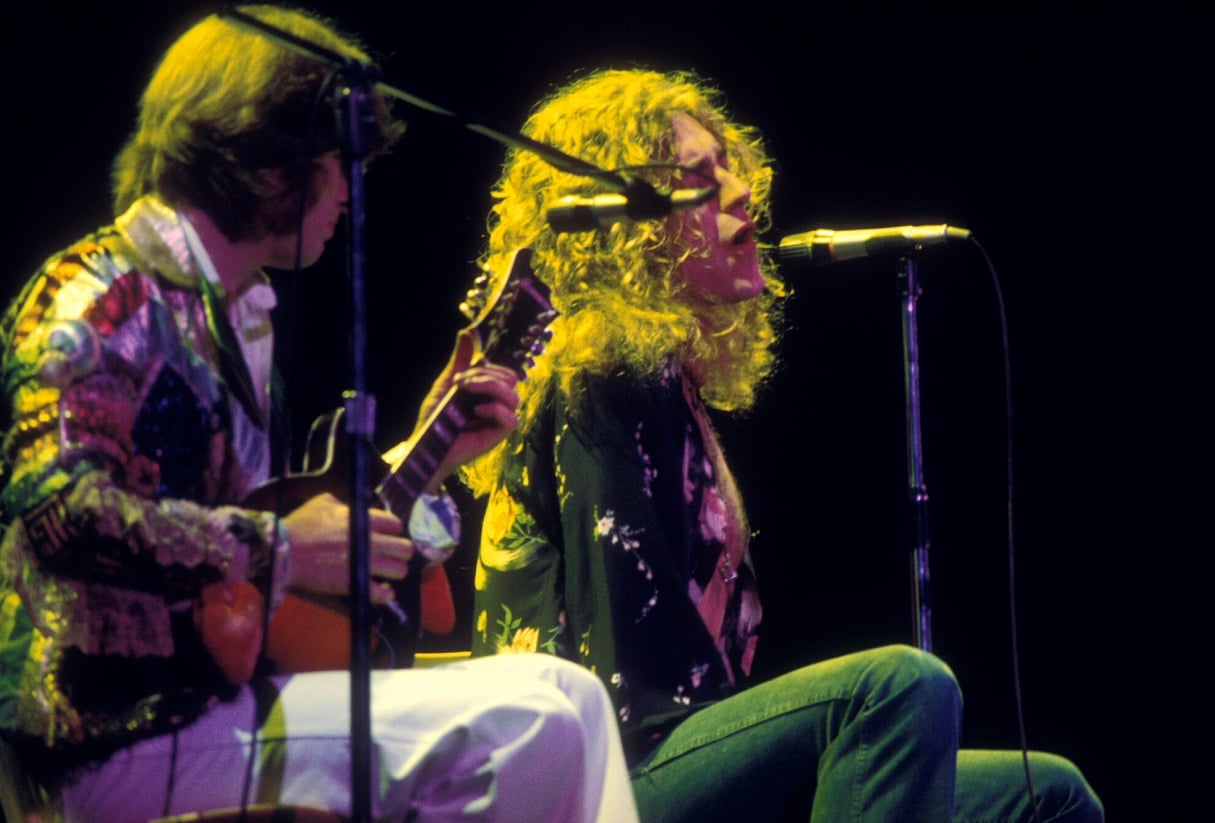 Page wore a custom black two-piece that looked like a matador's jacket on top and wizard's pants (black with large white stars) below. Though Robert Plant didn't go to such lengths, he did have an array of shirts that would not close across his chest on that tour.
That kicked off the years of the Zeppelin's dominance in record stores and on the concert stage. By 1975, the band had pushed it even further, and even John Paul Jones was appearing on stage in exotic threads. The peak arrived a few years after that.
Zeppelin hit the peak of its on-stage excess in '77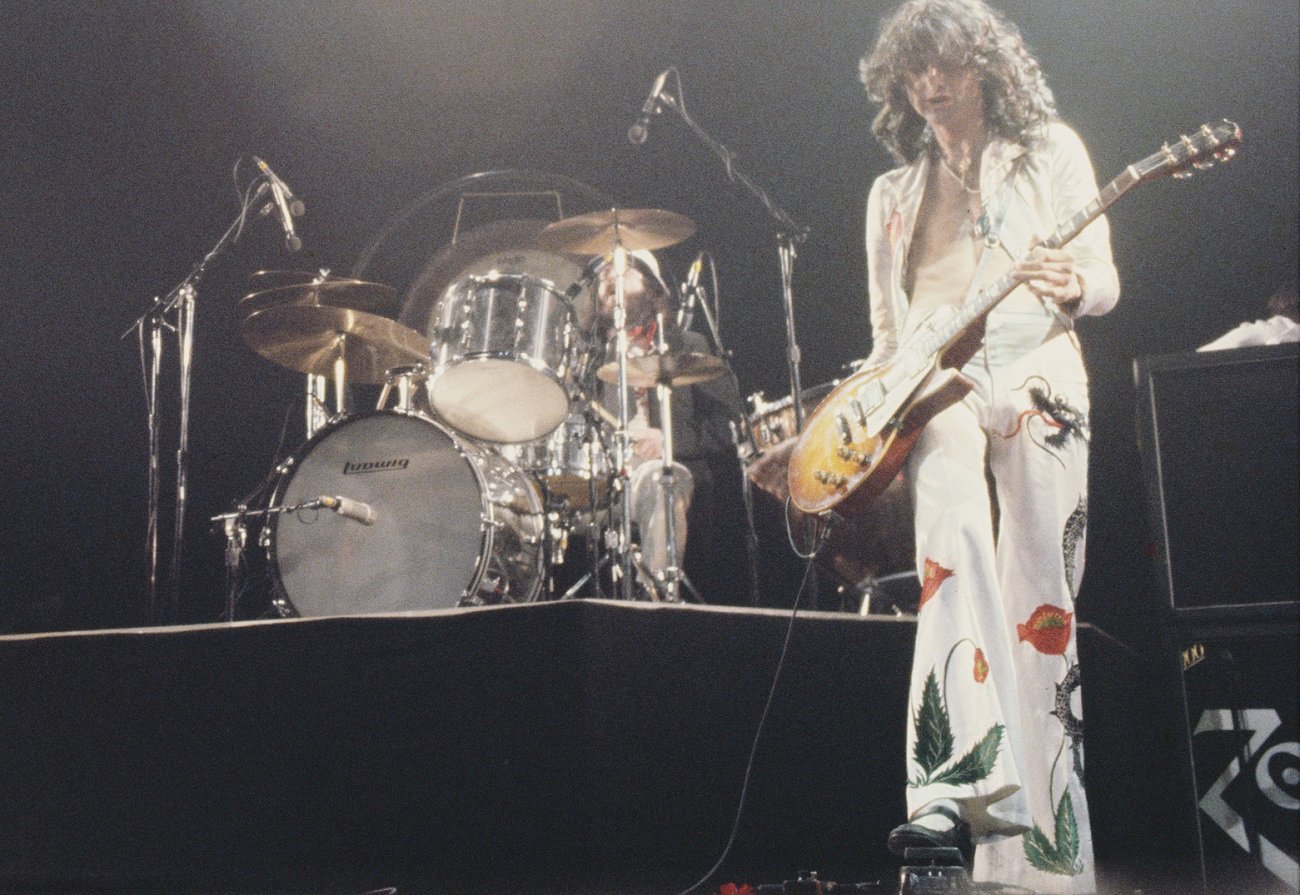 In Light and Shade: Conversations with Jimmy Page (2012), Zeppelin's mastermind weighed in on some of his fashion choices. Page admitted he "wasn't the figure of sartorial elegance" in his sweater vest at the '70 Royal Albert Hall show. "I'll admit that!" he joked.
Page also said he helped outline the design of the black dragon suit he began wearing on later tours. "It was made by a woman from L.A. named Coco," he said in Light and Shade. "I asked her to personalize the pants with astrological symbols — Capricorn, Scorpio rising, Cancer."
Page went back to Coco for the white suit (featuring the red poppy) that he sported on the '77 tour. "I thought about what I wanted on my stage clothes carefully," Page said of that peak-excess look. Indeed, Led Zeppelin wouldn't have been the band it was without that attention to detail — all the way down to the poppies on their custom suits.