The Led Zeppelin Classic Bobby Brown Repurposed for the Hit 'Humpin' Around' Single
Bobby Brown turned to 'Houses of the Holy,' Led Zeppelin most whimsical album, for the riff that powered the hit single 'Humpin' Around.'
It's no mystery why Led Zeppelin drum and guitar parts began turning up in hip-hop tracks. The work of John Bonham and Jimmy Page translated extremely well to the rap era, as the Beastie Boys made clear on their mid-'80s debut and, after that, Paul's Boutique (1989). In the '90s, the tradition continued with the work of new jack swing master Bobby Brown.
On "Humpin' Around," the hit lead single from Bobby (1992), Brown repackaged something of a deep-cut Zeppelin riff off of Houses of the Holy (1973). Though it's not a straight sample, you can't miss the signature hook with which Page opened the second side of Zep's classic album.
Bobby Brown used the riff from Led Zeppelin's 'Dancing Days' on 'Humpin' Around'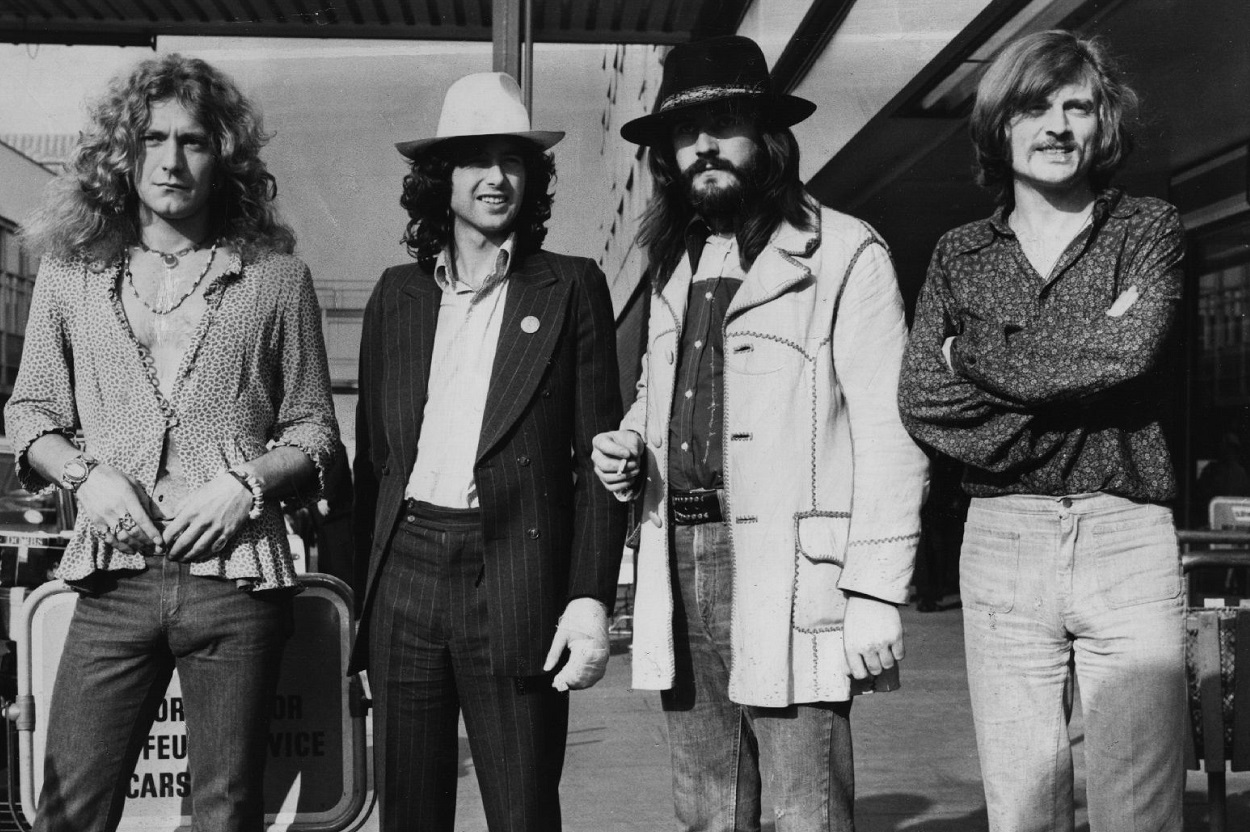 On 1988's "My Prerogative," Brown showed his taste for hooks with a bit of snarl to them. That's exactly the sort of riff Page penned for "Dancing Days." Initially, the idea originally came to Page and Robert Plant during a trip to India, and you can hear the East in Page's guitar work.
In Brown's hands, it took on a brassier feel, and the new jack practitioner changed the end of Page's original guitar line. However, Zep fans will still undoubtedly recognize "Dancing Days" in 'Humpin' Around," a track which shot to No. 3 on the Billboard pop charts after its '92 release.
Before its run ended, Brown also topped the Hot R&B Singles and Australian national charts with "Humpin' Around." Not long after, Stone Temple Pilots found some success of their own with a straight cover of "Dancing Days."
Though the STP version came out on Zep tribute LP Encomium (and did not get its own single release), it made noise on the U.S. charts. In '95, the STP version went all the way to No. 3 on the Mainstream Rock chart. Which is all to say: "Dancing Days" delivered in multiple formats.
Zeppelin's members spontaneously danced after the recording of 'Dancing Days'
For a band that sang of the "soul of a woman created below" and (on Houses of the Holy itself) "the dogs of doom," the "Dancing Days" lyrics kept things light. It's the summer, we're dancing, and we shouldn't think too far beyond that, Plant's saying. Clearly, Led Zeppelin felt relaxed during this period.
As engineer Eddie Kramer remembered the Houses sessions, that was exactly the mood. "They all enjoyed playing ['Dancing Days'] so much," Kramer told Mick Wall in a 2017 Classic Rock interview. "I'll never forget playing it back to them from the mobile truck and how excited they all were."
In fact, Zep's members began to spontaneously groove in the sun after that playback. "There was Jimmy and Robert and a couple of others all sort of linking arms and dancing on the lawn," Kramer told Wall. "I don't think even they could believe how good they sounded."