Why Led Zeppelin's John Bonham Loved to Perform 'Trampled Under Foot'
If you want to know how Led Zeppelin took off so quickly in America, listen to recordings of their early shows. The Zep had a way of overwhelming fans at those concerts. Everyone from Aerosmith's Steven Tyler to The Who's Roger Daltrey recalled being knocked out by their first Zeppelin shows.
It was no accident. "Every gig is important to us," John Bonham said in a '70s interview (via Led Zeppelin in Their Own Words). "In this business, you can't afford to become complacent. If you adopt that attitude, you're dead."
But while Led Zeppelin took its performances seriously, showmanship and professionalism can only take a band so far. It would have mattered little if the band's four members didn't enjoy playing together. Likewise, the Zep needed material that would stay fresh on a long tour. For Bonham, "Trampled Under Foot" was one such number.
John Bonham considered the 'Trampled Under Foot' tempo ideal for jamming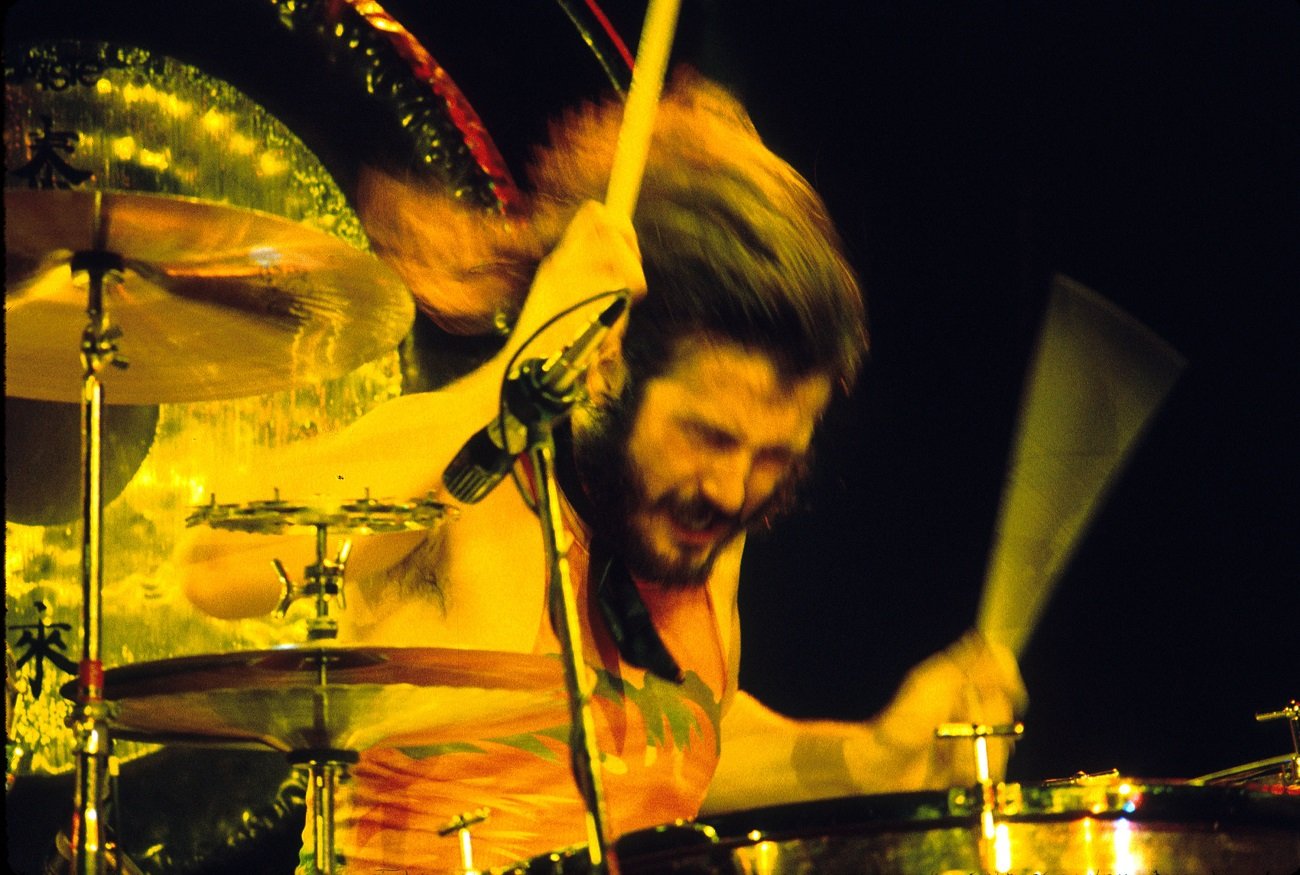 RELATED: The Only Led Zeppelin Member Who Used a Stage Name
After Zep shifted to progressive rock (and whatever "D'yer Mak'er" was) on 1973's Houses of the Holy, some critics wondered if the group had lost its direction. The band answered those questions with the opening disc of Physical Graffiti (1975), which showed the Zep back in savage form.
Along with "Custard Pie" and "In My Time of Dying," Physical Graffiti included Zep's turn toward menacing funk on "Trampled Under Foot." Originally inspired by Stevie Wonder's "Superstition," the track became pure Zeppelin once the band got its arrangement down. And the song quickly became a highlight at Zep performances.
In Led Zeppelin: The Oral History of the World's Greatest Rock Band, Bonham broke down why he loved tackling "Trampled Under Foot" in concert. "It's great for me. Great rhythm for a drummer," he explained. "It's just at the right pace, and you can do a lot of frills." Though the band sped up the tempo in live performances, Bonham still had plenty of room to improvise within every few bars.
In the same oral history, John Paul Jones recalled the day the group created the song in the studio. "I just started playing 'Trampled Under Foot' on the clavinet, and [Bonham] came in with this glorious stomp that had this great feel," Jones said. "He could play in front of the beat, and he could play behind it, depending on what was needed. 'Trampled Under Foot' had this swagger."
Jimmy Page and Robert Plant also relished playing 'Trampled Under Foot' live
While there's no mystery about Jones' and Bonham's opinions on "Trampled Under Foot," the other half of Led Zeppelin wouldn't have disagreed with the rhythm section. Videos of Robert Plant and Jimmy Page performing the song live speak volumes about their feelings on the subject.
On record and at live shows, Page unleashed all sorts of extraordinary sounds on his guitar. (In the above video, the fun really starts at 1:55.) And the band kept it going until the end of Zeppelin's run. You'll find a video of them playing it at Knebworth, and you'll see it on their 1980 setlists as well.
In the post-Zeppelin years, Plant began performing "Trampled Under Foot" again in the late '80s. It was one of the first Zep tracks he revived as a solo artist. And when Zep's surviving members gathered one last time at the O2 in '07, you can bet they cranked out "Trampled Under Foot." It was magnificent.