Led Zeppelin's John Bonham Used to Belt Out 'Bron-Y-Aur Stomp' Backing Vocals on Tour
When some rock fans think of John Bonham, they think of the basher, the "Beast" who would drive Led Zeppelin through "Dazed and Confused" and "Achilles Last Stand" at the band's epic 1970s shows. And Bonham wouldn't discourage anyone from thinking that.
"I like our act to be like a thunderstorm," Bonham once said of Zep's performances. But he was a far subtler musician than many gave him credit for. Whether you turn to his hand-drumming in "Moby Dick" or his swinging cymbal work in "What Is and What Should Never Be," you can hear Bonham's artistry (both light and soft) on any Zep album.
That certainly applies to Led Zeppelin III and its fully acoustic side 2. On the whimsical "Bron-Y-Aur Stomp," you'll hear Bonham working with castanets and spoons. And if you caught the Zep live in the '70s you might hear the powerhouse drummer supplying backing vocals for Robert Plant on the track. It was something to behold.
John Bonham would deliver spirited backing vocals on performances of Led Zeppelin's 'Bron-Y-Aur Stomp'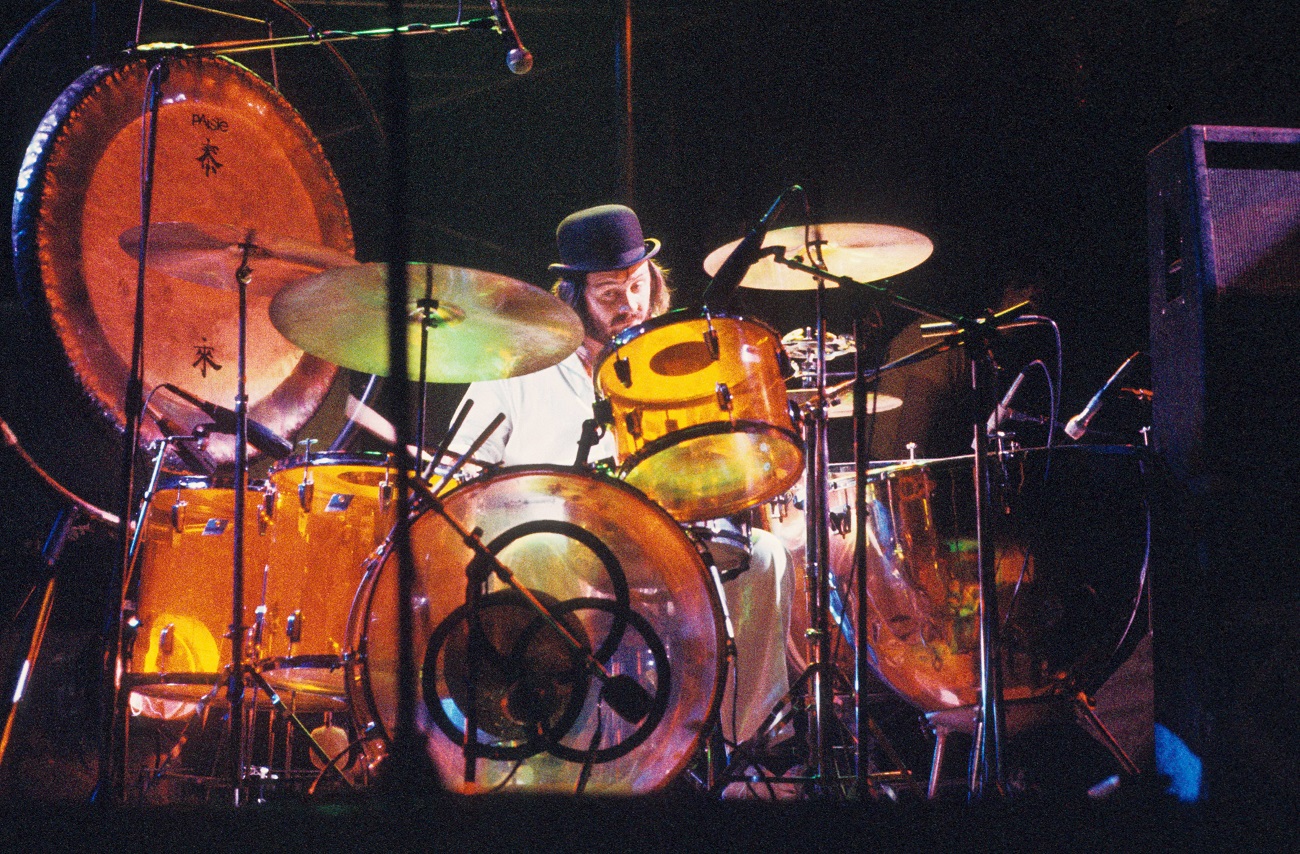 If you ever get time to browse through Led Zeppelin's YouTube channel, you'll find some treats. The vault includes, for example, rare footage of The Who's Keith Moon goofing onstage before joining Zep for a rendition of "Rock and Roll."
But you might find a 1975 Earl's Court performance of "Bron-Y-Aur Stomp" even more interesting. In the clip, you see Jimmy Page dig in with his rollicking introduction on acoustic guitar. Plant seems to be enjoying himself immensely as Page works his way up to the first verse.
The crowd is definitely right there with Plant, clapping along to the (by then) familiar intro. After the opening's last bit of heavy strumming, Bonham comes in with the bass drum and hi-hat. Then Plant dives into the first verse.
As the camera flashes around the stage, you can see Page is focused on his guitar work, while John Paul Jones is standing on his own playing the bass. So who's harmonizing with Plant on the backing vocals? It's Bonzo himself, and he hangs behind Zep's lead singer on every note.
'Bron-Y-Aur Stomp' was a tribute to Robert Plant's dog Strider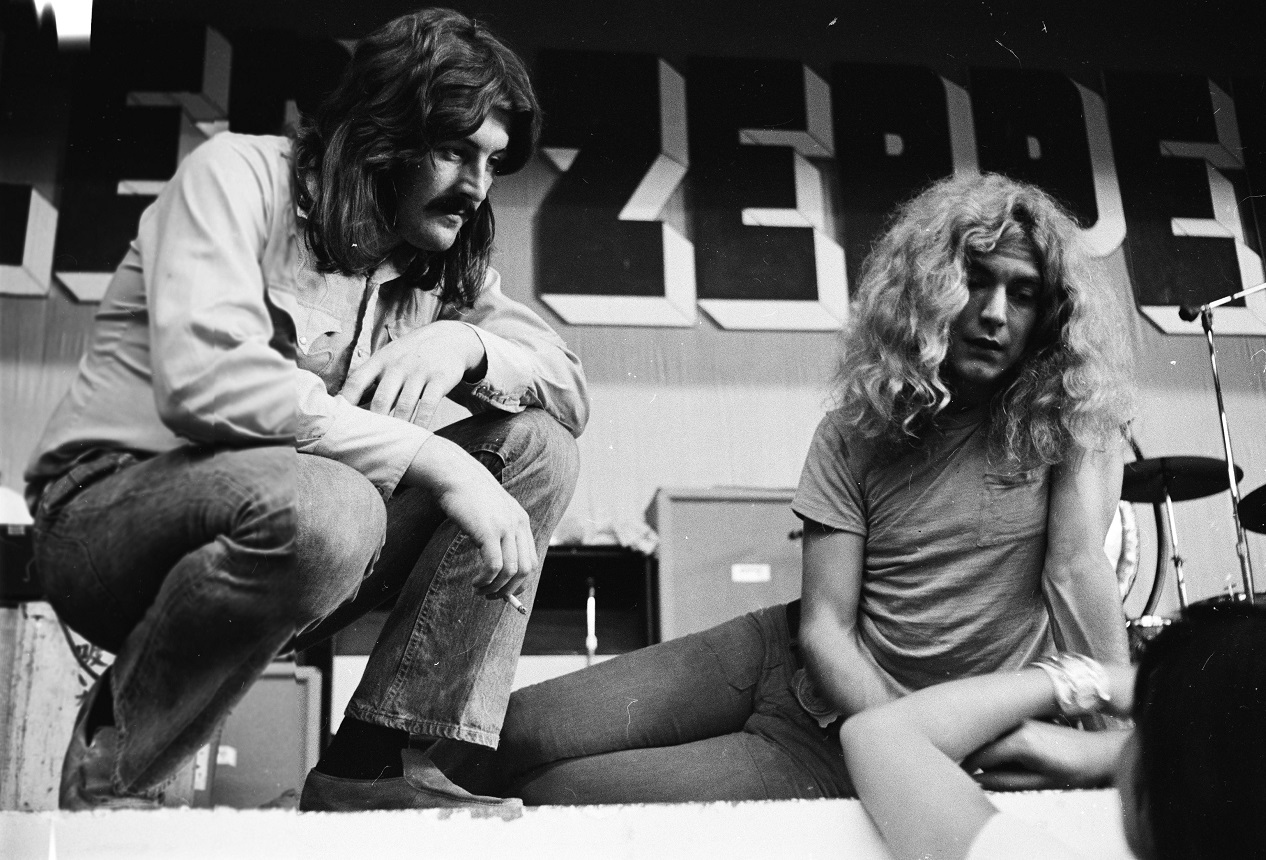 "Bron-Y-Aur Stomp" could be called a love song — it's Plant's to his "blue-eyed merle," his faithful dog who went by the name of Strider. "How could a love be so strong when so many loves go wrong?" Plant sang, dreaming of the country lanes he and Strider would ramble down.
As Led Zeppelin songs go, they don't get quite as carefree and wholesome as "Bron-Y-Aur Stomp." Even on the record, you can hear Plant relishing the vocal. At the '75 Earl's Court performance, he is close to overjoyed. And it certainly didn't hurt that his old mate Bonham was backing him up.
It was nothing new for the Zep drummer. When Zeppelin played its first shows in Japan in the fall of '71, Bonham was singing backing vocals on "Bron-Y-Aur Stomp" at those performances. By '75, the song was a magical moment at Zep concerts, with Page taking an extended solo in the middle.
At Earl's Court, Bonham brought in the castanets as well, giving him four jobs (bass drum, hi hat, castanet, vocals) at once. And at the close Plant saluted his dog once again: "Strider!" he yelled. When Led Zeppelin peaked, it really was the heights.