'Legally Blonde' Initially Had a 'Weak Ending', Screenwriter Says
Legally Blonde is a must-watch for any Reese Witherspoon fan. It's become a pop culture fixture since it debuted in 2001 thanks to its girl power message and hilarious phrases. But before the film hit theaters it went through a round of screening with test audiences. Their feedback on the movie led to a major change with the ending.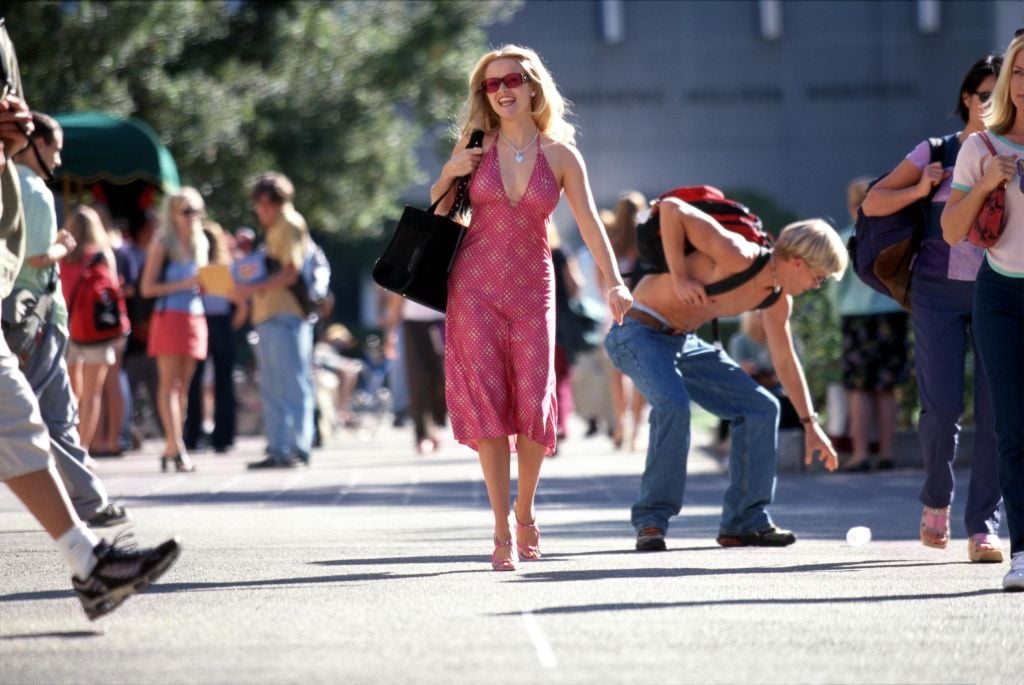 'Legally Blonde' ended with Elle Woods graduating from Harvard Law School
Legally Blonde follows Elle Woods (Witherspoon) on her journey to win back her ex-boyfriend, Warner (Matthew Davis). She sets out to prove to him she is marriage material by attending Harvard Law School. By the end of the movie, Elle discovers she's much better without Warner. 
The final scene of Legally Blonde lets audiences in on what happened after Elle succeeded in her high-profile murder trial. She won over her peers who were once at odds with her to become class elected speaker at graduation. And she became best friends with Warner's former fiancée, Vivian Kensington (Selma Blair).
Legally Blonde ended with Elle getting a standing ovation for her graduation speech after audiences learned she got a job offer from a top law firm. Plus, her new love interest, Emmett (Luke Wilson), planned on proposing to her. All in all, the movie left audiences with the knowledge that Elle was on to bigger and better things.
RELATED: 'Legally Blonde': Who Is the Real Woman Elle Woods Is Based On?
Initial ending 'didn't feel right' to audiences, screenwriter says
What we just mentioned is what audiences got to see in the final version of Legally Blonde that got released in theaters. But before the movie ended with the epic graduation scene where Elle comes out on top while Warner leaves Harvard without any job offers, it ended in a totally different way. 
According to Vulture, Karen McCullah, who co-wrote the screenplay for Legally Blonde with Kirsten Smith, explained the movie's original ending during the 2015 Vulture Festival's Screenwriters Roundtable. McCullah revealed the movie initially ended immediately following Elle's big win.
RELATED: Everything We Know About Reese Witherspoon's 'Legally Blonde 3' Revealed
"It kind of ended right at the courthouse after she won the case," McCullah said. "She was on the courthouse steps and everyone was coming up and congratulating her and she had this big kiss with Luke Wilson."
From there, McCullah said the movie showed Elle in the future starting a Blonde Legal Defense Club in law school with a now-blonde-haired Vivian. But when test audiences saw that particular ending, they wanted to know more about what happened to Elle. 
"It was just kind of a weak ending," McCullah said. "The kiss didn't feel right because it's not a rom-com—it wasn't about their relationship. So test audiences were saying, 'We want to see what happens—we want to see her succeed.' So that's why we rewrote for graduation."
And that's how the graduation scene with Elle smiling and Hoku's "Perfect Day" playing came to be in the movie. 
'Legally Blonde 3' is in the works 
Witherspoon reprised her role as Elle in a follow-up to the original in 2003's Legally Blonde 2: Red, White & Blonde. And now the Oscar-winning actress is going to play the part yet again in Legally Blonde 3.
Details have slowly been released and as of May 2020, we know Mindy Kaling and Dan Goor have signed on to write the screenplay for the third installment. 
RELATED: 'Legally Blonde': Christina Applegate Addresses the Rumor That She Turned Down Reese Witherspoon's Role of Elle Woods