'Legally Blonde': Reese Witherspoon's 'Anthropological Study' of Sorority Girls Helped Her Nail Elle Woods Role
Many women would tell you that Reese Witherspoon as Elle Woods in Legally Blonde was one of their childhood heroes. The early 2000's sorority girl cult classic was not only a box office hit but was an inspiration to girls everywhere that they could achieve anything they set their mind to.
While we all know and love Witherspoon as Elle Woods, this type of role was completely new for her. She had to prepare for the role differently than she had prepared for any other character. This meant, just like Elle Woods does in the movie, getting out of her comfort zone and studying new subjects.
Elle Woods was actually out of character
"Legally Blonde is certainly an escapist movie," Witherspoon said of her choice to take on the role. After several major parts in more serious films, Elle Woods was way off the mark of what had become her typical character at the time. 
Witherspoon realized that she and Elle didn't share the same effervescent, magnetic personality type. "I'm not a personality," Witherspoon told Entertainment Weekly in an interview shortly after Legally Blonde premiered. She has even said the movie's executives didn't initially want her in the starring role. This meant she would need to do some studying to be able to pull this character off.
Witherspoon's 'anthropological study' helped her nail Elle Woods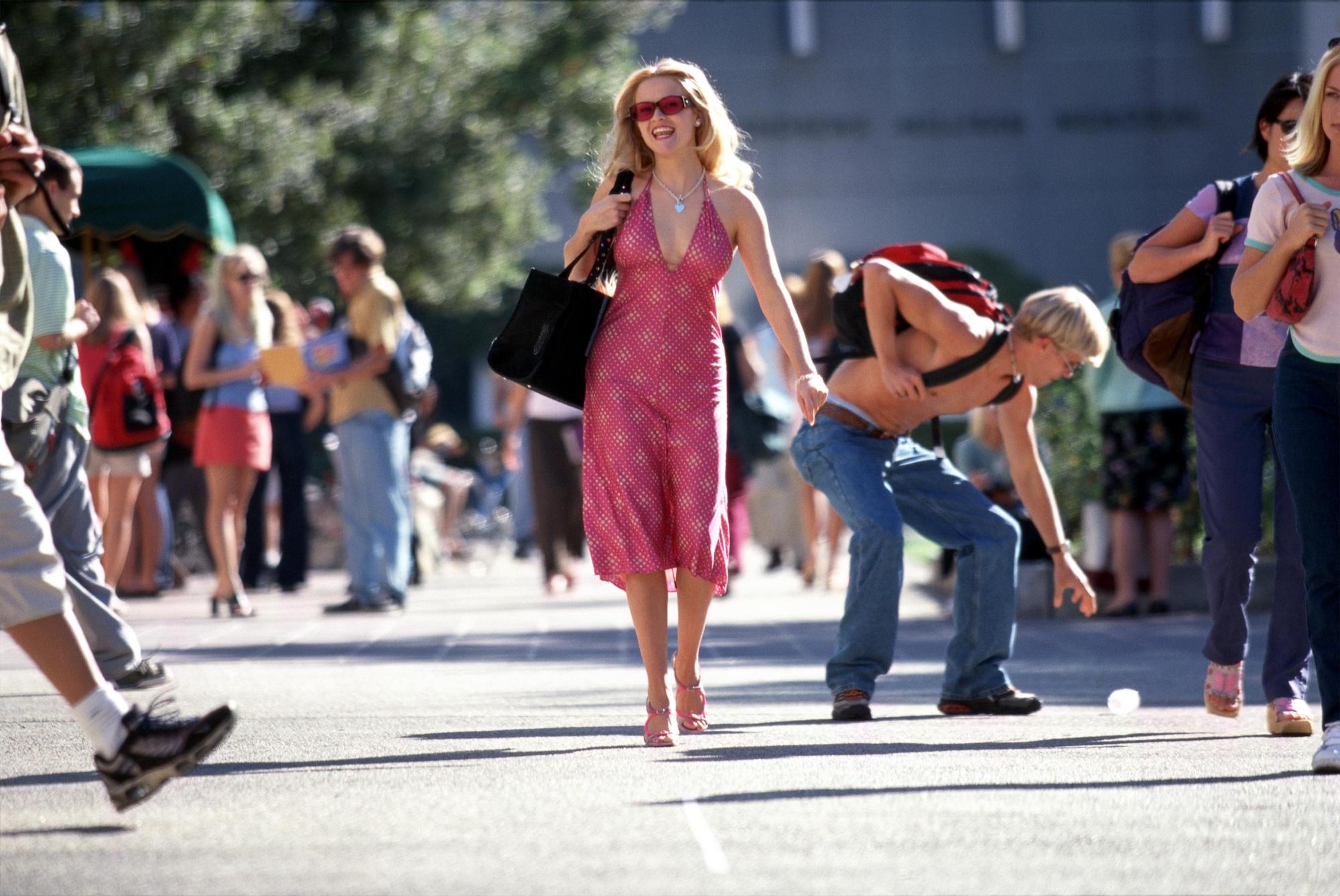 Getting into character meant studying real-life sorority girls. Witherspoon had dropped out of college several years before starring in the movie and had never even been in a sorority house.
She decided the best way to play a sorority girl was to spend time around them, learning their habits. Everything from how they talked, what they ate, how they made their clothing choices, even how they treated new pledges. Witherspoon made it her mission to really infiltrate sorority life to be able to nail her role as Elle Woods.
"It's sort of like an anthropological study.", Witherspoon said of the time spent with the sorority sisters, "You learn what they eat, how they behave, how they take care of their young, that sort of thing." She went on to say that sometimes it wasn't always pretty, "They showed all sides of themselves. Sometimes I'm shocked, like, I can't believe they just said that to me!"
Witherspoon on being like her character in 'Legally Blonde'
While Witherspoon nailed her role in Legally Blonde, she doesn't have that much in common with the character in real life. "I'm a huge book dork. I was nerrrrd-eee in high school. I got really good grades," says Witherspoon of her young adult years. 
She resonates more with the post-law school version of Elle. "I still love to read, love to write papers, love to write notes," she told Entertainment Weekly. Witherspoon has now even started her own book club. 
Witherspoon also knows she isn't perfectly styled all the time and doesn't agree with Hollywood's standards for women. "I refuse to play that Hollywood game. The body image stuff just obliterates women's self-esteem," says Witherspoon on whether or not she worries about her looks. "You'll never be good if you're caught up in that," she went on to say, reminding girls everywhere that being perfect isn't attainable. 
The movie celebrated its 20th anniversary this year and some big news was announced by Witherspoon. Legally Blonde 3 is set to be released next year and you can already feel the hype.
Everyone, including Witherspoon, is waiting with eager anticipation of where we will find Elle twenty years later and what cool new tips and tricks she's going to teach us now.
RELATED: 'Legally Blonde': Reese Witherspoon Says MGM Execs Didn't Want Her As Elle Woods — 'They Thought I Was a Shrew'